Buxom White Russian Collection Review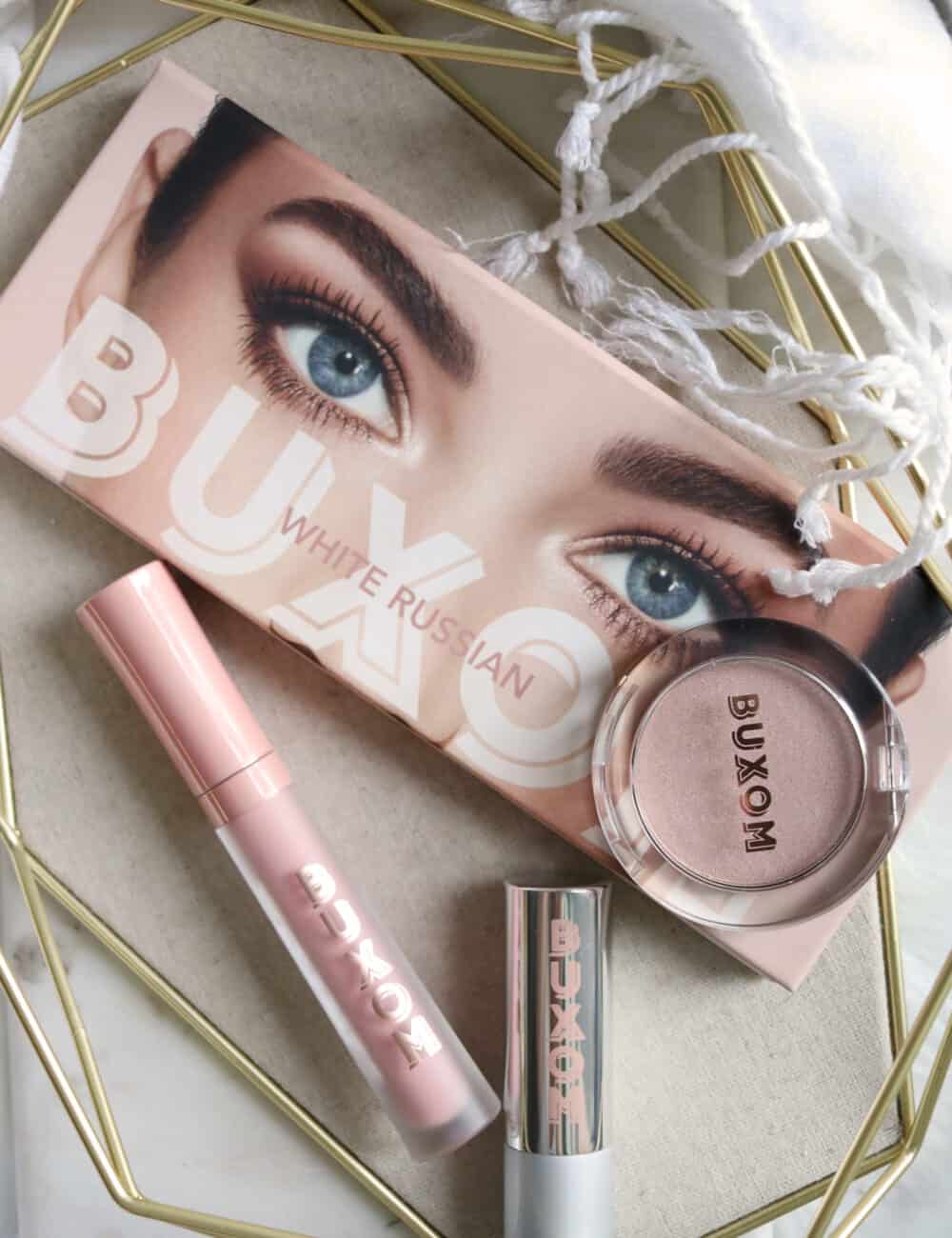 The new Buxom White Russian Collection* is in – based on the brands cult-favourite pinky nude lip gloss.
There's an eyeshadow and blush palette, lipstick, highlighter and of course the infamous Buxom White Russian Lip Cream that started it all. The collection revolves around the pinky-nude theme for an easy monochromatic look.
The colour scheme is gorgeous – totally a "me" kind of collection, but how does it perform? In the land of neutral palettes, new launches have to be pretty special to wow me these days!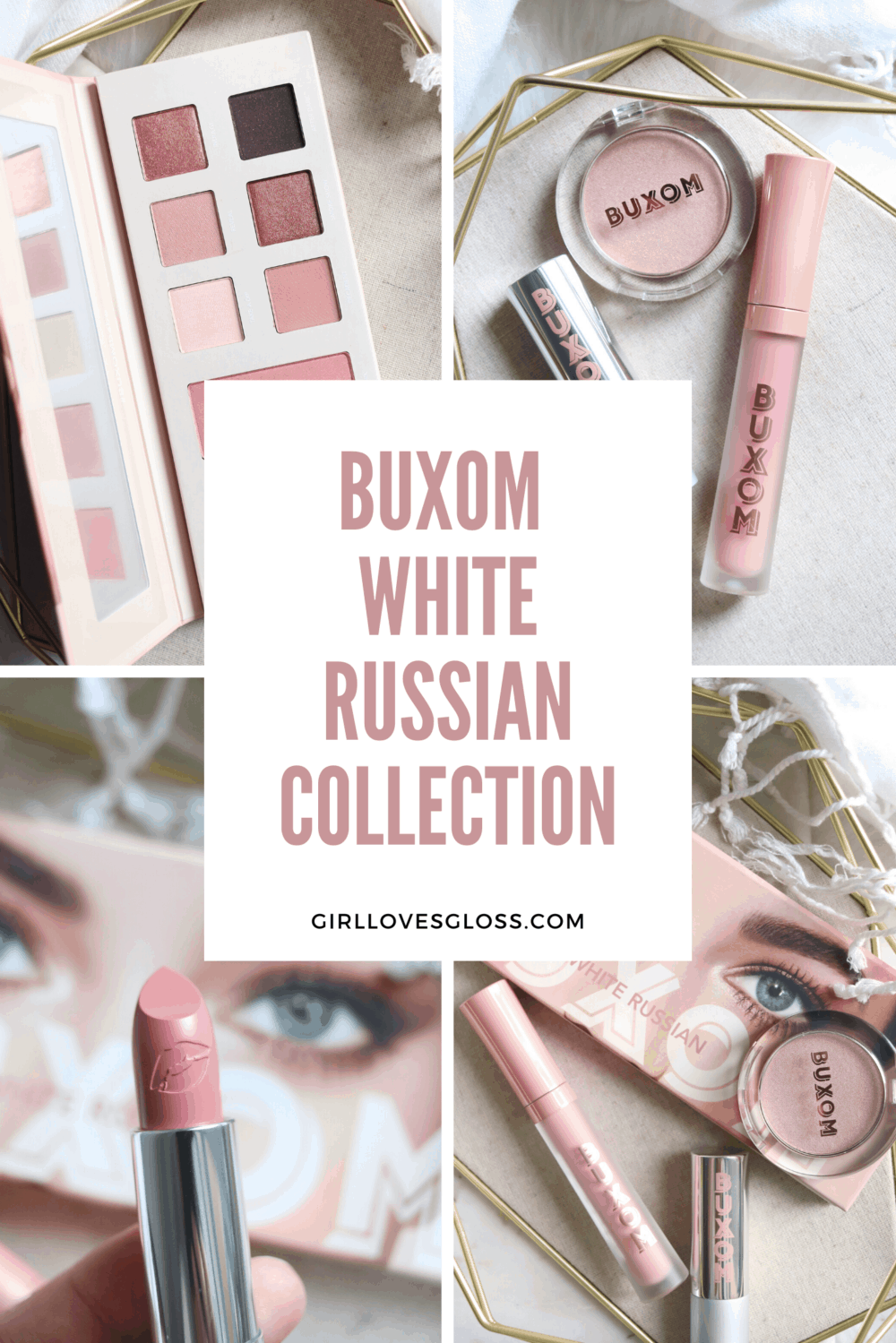 BUXOM WHITE RUSSIAN COLLECTION REVIEW
LIMITED EDITION AVAILABILITY AT: SEPHORA | ULTA
---
"So much more than a classic cocktail, BUXOM Cosmetics is dedicating an entire capsule collection to one of its most iconic colours: White Russian. The cult favourite pinky nude is now available in a palette, highlighter and lipstick form, as well as a relaunch of the brands #1 lip cream shade in a limited edition rose gold packaging." – BUXOM Cosmetics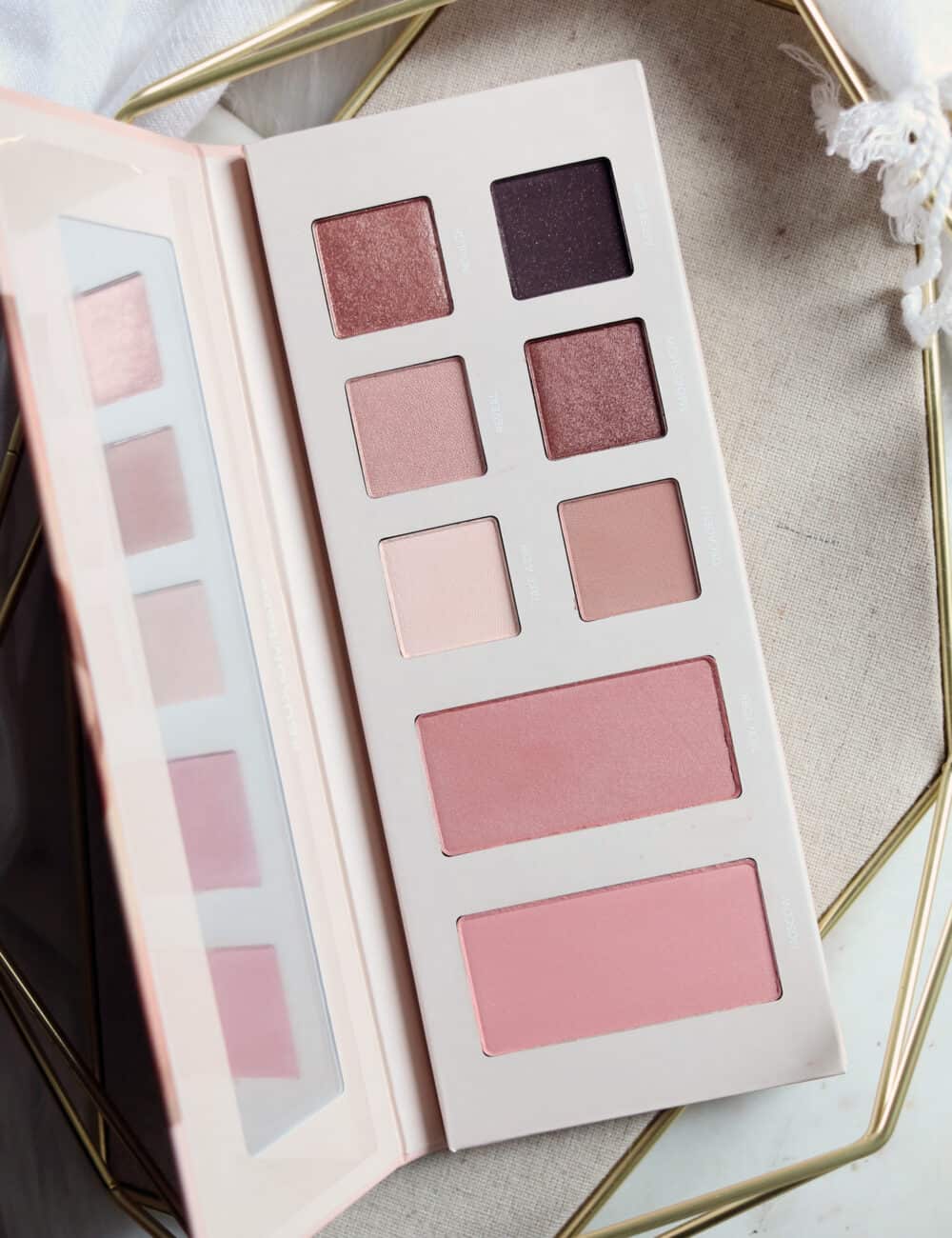 BUXOM WHITE RUSSIAN EYE AND CHEEK PALETTE REVIEW
---
WHAT IS IT
-2 x 0.12 oz/ 3.5 g blushes in Moscow (pale pink), New York (tawny rose)
– 6 x 0.3 oz/ 1.1 g eyeshadows in Take A Dip (matte beige pink), Reveal (shimmering pink taupe), Indulge (metallic pink sparkle), Decadent (matte pink nude), Smoke Show (shimmering chocolate pink), After Dark (grey with pink sparkle)
PRICE
$51 Canadian/ 13.6 grams of product
FORMULA
The shadows in this palette feel the same as the previous single eyeshadows and palette's I've tried from Buxom over the years; They're on the silkier, thin side texture-wise.
The mattes are slightly dusty and apply best on a primer or base to grip them. The shimmers have a nice luminosity to them, but definitely aren't in the metallic or foiled category.
The blushes aren't the same as the Wanderlust Blush formula that I so love; These are silkier and slightly dry as well but blend out nicely.
MY THOUGHTS
This palette is rather unremarkable for me and the type of makeup collection I have. It's not a bad palette by far, but there are formulas I much prefer.
I do find it frustrating when brands have formulas that are well-loved, like the Wanderlust Blushes that I've raved about, but then don't use it in their palettes. That would have elevated this palette beyond its 'meh' rating from me.
I do feel like Buxom did a good job of sticking to the "White Russian" theme with this monochromatic neutral palette, it just isn't anything extraordinary in terms of formulation.
SHOP IT: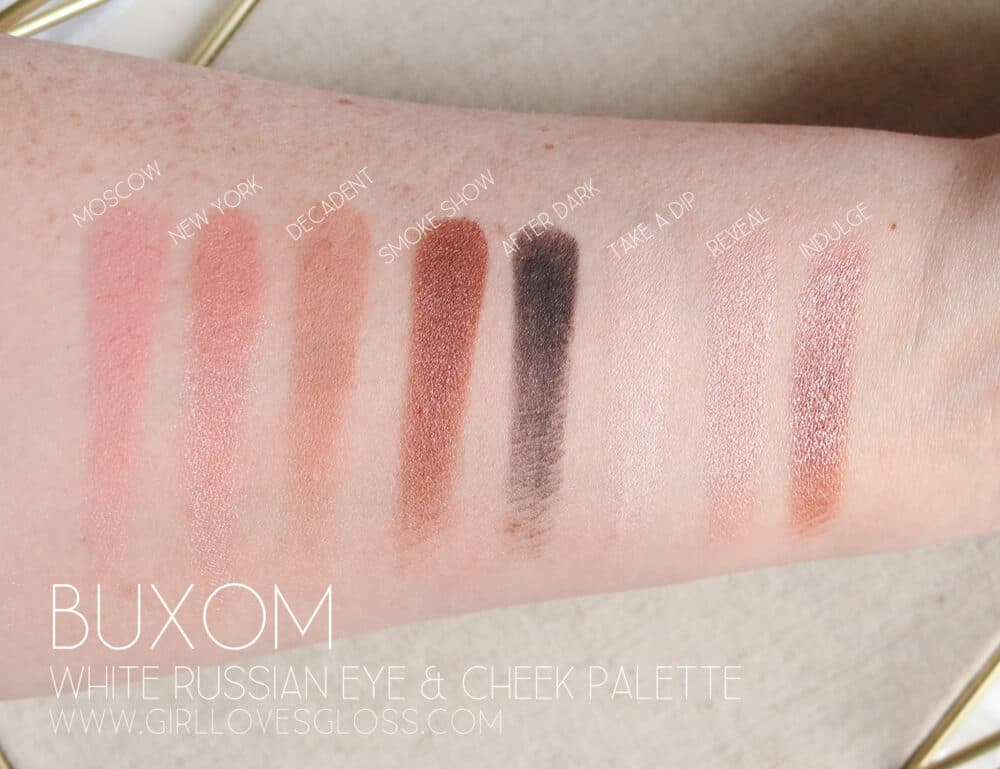 BUXOM WANDERLUST GLOW HIGHLIGHTER REVIEW
---
WHAT IT IS
"This primer-infused highlighter, inspired by iconic White Russian shade, has a subtle, beachy scent." – Buxom
PRICE
$31 CND/3.6 grams of product
FORMULA
This is the brands well loved Wanderlust formula, which is primer infused. It has almost a textured feel to it when you swatch it, but it translates to a pearly finish on the skin. This formula is super long lasting, staying true easily 12 hours for me.
MY THOUGHTS
I've been a fan of the Buxom Wanderlust Blush formula for ages now and was wondering when they were going to hop on the highlighter train!
While the formula does not disappoint, the shade does. I get the concept of mimicking the iconic White Russian shade, which is a milky pink, but this leans really ashy even on my fair skin. A deeper complexion that me would really struggle to make this work, and the brand missed the mark by not offering this in another deeper shade, that easily still could have fit the colour theme.
SHOP IT

BUXOM WHITE RUSSIAN FULL FORCE PLUMPING LIPSTICK
---
---
WHAT IS IT
"Featuring new and exclusive packaging, this next-level plumping lipstick is infused with hyaluronic acid and conditioning oils and visibly plumps and smooths for ultra-lush lips. The teardrop-shaped tip hugs every curve, delivering stay-put, satin color with a tantalizing tingle." – BUXOM
PRICE
$26 CND/3.5 grams of product
FORMULA
This lipstick has a mildly creamy formula, with subtle luminosity. It does have a slight minty tingle, but I don't notice any sort of plumping effect and it tended to catch in the lines on my lips.
MY THOUGHTS
This shade is a baby doll pink, that isn't quite a 'nude' as I'd like for my own tastes. Having said that, there are 24 other shades in the regular range to choose from.
I found it caught and emphasized dryness in my lips, which in fairness many lipstick formulas do. It has a lightly hydrating feel and hte pigmentation is really good, showing up evenly on my dark pigmented lips.
SHOP IT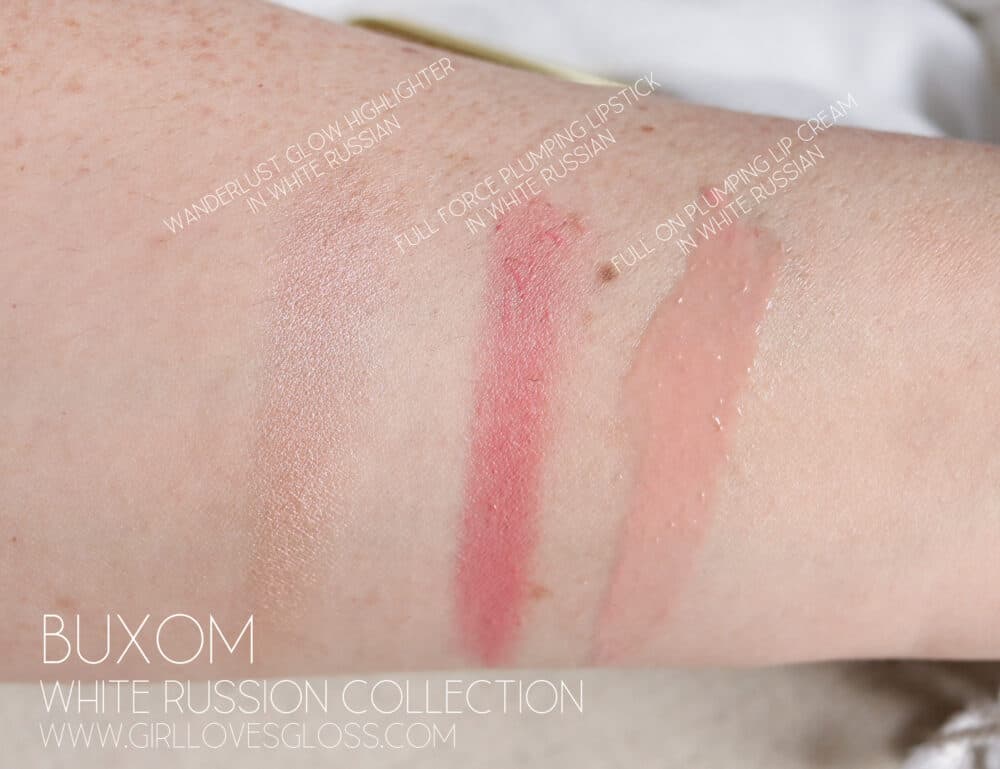 BUXOM FULL ON PLUMPING LIP CREME IN WHITE RUSSIAN
---
WHAT IT IS
"This lip gloss produces lustrous, creamy color with a refreshing, tingly sensation. A unique peptide and hyaluronic acid booster helps to create a fuller lip look, while hyaluronic spheres moisturize. Vitamins A and E provide lasting moisture for soft and luscious lips." – BUXOM
PRICE
$28 CND/4.45ml
FORMULA
This is a milky semi translucent gloss that has no shimmer. It also has a distinct minty tingle effect that you'll either love or hate. It doesn't significantly settle into lines or cling to dryness.
MY THOUGHTS
This gloss is iconic to the brand being a cult classic in the youtube beauty world about 10 years ago. It was one of the first 'plumping' or tingling lip products I can remember being sold mainstream.
It applies smoothly with a subtle pale pink tint to my deep pigmented lips, but I'm not sure I would say I notice significant plumping. Having said that, I don't have particularly thin lips and plumping isn't an issue I've sought out to fix.
Once again, this might be a hard one for those with deep lips. Mine are actually quite pigmented, and this does give a milky tint to them that I'd likely pair over lipstick and/or liner rather than wear on its own.
It feels hydrating on the lips, and wears away nicely on me, and there are some really beautiful shades in the range beyond this limited edition packaging.
SHOP IT

Overall, the Buxom White Russian Collection, to me, is a nice cohesive collection that would be great for someone who loves a pale nude pink, or who wants to take the guess work out of doing their makeup.
It's neutral, it's monochromatic, it's easy to wear for a daily look while still having some variety.
For me, it's just not a stand out collection in terms of feeling like there's a super star product amongst the lineup. There are some pros, but the brand missed the mark on making it a wearable collection for everyone.
Capsule collections often go this way; Sadly being put together with the goal customer being of a particular skin tone. It easily could have been rounded out with a deeper option for the highlighter, lipstick and gloss along the lines of "White Russian intense" and it would have knocked it out of the park.