Smashbox Always on Cream Shadow
Smashbox always on cream shadows are the new kid on the cream shadow block.
I was sceptical about how much I would like the Always On Cream Shadows, given I've notoriously not liked Smashbox eye products in the past.
The shade range immediately appealed to me due to the unique take on neutrals (thing options like ochre yellow, greige, sienna) and the all matte lineup.
But how do they perform?
I'm a big fan of cream eyeshadows due to their "one and done" and multitasking ability. I'm also incredibly picky when it comes to cream eyeshadows.
I want pigment, performance and something that plays nice with others. I need textures that apply well on my creased, slightly hooded eyes and don't bunch or crease.
I want impact, but also ease of use. Basically, I'm a bit high maintenance when it comes to cream shadows and I'm totally not sorry about it!
smashbox always on cream shadows*
---
PRODUCT CLAIMS: "This high-pigment, innovative cream shadow won't crease, cake, smudge, or settle for up to 24 hours. It's also fade-resistant for up to 24 hours. The cushiony, mousse-like texture glides on for a mistake-proof monochromatic look. It blends easily with your finger or a brush and can be used as a shadow or liner. Think rich, comfortable, matte color that's easy to apply and blend. " – SEPHORA
VALUE: $28 CND/10ml
SHADE RANGE: 15 shades, but for some reason only 10 are available from Sephora & Ulta. I have shades Griege, Rose and Ultramarine.
PACKAGING: Convenient squeeze tube that means the product will stay fresh much longer. Unlike some cream shadows in tubes, I have no issues with these spewing out too much product the minute you open them. The narrow nozzle also means you can really just dispense as much as you need.
FORMULA: These are a slightly mousse-like cream that blends out really easily without skipping, bunching or pilling.
FINISH: All the shades are matte, which I find really exciting since it notoriously is harder to find nice matte cream shadow formulas!
WEAR TIME: Alllllll day baby! These really wear well on me – in fact, they wore through a tiny meltdown I had the other night that involved tears, and they'd already been on for 8+ hours!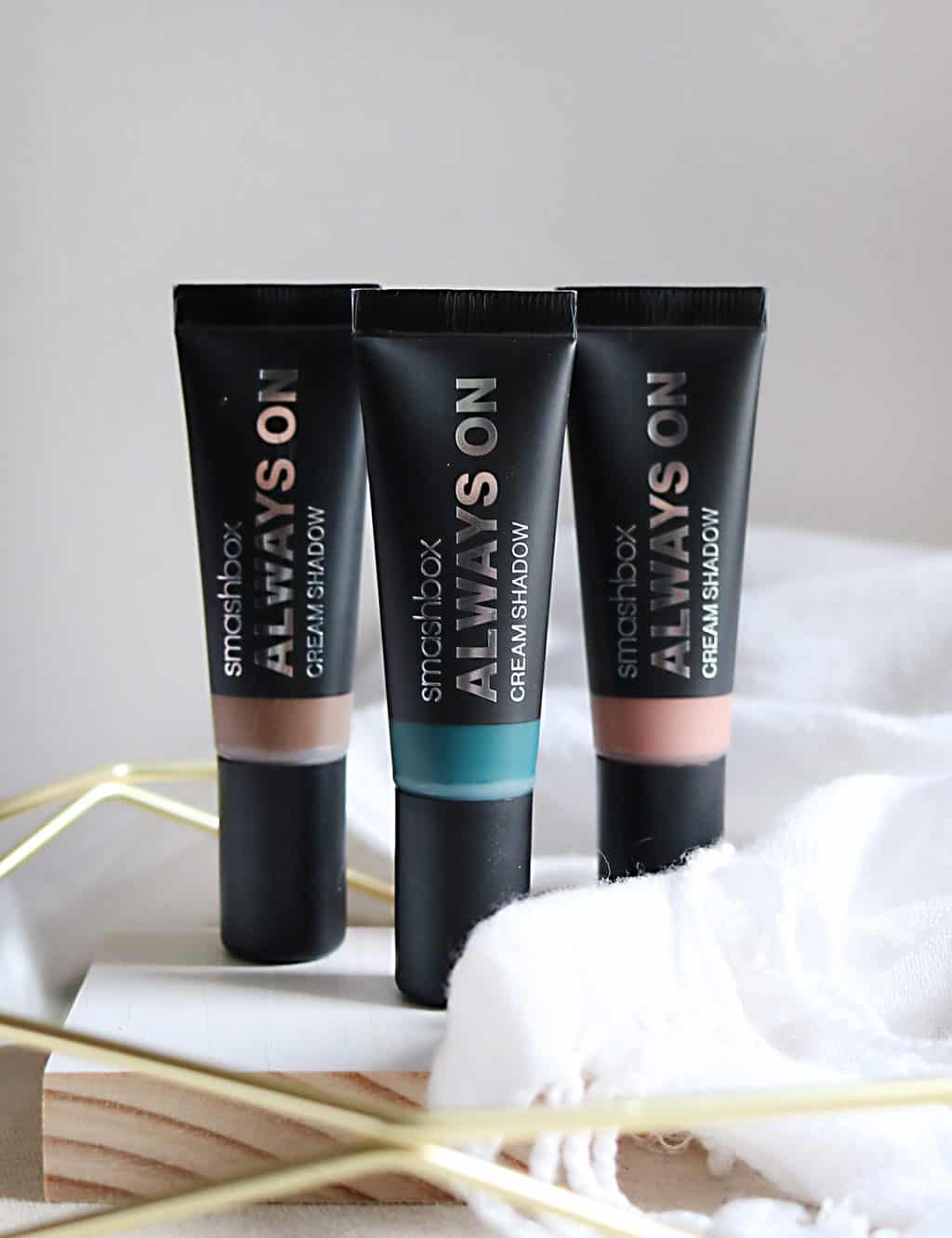 WHAT I THINK ABOUT THE SMASHBOX ALWAYS ON CREAM SHADOWS:
As far and I am concerned, these are fantastic!
Firstly, the pigment is wonderful; There is no patchiness or pulling away pigment if you try and layer them. You can see in my swatch video, that they disperse really nicely, without losing their pigment as they are blended.
Secondly, they don't crease, flake or crumble as the day goes on. Lately, my lids have been a special kind of oily, which has had most of my powder shadows creasing, and the Always On Cream Shadows have been holding strong! I find they apply well with a brush or a finger, not losing pigment with either application.
Thirdly, they work really well as eyeliner! In a bid to get myself wearing more colour in 2021, I chose the forest teal shade Ultramarine as one of my picks for the press package that was sent out. It's way beyond my comfort worn all over, but as a winged liner I flipping love it!
I posted an IG story of myself wearing it the other day (as seen below) and my DM's were full of people asking what it was. Unlike a lot of creams that lose their opacity in an application like this, the Always On really layered well on top of itself and the pigment stayed strong and true!
Finally, the shade range really appeals to me with an all matte lineup! I wish more brands invested in making really good matte cream eyeshadows.
While I am a sucker for a rosegold shimmering cream shadow, finding variety in matte formulations is SO hard and definitely was a void that needed filling in the market! Moreso, it seems to be hard for brands to create matte cream shadows with a smoothing, buildable formula that doesn't cling to texture or lines.
If I could have a gripe, it would be that Smashbox for some reason has held back the entire shade range of 15 to their retailers and only listed 10 on both Sephora and Ulta. Of these 5 shades that aren't available, 3 would make great bases for pale-tan skin tones as a primer before other shadows (shades Vanilla, Suede and Amber).
Hopefully Smashbox considers releasing the entire line to all their retailers soon!
shop the smashbox always on cream shadows
---