For the Blush Lovers: NARS Unfiltered Blush Palette
Blush junkies will be well familiar with the palette's that NARS releases every year. This time around the brand went above and beyond and launched TWO limited edition face palettes! One is cooler and pink-based, and the other is full of earthy, warm tones. I've got swatches and review of the NARS Unfiltered 1 Palette for you all today, as well as how a neon red blush is actually really wearable!
*Affiliate Links, PR Samples
I'll preface this review my saying that both of the NARS Unfiltered Palettes are limited edition. They've both already sold out once, so if you want them, run don't walk! You can order them from Sephora. I actually attempted to post this review several weeks ago, and they had sold out before I could schedule it live! I hate writing about products that you guys can't buy, that would just be mean 😉
NARS UNFILTERED 1 PALETTE REVIEW & SWATCHES
---
The Unfiltered 1 palette is full of warm peach and rose shades, with a yellow based highlight and a neon strawberry red. I know you might be thinking that a shade like Exhibit A is totally unwearable, but I assure you it is! It's the perfect shade for porcelain girls who want that natural flush (light hand, obvs) and it gives a stunning depth to bronzed or sunkissed skin. Rich coffee-hued complexions would look stunning with the bright pop of colour for spring. It's also a fab shade to mix with a shade that is too neutral or not giving you the 'life' you want to your complexion!
I love that NARS created this palette with a full spectrum of neutral to bright. The shades all really work well with each other. Originally I had thought the yellow highlighting shade Watch Me would be similar to the brand's cult classic Albatross. However, it's more buttery in tone, and nowhere near as metallic/sparkly. The rosy bronze shade Takeover looks a bit muddy in the pan, but it's actually become one of my favourite blushes in the palette.
TOP ROW
---
Watch Me • Butter yellow opalescent shimmer
Me First • Shimmer golden peach
Takeover • Rose coppery bronze shimmer
BOTTOM ROW
---
Out There • Warm matte rose
Chic • Dusty warm plum matte
Exhibit A • Neon matte red
While you aren't getting full sized pans in these palettes, the value for money is still really good. Each pan is 3.5 grams, and NARS Blushes are regularly 4.8 grams. That works out to 6 blushes for the price of 2 full sized ones! I rarely go through a full blush, so I'm fine with a slightly smaller pan. It also means the palette becomes much more travel-friendly. I also love that NARS has been taking a step back from their albeit sleek, yet grimy rubberized matte black packaging. The red mirror finish to this compact (there is a full sized mirror inside) is a nice change and significantly easier to clean.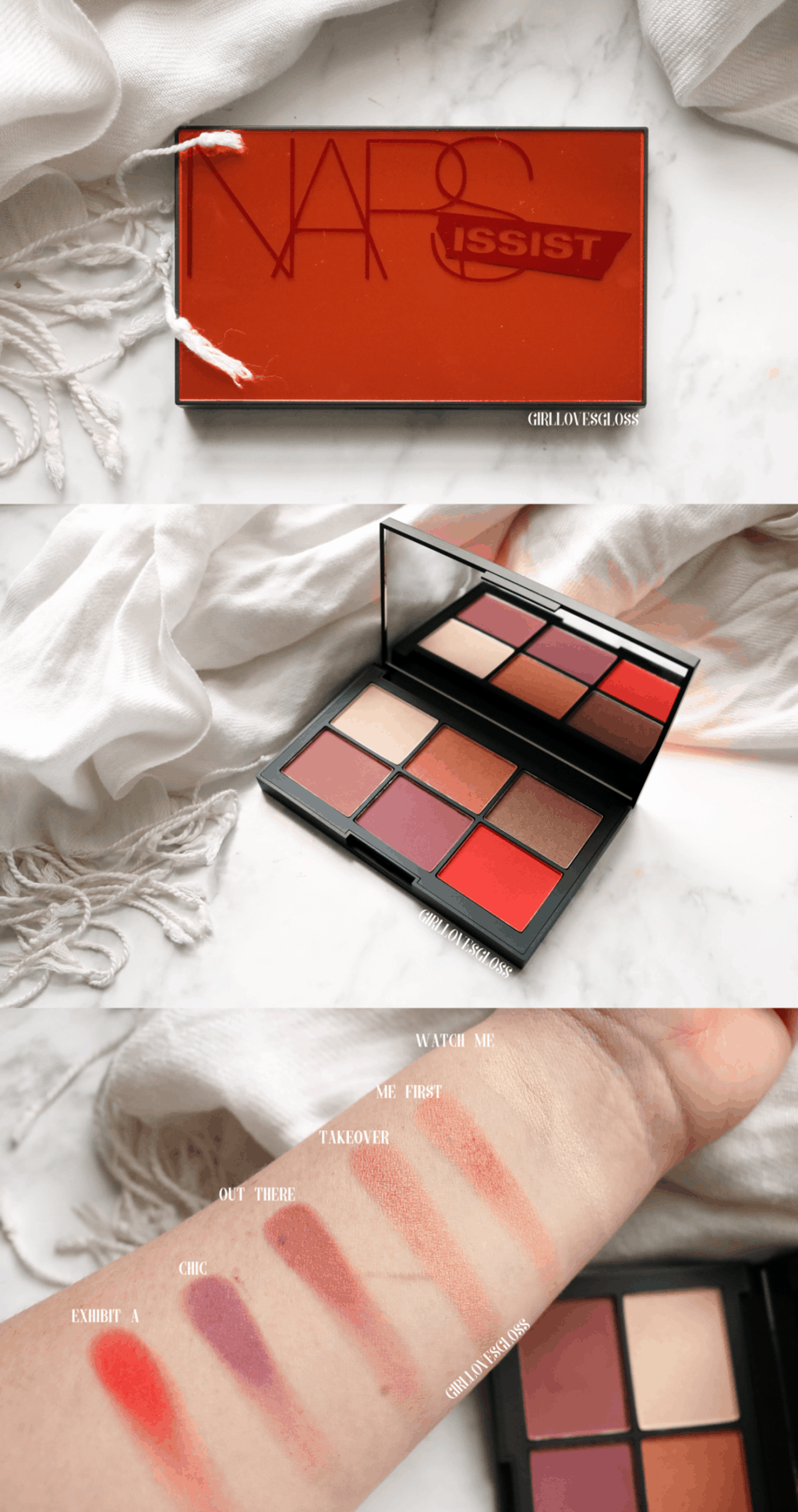 I was really happy with this palette after getting a chance to use it. When I originally saw them pop up online I thought there wasn't much special about them. Now I'm wanting the cooler version (Unfiltered 2) as well! In true NARS fashion, the shimmery shades are beautiful, pigmented and apply smoothly. What I was most impressed with was how well the three matte shades applied: Smooth, blendable and rich in colour payoff! Despite my initial shock of the bright red, I actually don't think there is a single shade that is unwearable in this – it's all about how much product you use.
As I mentioned earlier, these have already sold out once online. I don't doubt they will hang around for long. You can get them by clicking on the palettes below!
SHOP THE POST
---
Some of the products mentioned in this post may have been provided for consideration. These products may be linked using an affiliate link, which provides me with a small commission in return for providing readers with honest and authentic reviews. The earnings from affiliate links are what keep GirlLovesGloss.com running! You can read my full disclaimer here.