Strobing | What The Heck Is It?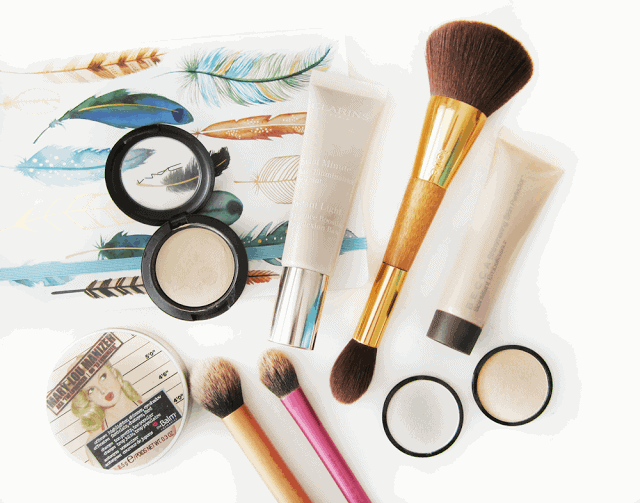 If you've read or watched any beauty related blogs or YouTube channels recently you might have heard the term "strobing", and contrary to what it sounds like, it doesn't involve wearing a sequined glove at an outdoor rave (side note: are raves still a 'thing'?). So, what the heck is 'strobing'?

Some refer to this new trend as the 'new face sculpting' or 'reverse contouring'. What do I say it is? Highlighting. Yep, good old highlighting with a new name.

Thanks to Kim and the rest of the Kardashian bunch, heaving contouring became all the rage in the last couple of years, and while highlighting was part of that, it turned many off because of the insane amount of product layering. It went from the odd blog post about sculpting your face, to entire display's of brands versions of the contour kit in Sephora and girls walking around with taupe stripes on their face.

Well now we have strobing – the uber highlighting, minus the contouring to balance. This is all about crazy glow here folks – the more the better. For young, smooth, poreless complexions this new trend might looks absolutely stunning, even angelic if you will. But on this 32 year old face a lighter hand is prefered. I'd also warn those with oily skin, textured skin, fine lines (or possibly just anyone over 25?) to 'strobe' their face in daylight, where it's most unforgiving and you don't take it too far. You'll thank me later when you don't look like a 90's glitter throwback.

Strobing takes the idea of highlighting the tops of cheekbones, brow bone, cupids bow and bridge of the nose and amplifies is. It's supposed to be noticeable, which may or may not fly for you, but that doesn't mean you can't just lightly highlight these parts of your face without going full strobe.

Here are some of my favourite glow getting products. There's something for everyone:

The "I Want Them To See My Cheekbones in Space" Option: theBalm's Mary Lou Manizer can by built up to the point of looking like you freshly stepped out of disco-era Studio 54. Personally, I find this a bit too frosty for me, and prefer something a little more refined on my slightly more mature skin, but it truly packs a gorgeous punch if that's what you're going for.

The Portable Cream Option: MAC's Cream Color Base in Pearl is a beautifully pearled yellow based white gold that can be applied with fingers on the go easily. This is a great one for dry skin that doesn't sit well under powder highlighting products well, and can be patted on top of lipstick or gloss for some dimension as well.

The Subtle Powder Highlight: The two pearlised shades in my NYX Highlight & Contour Pro Palette are a much more refined shimmer for my tastes. These can be built up or sheared out (there are two matte highlight shades as well in this palette to blend with). I find the texture of these is smoother, and not as frosted as most powder highlighters.

The Cream Glow You Can Mix Or Wear On It's Own: Becca Shimmering Skin Perfector in Moonstone is my ultimate glow product when I want to mix something in with my foundation to amp up the dewy factor. I also love it tapped onto cheekbones for added glow minus a caked finish or frosty look.

The Subtle Everyday Glow: When it comes to wanting some pearl, but in a daytime suitable manner I adore my Clarins Instant Light Radiance Boosting Complexion Base. Like the Becca can be worn on its own, under makeup, mixed with your base or face cream – it's that diverse, but in a more subtle, diffused way. While some creamy highlighting products add pure shimmer, this has a sheen with added skincare benefits.

The Glow Getting Tools: I'm loving three brushes lately for this 'strobing' or highlighting trend. For cream products, the Real Techniques Contour Brush is dense enough to pat on and then buff out. When it comes to a high shimmer powder, the Real Techniques Setting Brush is lighter in bristle count, creating a softer diffused look without going overboard. I've also been loving the Tarte Bronze & Glow Contour Brush

*

, a double ended super soft brush that has a narrow, contour-like brush on one end (that works equally well for contour and highlight) and a giant buffing powder brush on the other end, that takes things down a notch when you've overdone it.

So have you fallen for this new 'strobing' trend, or do you think it's unwearable? What are your favourite highlighting products?
Follow