Too Faced The Natural Nudes Palette
There's a new neutral palette out there thanks to too faced.
It's the Too Faced The Natural Nudes Palette, and she's genuinely neutral! Not a warm nude palette, or a palette full of reds and plums. Just neutral with a multitone variance that aims to make blending out the perfect neutral eye look a piece of cake.
Now, in the past, I have had some criticisms of Too Faced eyeshadow palettes and it's been a long time since I felt the drive to purchase one. I also need another neutral palette like I need a hole in the head, and yet here were are!
TOO FACED BORN THIS WAY THE NATURAL NUDES PALETTE
---
AVAILABLE AT SEPHORA | CULT BEAUTY | ULTA
WHAT THE BRAND CLAIMS: "This variety of modern nudes range from flattering mattes to enhance your unique and beautiful undertones to sultry metallic, shimmer, and sparkle shades for a sexy radiance.
The shades are highly pigmented, have a creamy texture, are easy to blend, have one-swipe payoff, and have instant pickup with a brush."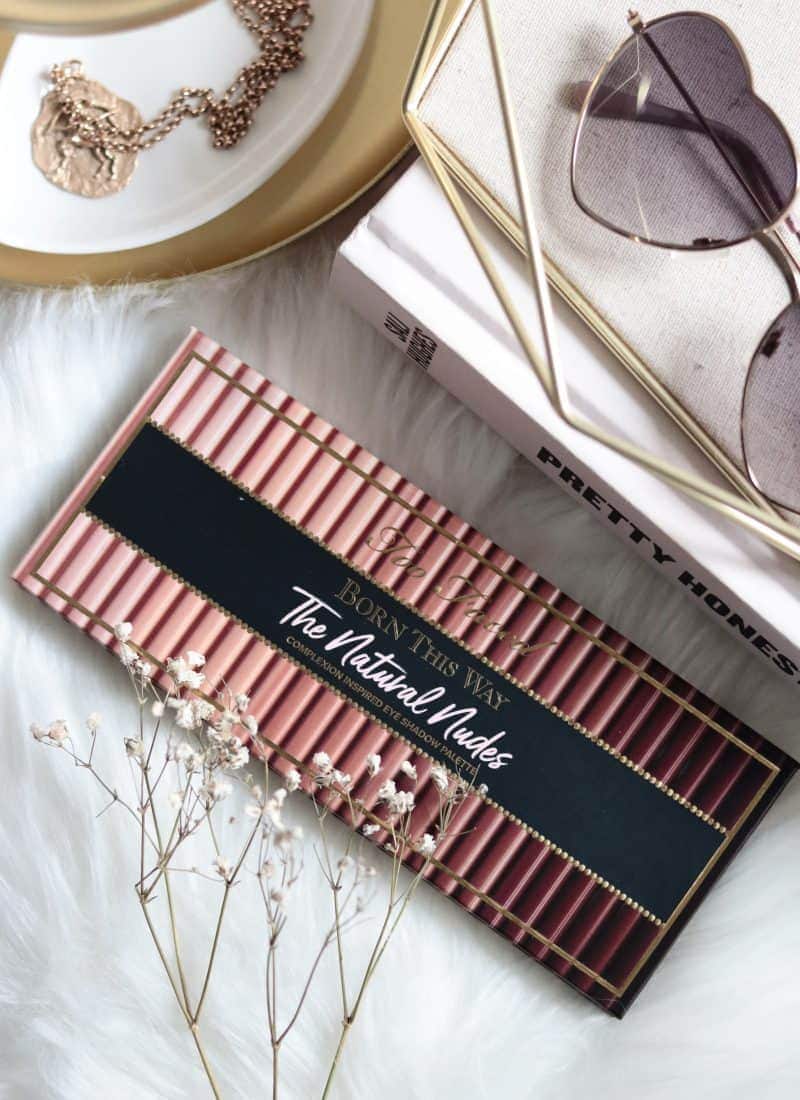 THE PRICE: $59 CND for 16 eyeshadows. Permanent.
THE PACKAGING: Slim, cardboard outer and plastic inner packaging with a full-width mirror.
THE FORMULA: The mattes are creamy, smooth and minimally dusty. The shimmers vary from being almost glittery to metallic and have a creamy emollient feel to them that might benefit from a primer on some lids.
THE FINISH: There are 8 mattes and 8 shimmers/sparkle/metallics.
"So needless to say, I had to have this"
MY THOUGHTS: The first thing you may notice about The Natural Nudes Palette is that the shimmer/metallic shadows are all half the size of the mattes. Secondly, you may see that they all match in tone.
I LOVE the concept of this palette.
I've been saying for years that if I got to design my own neutral palette I would do exactly this; For each matte, there is a matching shimmer, and the gradient of tones would be complete light to dark. There would be larger pans for mattes (because we tend to use them more) and smaller pans that coordinate for shimmers.
So needless to say, I had to have this ( I mean, it was serendipitous, no?)
I love that these are all true neutrals¹. They have touches of warmth and coolness, but ultimately can swing both ways in how they wear and that is the ultimate neutral concept to me.
It's incredibly hard to please everyone when it comes to something that calls itself neutral because of this, and because "light" and "dark" can mean different things to different complexions.
Too Faced was smart with The Natural Nudes Palette. They gave us everything from pale ivory to rich chocolate in the mattes, and frosted buttercream to sparkling cocoa in the shimmers.
There's literally shades for everyone, and you can get such incredible variance from having a beautiful variant in both matte and metallic formulas!
¹It's worth noting that that pictures on sephora and some retailers make this palette look significantly warmer than it is.
A WORD ON SWATCHES: My swatches of The Natural Nudes Palette aren't great. In full transparency, I'd swatches several palettes that day, and my arm was at the point where makeup just didn't want to stick. I don't use any primer on my arms when swatching and never dip back into the pan for more product. I feel this shows the true nature of how a product performs.
Some of the sparkling shadows seem a bit chunky or gritty in the swatches, but they don't apply that way on the lids. Depending on the brush you use, you can get a sheer wash of shine and sparkle, or go for full rich metallic pigment. They also apply beautifully with the fingers if you want real impact.
I genuinely really love this palette in terms of shade variation, formula and performance; The pigment lasts all day and the shimmers don't fall out all over my face. I love even more that Too Faced didn't add a scent to it (seriously, no more peach, chocolate or vanilla eye products please!).
SHOP TOO FACED THE NATURAL NUDES PALETTE
---