Mascara Monday | Dior Diorshow Maximizer Lash Primer Review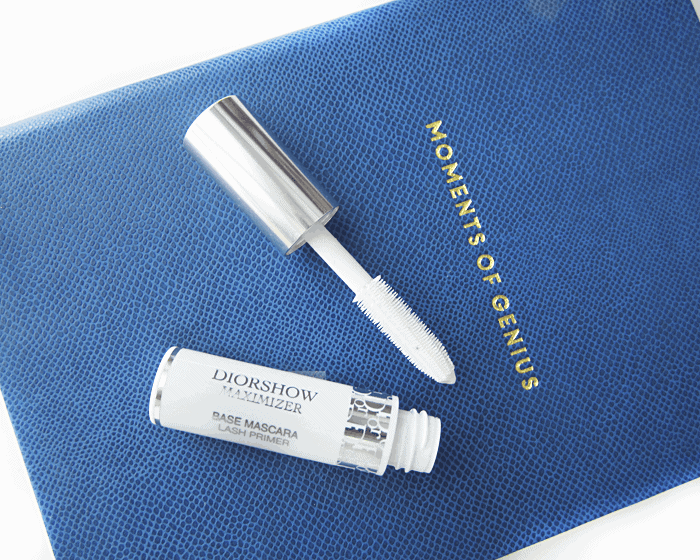 Many moons ago I splurged on the full sized version of the D
ior Diorshow Maximizer Lash Primer,
but I honestly could remember liking it, hating it or even using it much. I just knew I had tried it.
So naturally when it came up in the Sephora points perks recently, I grabbed one so I could remind myself, and trial it again for all of you!
I'll admit I've never much thought of lash primers as being something useful for me. I have fairly long eyelashes genetically and struggle keeping a curl in them (lash primers usually draw out the curl in my experience). So what I am getting at is: I went into trying this not expecting much.
The DiorShow Lash Maximizer Lash Primer claims to create a smooth even base to the lashes, priming, plumping and lengthening them while supposedly promoting lash growth and strength. It's a typical white eyelash primer which lead to my first complaint, which is that I found my mascara didn't appear as black as it normally does overtop of this.
Secondly, I found it did weigh my lashes down a bit. One eye has curlier lashes than the other, and it was fine, but the one that the lashes are more stubborn and needed more curling with my lash curler definitely drooped after I applied this. So those of you will naturally curly lashes might like this, but those of you will straight and or fine lashes like me might struggle.
Thirdly, I really don't think I can see any noticeable difference between applying the primer, and not applying primer when it came to thickness, volume or length I am sad to say. On my fine lashes it just looked like I had put on my mascara like regular; I was hoping for thickness.
I would say that the target audience that might benefit from this product are those with fairly thick, curly lashes to begin with, but not those of us who want some oomph to our fine, straight lashes unfortunately. And as for the claims that it strengthens and promotes growth in lashes… well that would require repeated use of the product for months to gauge. If you are genuinely looking for a product that will do this, I highly recommend RapidLash – which I have used on and off for years and have noticed a considerable difference after using for at least 4 weeks.
So there was my reminded why I never repurchased this product. After all, $35 CND for a product that doesn't really do anything in my opinion, was painful enough to pay for the first time round!
Have you tried an eyelash primer that you liked or worked well for you? I'd love to hear about it in the comments!