How to Use MAC Face and Body Foundation
If you'd asked me five years ago what I thought about MAC Face and Body Foundation, I would have told you it was dreadful.
You see, I first tried it about 15 years ago when it was only sold to pros and was touted as the backstage must-have. These were the days of the flat paddle foundation brush people. I remember being told at the MAC store that you just swiped it on and, voila, runway-worthy base.
So I toted home my black MAC bag, a giant bottle of the foundation (it only came in the large size then!) and the aforementioned brush.
Simply put: I thought MAC Face And Body Foundation was gross.
Possibly best described as slimy, I felt like it had no coverage. It streaked like nothing I'd ever tried and it stayed this greasy, sticky mess.
Fast forward a few years, and I start seeing the stunningly beautiful Pixiwoo sisters use it all the time. I noticed that they were really working it into their skin. Buffing or rubbing in with their hands to the point where you'd be scratching your head going, "surely it's blended by now!".
*2022 Update: MAC has now renamed their Face & body Foundation to STUDIO RADIANCE FACE AND BODY RADIANT SHEER FOUNDATION. I have tested out the new formula and compared it side by side to the original and it still performs formula-wise the same when it comes to the method mentioned in this post.

My lovely friend who worked at the local MAC counter mentioned that the foundation works best by letting the formula warm to the skin before attempting to manipulate it. She showed me some tricks, and I left with a new bottle and a new hope!
You know what? It was a total GAME CHANGER.
I saw the light folks. It went from something I wouldn't recommend to my mortal enemy to one of my favourite foundations of all time. Those are some strong words, and I mean them.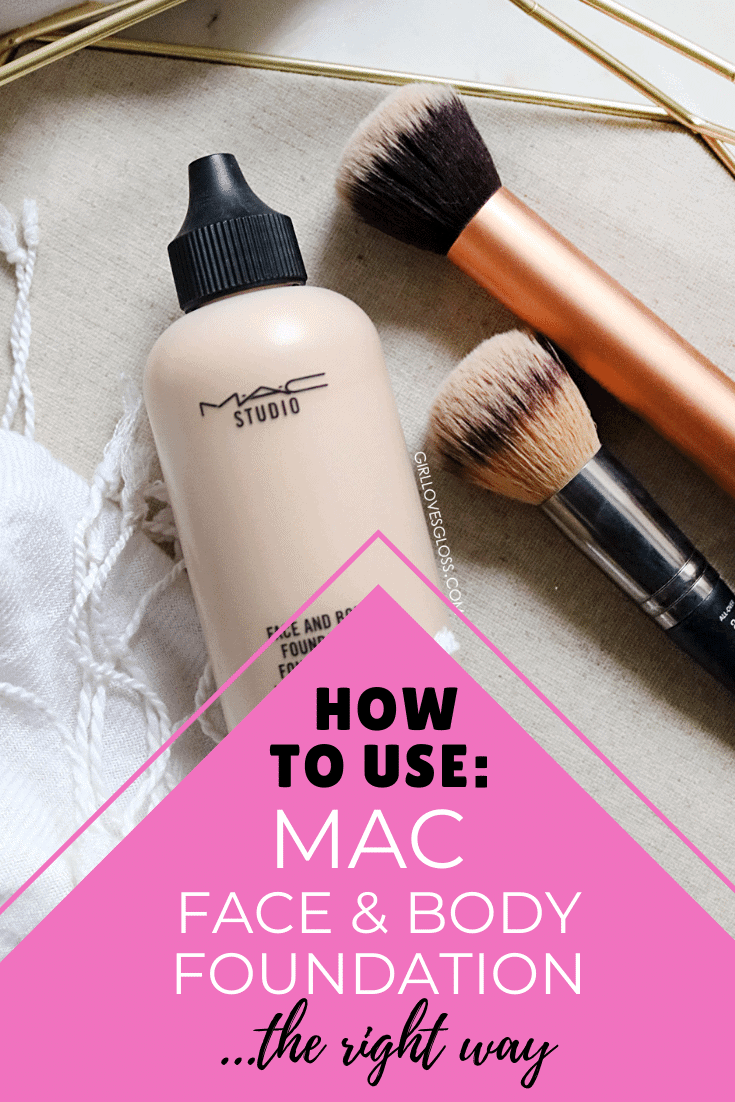 How to Use MAC Face and Body Foundation
---
Available at MAC Canada | Sephora | MAC US | MAC UK | Nordstrom | Look Fantastic
WHAT IS IT: "A comfortable, lightweight fluid foundation with a unique blend of emollients that delivers sheer buildable coverage and a satin finish. The moisturizing, long-wearing formula glides onto the face and body providing stay-true colour."
PACKAGING: A super hygienic squeeze bottle with a spout; You can every drop out of this packaging
SIZE OPTIONS: 50ml or 120ml
SHADE RANGE: A decent selection starting at white, with different undertones, but needs a few more options for deep complexions.

JavaScript is currently disabled in this browser. Reactivate it to view this content.
The Right Way to Use MAC Face & Body Foundation
Throw out your sponges. Ok, don't throw them out, that would be wasteful. Just don't use them for this. This is a water-based product and a sponge is going to soak it up like a…err… sponge.
Choose your tools: Hands or Buffing Brush – preferably a slightly fluffy rounded top one (my faves are this one from IT Cosmetics* and this one from Real Techniques).
Pour out more foundation than you think you need (I start with a nickel-sized dollop).
If using the brush – stipple it all over your face haphazardly. If using hands – lightly rub it all over your face like you would a face cream but don't blend.

Now the trick that I was taught that makes the most difference

:

WAIT. Just give your skin and thefoundation about 15 seconds or so to make friends with each other. As my MUA friend explained, the foundation starts to thicken, which helps it bind to your skin and really build the pigment.
Buff or rub it in for your life. Like, don't hurt yourself or anything, but quick buffing or massaging in with your hands will yield the most amazing finish. You will feel the foundation thicken up, regardless of brush or hands and start to settle.
If you need more coverage, go on and head back in with a bit more, but no need to wait the second time because it already has something to stick to!
That's it, you just gotta have a little patience.
It's truly so worth it for the most radiant, skin-like appearance. If you are anything less than dry you'll want to powder set lightly, just to take and tact away.
Whenever someone tells me I have amazing skin, I am 98% of the time wearing this. It stays on all day, holds up to mom stress and can build up to a solid medium coverage. Plus I love that MAC Face and Body comes in two sizes, I find myself keeping my regular shade in the large and then shade C6 to mix with it depending on various levels of fake tan!