Easy Cold Brew Iced Tea Recipe
With the warmer months coming (in this hemisphere anyway!) I figured it was time for me to share my fave non-carbonated drink besides water: My easy cold brew iced tea recipe!
Not only is cold brew tea super refreshing, but the flavour combinations are endless and it's super easy to make.
Is this your mother's sun tea or sweet tea recipe? No. It's super simple iced tea made with no boiling, that makes a great alternative to juice, soda or water!
how to make cold brew iced tea
The beauty of making your own cold brew iced tea is that it's completely customizable in flavour and sweetness. Take this basic recipe and switch out the teas, your sweetener of choice or even go with no sweetener!
I love fruity teas and anything citrusy for the summertime. You can custom mix your flavours; I love to add a couple of mint tea bags in the mix for a bit of mojito flare and lemon goes well with almost anything! Green tea also works really well, like jasmine green mixed with a fruitier tea.
Speaking of tea bags – you want them for this. Don't use your fancy loose leaf teas for cold brew – straining is just a pain and adds a whole lot of fuss!
What you need to make my cold brew iced tea recipe
Some sort of pitcher or jug – I use this Bormiolo 68oz glass jug
10 assorted tea bags. I love the Tazo and Stash teas because they're affordable and have so many flavour options
OPTIONAL: Lemon juice – either fresh squeezed or bottled.
OPTIONAL: Honey (or liquid sweetener of choice)
Space in your fridge!
how to make cold brew iced tea
When I tell you how simple it is to make cold brew iced tea, you'll laugh for even needing a recipe. But it's something that's worth putting in your Rolodex (do people still use those things!?) and pinning for future use as an awesome option for summer BBQ's, entertaining (hey, remember when we could do that??) and having a great alternative refreshment.
First thing is picking out your tea flavours. I like to stick to 2 flavours max of things can be a bit muddy tasting. Some of my faves are mango passionfruit, berry lemon ginger & green tea lemon.
I use a 68oz jug – feel free to half it if you're using a smaller pitcher. Leave the strings on, but take the paper tags off because these are going to be fully submerged. Tie the strings together for easy retrieval later!
Then you're going to fill the jug up with cold water leaving just a bit of space at the top so things don't overflow later when you're adding sweetener and taking out the tea bags. If you plan on adding some lemon juice and sweetener, leave about ½ cups worth of space.
Give your bags and water a good stir, then pop the whole jug in the fridge overnight. The next morning, you'll want to give it a good stir and remove the tea bags (give them a really good squeeze first to get all that steeped tea out).
To sweetened and brighten the flavour, I like to take about ¼ of lemon and 4 tbsp of honey and microwave it for 30 seconds or so (so the honey dissolves easily). Feel free to add more or less to suit your tastes!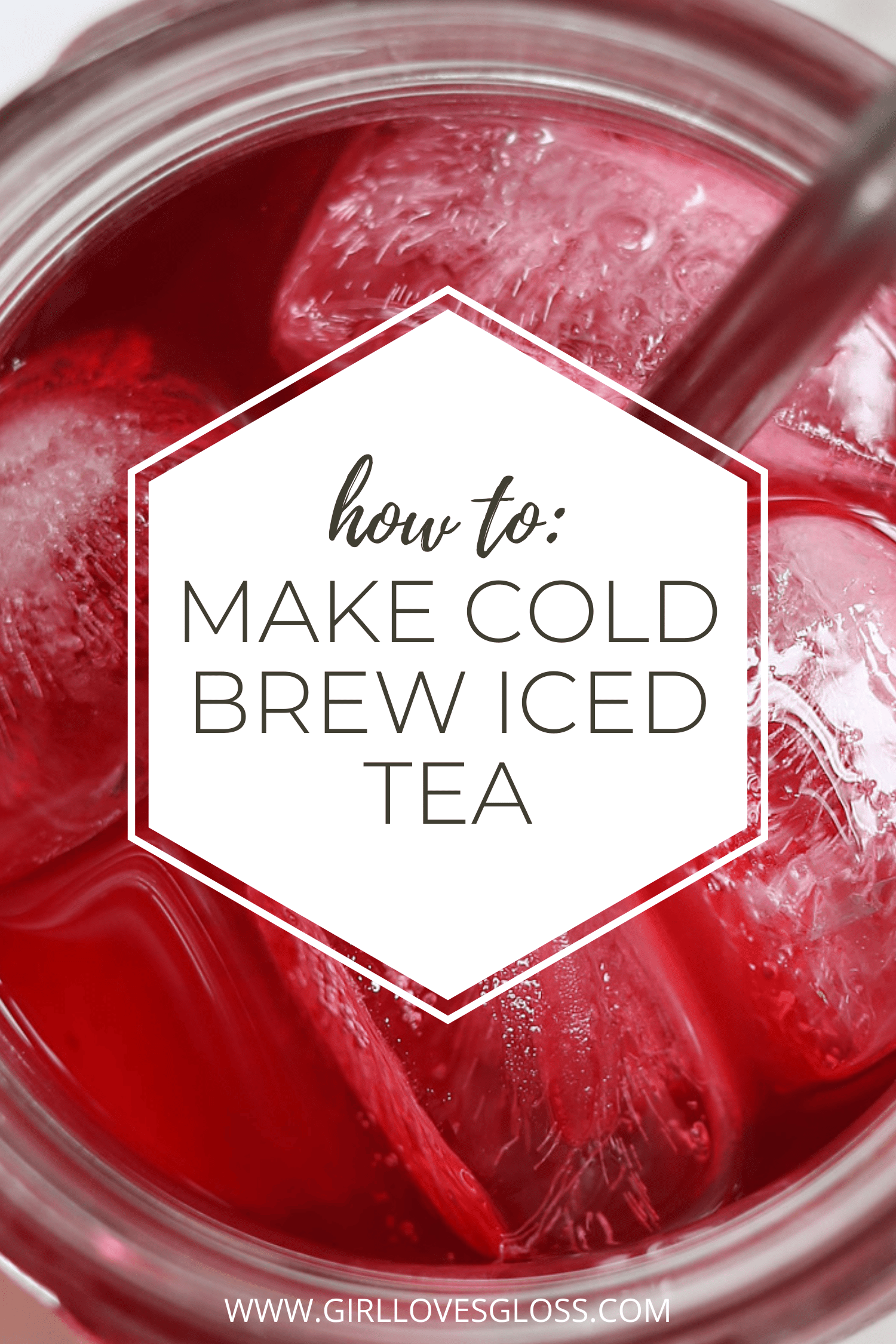 What's your go-to drink to sip? Share your favourite summer beverages or your favourite combinations of tea for cold brew iced tea in the comments below – Enjoy and stay hydrated!
Yield:

8
Easy Cold Brew Iced Tea Recipe
Additional Time:
12 hours
Total Time:
12 hours
10 minutes
This easy old brew iced tea is the perfect way to get your fruity beverage fix without the excessive sugar.
Ingredients
10 teabags of your choice
68 oz of water
4 tbsp honey (or sweetener of choice to taste)
2 tbsp lemon juice
Instructions
Take the tags off your teabag strings and tie them all together for easy retrieval.
Submerged in cold water that leaves an inch or so of space at the top of the juice.
Stir and put in the fridge overnight.
The next morning stir well, squeezing as much out of the teabags as possible and then removing.
OPTIONAL Remove ½ of the cold tea and add in honey and lemon (to taste) in a microwave cup. Heat for 30 seconds and stir well to make sure honey is dissolved.
Pour back into the container, stir well and put back in the fridge to store.
Serve on ice with optional lemon slices for extra zing!
Notes
Substitute honey with a sweetener of choice as desired. If using a granulated sweetener do not skip the microwave step - or it will stay crystallized.