MAC Viva Glam Ariana Grande 2 Swatches and Review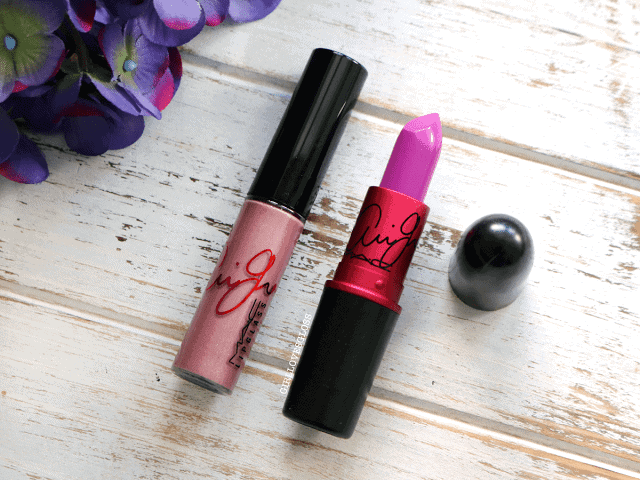 MAC and Ariana Grande are back at it again collaborating on another Viva Glam collection. If you're new to Viva Glam, you can read my post and review about the first collab the songstress did with the brand to raise money for HIV/AIDS research here. I was a big fan of the first lipstick and lipglass launched with Ariana's name inscribed on it, and this time round is no different!
Shade Selection & Formula
---
First let's talk about the lipstick, which unlike the vampy deep plum of the first collab, is a lilac-magenta matte. The pigment is intensely opaque and applies smooth and rich. I find some MAC matte formula lipsticks really drying and chalky, and thankfully this isn't! If you love a bold lip, this would be so much fun for fall and a fresh take on the usual burgundy that starts circulating this time of year.
Now if the colour is a touch too wild for you on its own (like it is for me, personally) I suggest wearing the Lipglass overtop. On it's own, it is a pink neutral with tiny specks of sparkle; Something that is super wearable with any look. Overtop of the lipstick, it cuts the blue base just enough for me, and gives my lips the moisture that I crave (cause this girl isn't 20 anymore, know what I'm saying?). 
The Swatches
---
One thing I would love to see from MAC in the Viva Glam line is a matching lip pencil, given that many of the shades that have been launched in recent years are bright bolds or vampy deep shades. It would be a fabulous trifecta to market together, and would give the colours something to 'stick' to, especially when the Lipglass is involved (as I find LipGlass likes to venture outside the lip lines).
What do you all think about these shades for MAC Viva Glam? Personally, I would really love to see a good peachy pink and put my hoarding skills to some charitable good 😉
Would you but a matching Viva Glam Lip Pencil if available to you?