Urban Decay Naked Cherry Collection
[dropcap]T[/dropcap]he Urban Decay Naked Palette train strikes again! With the news of the original Naked Palette being retired still fresh in the minds of makeup lovers everywhere, Urban Decay has not left us waiting in the wings long. Last weekend the Naked Cherry Collection, complete with palette, lipsticks and eye pencils showed up at my door, and I made fast work of testing it all out. If you remember my post on the brands Born to Run Palette, I was convinced that Urban Decay had done something to their shadow formula. The purples and red tones especially, faded fast and blended away on me. Naturally, my concerns were at the front of my mind testing out this palette. I am happy to report that they were unfounded!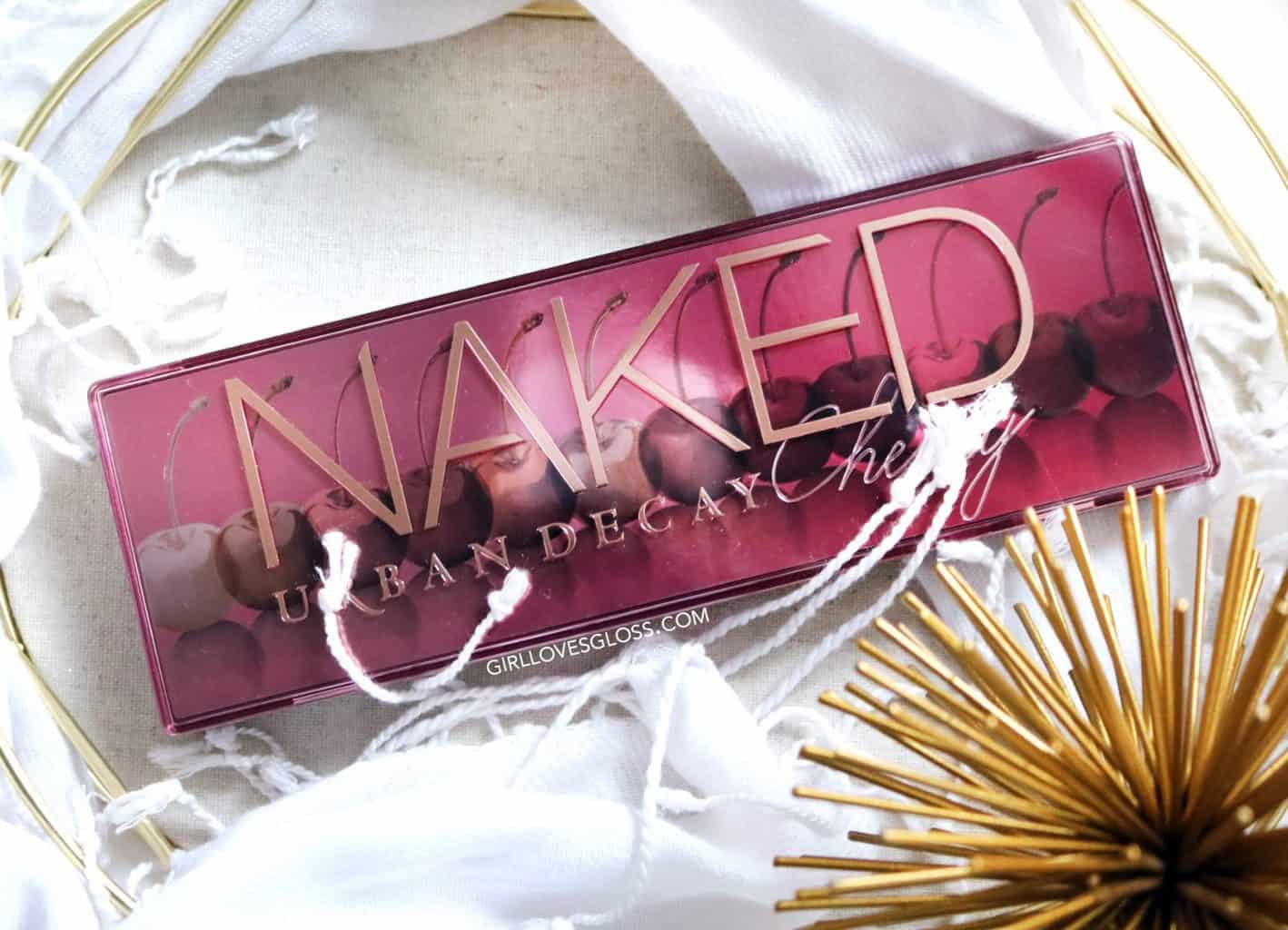 Urban Decay Naked Cherry Palette Review
---
Available at Sephora | Urban Decay
The original response online to the brand launch of the Naked Cherry Palette was mixed. If you're not a berry-toned lover, this probably won't tickle your fancy. As a green-eyed lady, however, I am all about that life! The palette is obviously cherry themed, but I am eternally grateful the brand didn't make it cherry fragranced. Because: barf (#sorrynotsorry).
The packaging is plastic, similar to the Naked Heat, with a full sized mirror and brush (but I'll be honest I never use the brushes in the Naked Palettes; They are too stiff). The pink/burgundy ombre cherry motif is cute and the magnetic close is ideal.
Going with the theme the shadows range in shades of cream, pink, rose, maroon and burgundy. There are 7 mattes and 5 shimmer/metallics shades. I think the brand missed out on adding a pale yellow/gold (like Rainier Cherries), which would have rounded out the palette really nicely. Likewise, I'd have preferred the shade 'Devilish' to be a bit redder in tone.
Most of these shades performed beautifully, with a few that were good but not great. The aforementioned 'Devilish' is a bit dry in texture, and the paler 'Hot Spot' and 'Caution' kick up a lot of powder when you even tap your brush in the pan. 'Bing' had me expecting a slightly richer tone, and took a bit of time building up (though it did build up).  The more metallic shades like 'Turn On' and 'Ambitious' weren't much to look at when using a brush but when used with a finger came to life! I wore these in several of my Instagram stories and had so many comments asking what was on my eyes! Thankfully the lasting power is exactly what I have come to know from Urban Decay; The pigment and vibrancy held up for a solid 8-9 hours before minor creasing and fading without a primer.
Urban Decay Naked Cherry Collection Lipsticks & Eye Pencil Review
---
Available at Sephora | Urban Decay
Three lipsticks have been released in this collection, which seems to be Urban Decay's sweet spot with new palette launches. Two are shimmer finish (shades 'Juicy' and 'Devilish') and one satin ('Cherry"). I found the shimmer lippies to feel slightly gritty on application, but not once they were on my lips. They were both balmy in texture and slightly sheer in pigmentation, which I prefer. The nude option, 'Juicy' is light a duochrome pinky/gold glaze that, once on top of my natural lip colour, is so pretty and wearable. I get a few messages on Instagram whenever I've worn it this week! I am not into dark lip colours, but the cream 'Cherry' shade is a rich burgundy brown that I can see lots of people loving. It's just not my cup of tea shade-wise.
The two 24/7 Glide-On Eye Pencils released in the collection are 'Black Market' and 'Love Drug'. 'Black Market' is described as a rich black satin, but its really just a soft charcoal grey. I find colours like this do nothing for my eye colour, so it's a pass for me shade-wise. More fitting to the collection, "Love Drug' is a shimmer cherry shade. Both apply silky smooth and creamy, but I wish instead of the grey there was a matte deep burgundy.
Urban Decay Naked Cherry Collection Final Thoughts
---
I am so relieved that Urban Decay has not messed with their formula when it comes to the palette! There really weren't any shades that were total fails, and I think they launched it at the perfect time of year to embrace the Autumnal hues popping up everywhere. If you're a lipstick lover, I would say that they are nice, but not revolutionary or extraordinarily different. The eyeliners are a pass for me purely due to the shades, and nothing to do with the formula.
If you love plum, burgundy, pink and cranberry tones – the Urban Decay Naked Cherry Palette is a must!