Evalina Beauty | The New Vancouver Based Beauty Range
I LOVE TO SUPPORT LOCAL, AND BEAUTY NEWCOMER EVALINA BEAUTY WAS FOUNDED RIGHT HERE IN VANCOUVER.
The brand aims to expedite your makeup routine with products that highlight rather than hide, with a bespoke, easy to work with colour palette. Founder Samantha Legge set out to create formulas for the everyday person who wants quality and dependability. I got the chance to try out the range in its entirety (spare the brushes) and have been putting the formulas to the test for the last month or so.
The ethos behind Evalina Beauty is to be paraben and cruelty-free. If you know me, you'll know I am not scared of parabens and preservatives in my beauty products, so for me personally, that claim isn't a selling point. I also don't consider it when reviewing; I expect products to hold up to their claims regardless if they classify themselves as "clean" "green" "luxury" etc (for example, you won't hear me say "its really wonderful… for a clean beauty product"). 
That all being said, let's talk the range:
DEW BEAUTY BENEFIT CREAM:I love a good base product, especially a tint and when it has the term "dew" in the title my spidey sense is perked! The brand puts a lot of emphasis on terms like "glassy" "dewy" "radiant" and "light-diffusing" in their write-up on this, mentioning it's Hyaluronic Acid as a powerhouse ingredient. The ingredients are promising with squalane as the second ingredient, but the touted Hyaluronic Acid is at the bottom of the list.
While it's a lightweight and hydrating tint that does give some smoothness to the skin, it takes a bit of work to blend it in (definitely use your hands, rather than a sponge or brush). The formula is sheer-light coverage but it wasn't 'glassy' on my normal-dry skin. Oilier complexions might notice that finish. It would be a great base for no-makeup days or when you just want a little something. Having said all this, the shade range is dismal, with only 3 options. I have fair, which is too pale for me, yet the medium is way too peach. The dark shade shouldn't even be called dark when it falls somewhere in the 50% percentile of the spectrum of skin tones.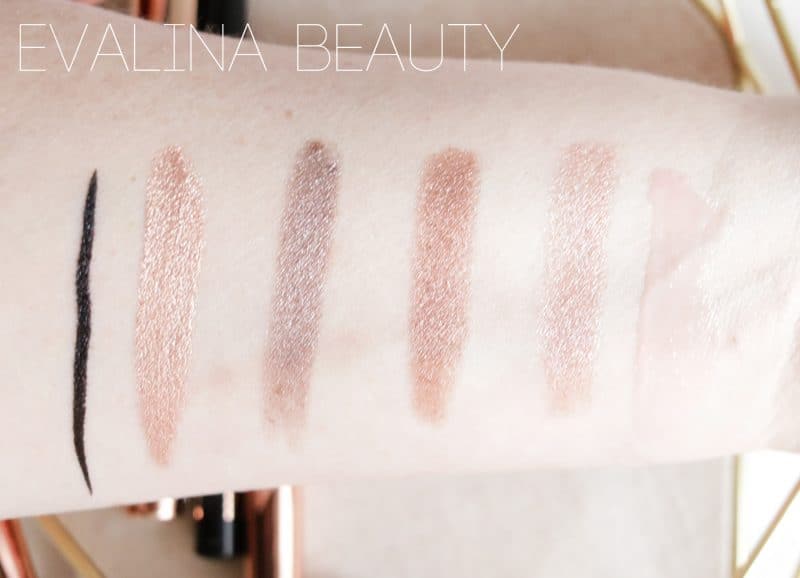 PRECISION LIQUID EYELINER: This was a really pleasant surprise for me! I'm normally not a felt tip girl, but this one performs really well and the pigmentation is a nice inky black. It's not quite as matte as I'd love (rarely are they if I am honest!) but it has a fantastic impact. The brand claims it has an up-to-24hour wear time without transferring, smudging, feathering or running. I wore this several times and while it does hold up for day-to-day, I had one day where my eyes were watery from the wind and when I got back inside my wings had completely disappeared leaving me with just a lashline. So basically, don't wear it to watch a tear-jerker, and you should be good!
SHIMMER EYESHADOW STICKS: There are currently 3 shades of these, in Pewter, Rose Gold and Stardust. The formula has a nice glide with no tugging on the lids, but the pigment can blend away a little if you try and manipulate it too much, just leaving glitter behind. These do set down, and wear well for about 8 hours before they start to fade away leaving just sparkle if you wear them without priming first. I'd love to see the brand offer some satin, or matte options to piggyback these in the range.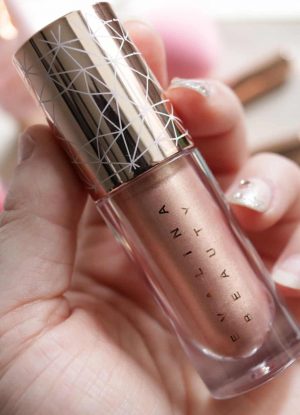 MOISTURIZING LIPGLOSS: I received the shade Blossom, which is described as a delicate pink with a hint of sparkle. It's a sheer, neutral pink that just barely pales out my naturally dark lips in a beautiful way. The gloss is hydrating, not overly sticky at all, and wears off beautifully. There are only currently 2 shades, so here's hoping Evalina Beauty expands to include more!
RADIANT GLAZE WATER-BASED HIGHLIGHTER: This was the product I was most excited to try, but ended up being a bit confused by. The shade itself (rose gold) is stunning but is definitely too dark and opaque to be used as a highlighter on my light skin. The model shown on the website wearing this is absolutely gorgeous, but she has darker skin than the brand offers for their Dew Benefit Cream. I wish there was more consistency to be inclusive by the brand. The product also sets, almost like a liquid eyeshadow, which means you do have to work fast, and I would suggest the sponge (mentioned below) for blending it in, since the formula is quite pigmented.
FLAWLESS FACE BLENDING SPONGE: This sponge is reminiscent of the other pink sponge out there, in shape, but feels more velvety. It claims to be used wet or dry, and I would agree; The velvety feel makes using it with powder actually very nice. It is latex free for those who have struggled in this department.
final thoughts
---
I think Evalina Beauty has loads of potential but definitely needs a bit more growth and refinement. More shade inclusivity and some shade expansions would do amazing things from the brand.
The packaging, even down to the unicarton is stunning. Nothing about it looks like a startup, rather having a gorgeous cohesive theme with the rose gold accents that have a luxurious feel. It has a bit of a Fenty Beauty vibe, with the Millenium pink, and that isn't a bad thing.
Founder Samantha has clearly thought out how her products present themselves, and I would love to see where she takes the brand!
Evalina Beauty can be purchased at EvalinaBeauty.com