New Love | NARS Orgasm X Palette and Oil-Infused Lip Tint
THE NEW NARS ORGASM X LAUNCH HAS TOTALLY CHANGED MY OPINION ABOUT THE BRAND'S ORIGINAL CLAIM TO FAME.
At some point, NARS Orgasm might have been one of the best selling, best-known blushes in the beauty industry. But I'll be honest, it never really did anything for me.
NARS has recently launched Orgasm X, a must more intense, pigmented coral blush and Oil-Infused Lip Tint (both limited edition!) and let me tell you… I LOVE them both!
Oh, and I'd say make a drinking game about how many times I have to type "orgasm" in this blog post, but I don't want to be responsible for excessive drinking!
NARS ORGASM X CHEEK PALETTE*
---
AVAILABLE AT: Sephora | Ulta |

Ok, so here's the deal: the original NARS Orgasm blush was super overrated to me. I get why it was a huge bestseller back in the day, but blush formulas have come a long way since it's original launch and you can get a peachy pink blush with gold shimmer just about anywhere now. I felt like it didn't wear well on me, leaving noticeable glitter and not enough pigment behind, if I'm being super honest here ( which, clearly, I am!)
Since then, some things have changed. NARS updated their formula a while back, and it seems the glitter they used to use is more of a shimmer now. Already a big improvement in my book!
So when I got my hands on the new NARS Orgasm X Cheek Palette, including a much deeper, more intense version of Orgasm called… you guessed it, Orgasm X, I was initially not super interested.
Friends, I am here to admit I was wrong. This palette is stunning.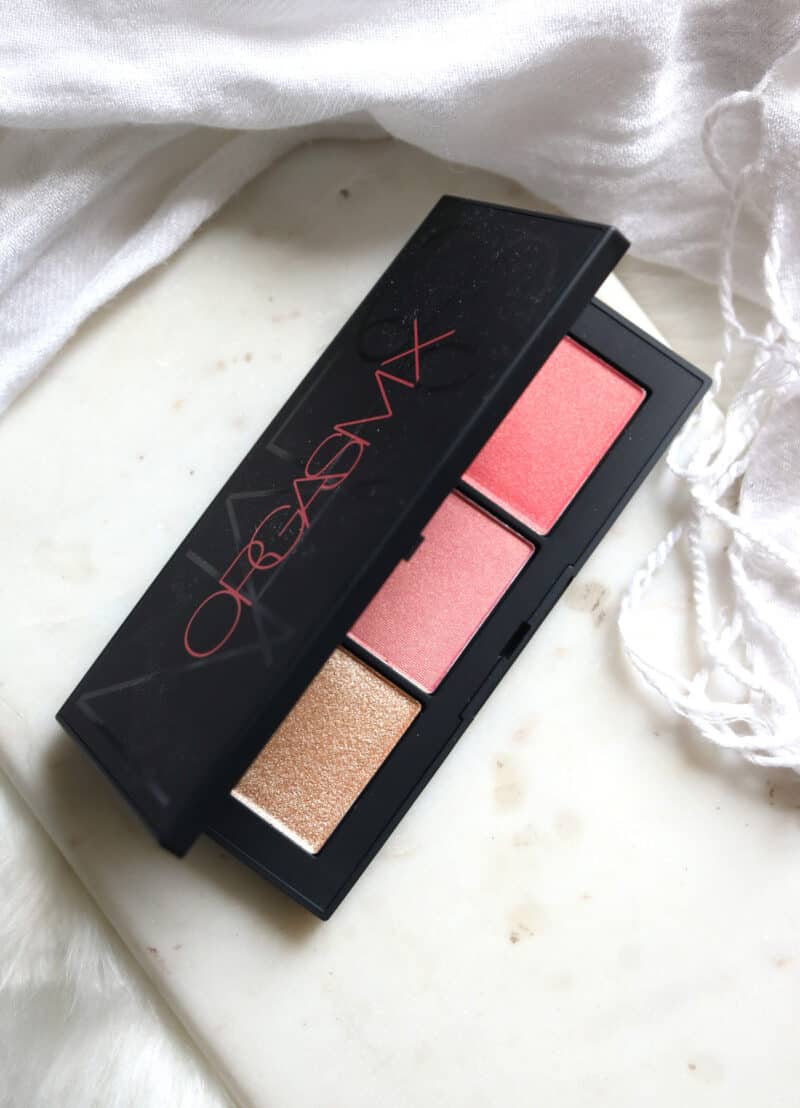 WHAT THE BRAND CLAIMS
"Hit all the right spots with this coveted cheek trio that contains three stimulating shades for a naturally dimensional glow. It features the new Orgasm X Blush, the cult-favorite Orgasm Blush, and Orgasm Highlighting Powder for sultry, second-skin luster that's built to thrill." – Sephora
THE VALUE
$60 CND/9.9grams of product
THE SHADES
Orgasm Highlighter – a golden champagne sheen
Orgasm Blush – peachy pink with gold shimmer
Orgasm X Blush – Intense coral satin
THE TEXTURE
NARS original blush formula was always pressed quite hard in the pan. These have a much more velvety feel to them and pick up on the brush easily, without excess or kickback.
THE FINISH
I'll agree with NARS here and say they really do buff into the skin for a second skin look! No chunky glitter (finally!) and the highlighter really gives a glossy sheen.
INCLUSIVITY
NARS mentions in their listing that this is a universally flattering trio, so I feel it's important to touch on that. I was originally worried the highlighter would be too gold for me, but it actually seems to adapt. As you blend it onto the skin, it turns into more of a sheeny shine, rather than a purely gold highlighter. For this reason, I don't feel it would look ashy on deep complexions.
While Orgasm itself is more suitable as a blush for fair-light folks, Orgasm X is incredibly pigmented and would look amazing from fair to deep.
MY THOUGHTS
I freaking love it. Honestly. I've basically been reaching for this all month because unlike the original NARS blush formula, this actually stays fresh-looking on my face all day! I tend to grab Oggasm X for the apples of my cheeks and use Orgasm to buff out the edges for a super glowy, radiant look. The highlighter is stunning – quite a few of you have noticed it on my IG stories when I wear it!
NARS ORGASM X OIL-INFUSED LIP TINT*
---
WHAT THE BRAND CLAIMS
"Smooth, sensorial, and sublime this limited-edition Oil-Infused Lip Tint saturates lips in moisture and an irresistible hint of color. The luxurious, gel-oil texture glides on effortlessly with a non-greasy feel, while delivering a sheer wash of color and stunning shine. It's available in four shades." – Sephora
THE VALUE
$34 CND/5.7ml
THE SHADE
A vibrant coral with gold shimmer.
THE TEXTURE
These have the chine of a lipgloss, but feel nothing like lip gloss (ie, they aren't sticky in the least). The closest thing I could compare it to is almost a jelly-like feel.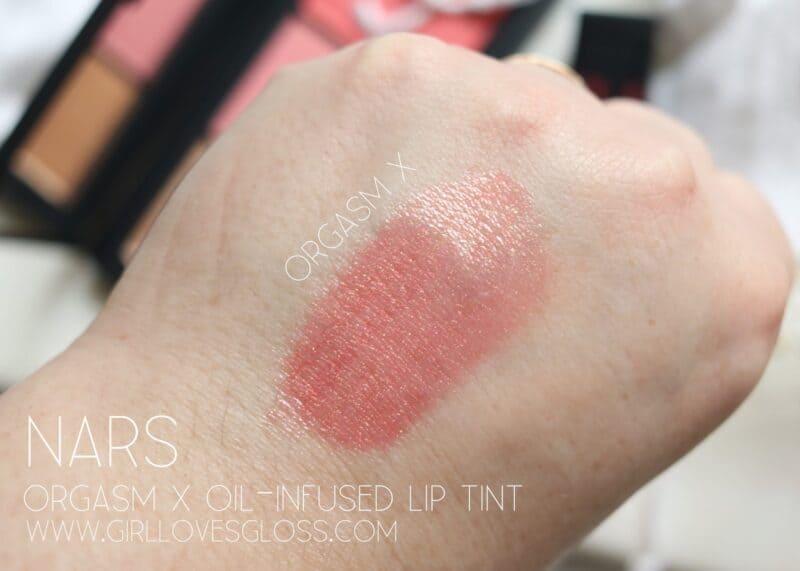 THE FORMULA
Super hydrating and comfortable on the lips, without gathering into creases or corners. It does leave some gold sparkle behind as it wears off, but nothing that can't be wiped away.
MY THOUGHTS
Again, it's LOVE people. This formula, regardless of shade, is STUNNING. Run, don't walk, to grab this if you are a coral lover! Otherwise, check out the other, non-limited edition, shades in the range if you aren't.
I love that this really nourishes my lips. There's no gummy, tacky or sticky feeling that makes my feel like I can't be downwind (long hair problems, I tell ya!). It also doesn't have a particular scent, besides the actual oils used in the ingredients.