Tarte's Tarteguard 30 | The SPF My Dry Skin is Digging
Finding a decent SPF should have been something on my list many, many years ago. But like many other girls of my generation, I wanted every chance I could get to get a little colour on my face. I know… I know… cringe…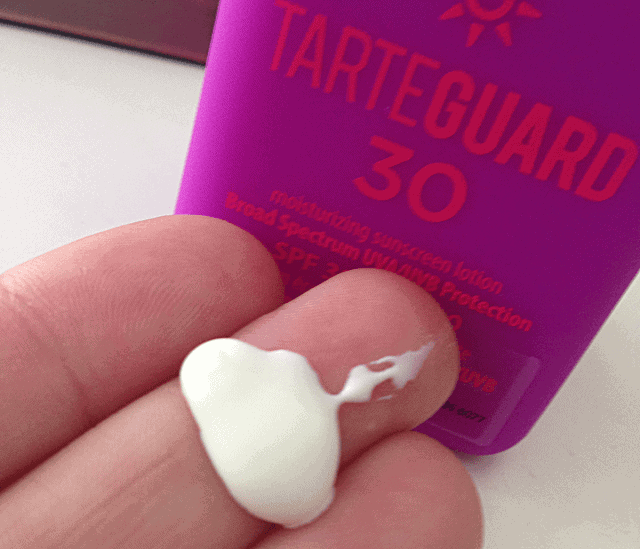 Fast forward a few years, some early signs of ageing and sun damage on my skin and I'm kicking myself for not being more diligent about donning SPF when I was spending time outside on the daily. So I figured 'better late than never' and went out hunting for a decent SPF… easy, right? Wrong.

There seem to be masses of sunscreens out there for oily skinned folks, or that have mattifying or oil control properties, and the ones that generally don't claim this feel hideously greasy on the skin and not appropriate to wear under makeup. Having drier, more dehydrated skin myself, many of these sheer fluid formula sunscreens felt tight and dry on my skin. The thicker creamy formulas made my makeup slide right off, or had my breakouts flaring up where I'd never experienced them before.

I was starting to get quite deflated in my otherwise positive attempts at being sun smart, until I was sent the Tarte Tarteguard 30

*

. Not expecting much, I went into this assuming it would be no better that the other sunscreens I'd tried, but I am so glad I got the chance to try this! The texture is lotion like in viscosity which helps it blend in quickly and spread nicely. At first I worried of a tell tale white cast, but after a second it blends into an invisible finish and sinks right into my skin. After application, my skin felt satiny smooth and my complexion looked nice and even (sometimes SPF can my make my redness flare up a bit). More importantly, my skin felt hydrated, rather than slick or greasy and as I applied my makeup I kept thinking about how smooth my skin felt to the touch. I even told a girlfriend of mine that my complexion felt and looked better with it than without!

I can say that this also passed another one of my make or break tests: does it sting the eyes?

I tested this out thoroughly during a heat wave here at the beginning of the month, we're talking full Sweaty-Betty here folks and not once did this run into my eyes or sting them in any way, which is something I've struggled with using other face sunscreens.

Oh, and I know you're going to ask if it broke me out, and I can honestly say I don't notice any negative effect on my skin when I wear this, even for days and days in a row (obviously cleansed off at night and reapplied the next day!)

Tarte Tarteguard 30

*

is a broad spectrum UVA/UVB protection, with a Zinc Oxide (4.13%) and Titanium Dioxide (3.36%) base and an SPF of 30 which is really fantastic for day to day wear. As usual with Tarte, it's formulated without Parabens, Mineral Oil, Phthalates, Triclosan, Sodium Lauryl Sulfate or Gluten! It does have a subtle scent to it, almost like a cucumber melon (certainly not that traditional sunscreen smell) so just a fair warning for those who don't 'do' fragrance in products. I can say that the scent faded almost instantly to my nose, and I only smelt it during initial application.

Are you good about remember to wear SPF? What is your favourite that you've tried and why?

Tarteguard 30

*

can be ordered online through tartecosmetics.com or purchased at Sephora (though I believe they have been sold out for a while!)
Follow



*

I was kindly sent the product denoted with the '

*

' in this post for review. All opinions are my own, and I was under no obligation nor paid to post about said product. Just keepin' it real.