This Just In | Charlotte Tilbury Eyes to Mesmerise and Pretty Youth Glow Filter
Charlotte Tilbury has been on a roll lately with new additions to her gorgeous range. I recently reviewed the Hollywood Flawless Filter here, and I was keen to get my hands on the new shades of her Eyes to Mesmerise, which I am already a fan of.
Also new, and limited edition, are the Pretty Youth Glow Filter cream blush and highlighter duos, which look stunning! There's even a funky little brush that I honestly thought (wrongly) would be gimmicky, but turns out to work really quite well!
PR Samples. Affiliate links in use.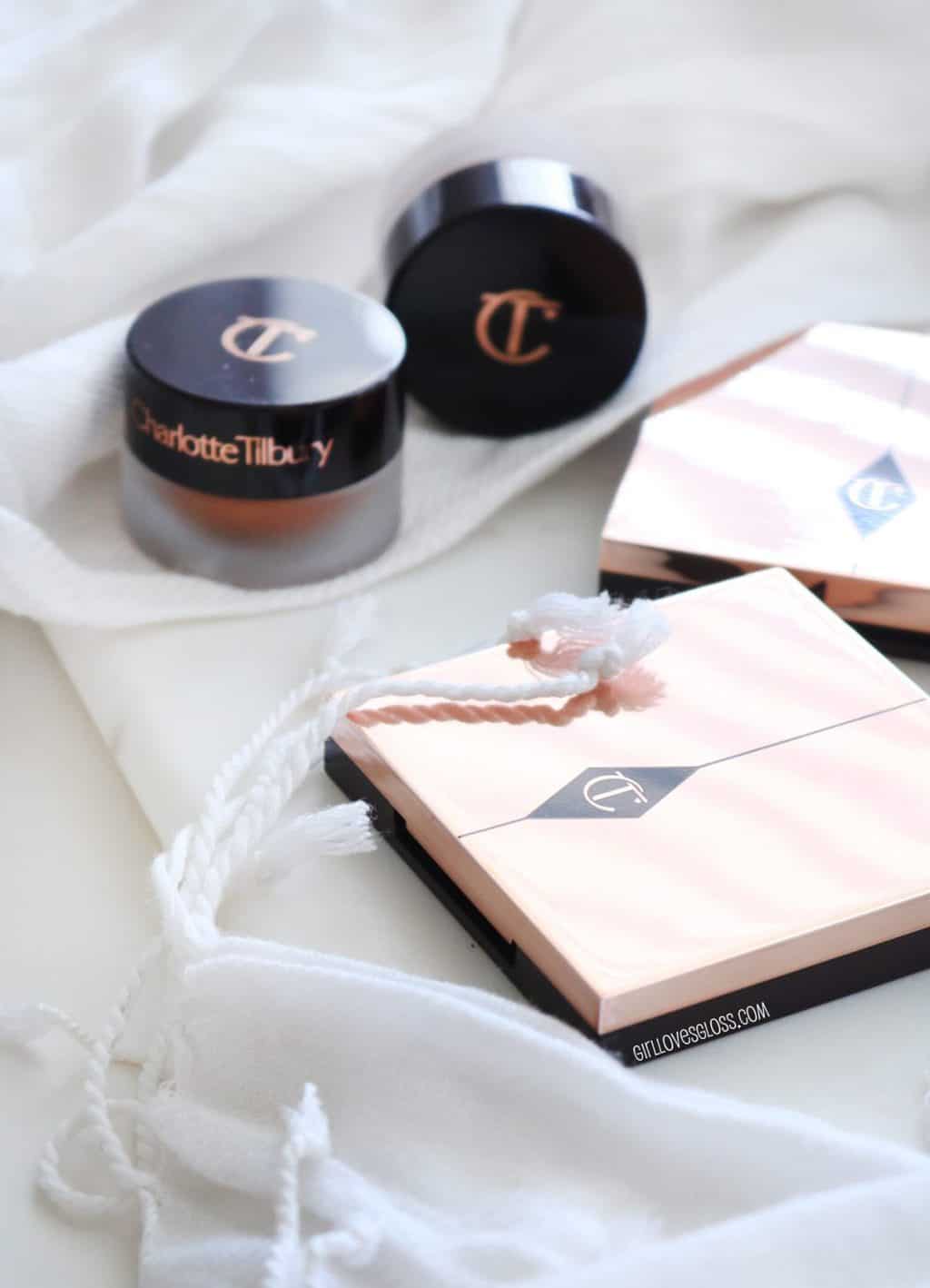 C
harlotte Tilbury Eyes to Mesmerize in Show Gold and Rose Gold
---
Exclusively available at Charlotte Tilbury
I already have a review of the Eyes to Mesmerise formula here, and suffice to say I am a fan of the formula. I find the whipped, silky smooth creamy texture a dream to apply and it lasts all day without creasing!
The two new shades, Rose Gold and Show Gold, are both beautifully pigmented and perform as expected. I think the addition of the warm golden pink of Rose Gold was definitely needed in the range. The coppery brass of Show Gold tends to be a bit too rusty for my complexion (Top Tip: These two mix to make a stunning colour!).
It is also a bit similar to the existing Bette shade. I would have loved a bit more of a pale yellow, or a rosy copper instead of an orange copper.
Both shades sheer out, or apply opaque, depending on your application desire. I love how malleable these are to work with and blend out before they set; The formula is a great one for those who aren't interested in having to be super precise and want something super fast!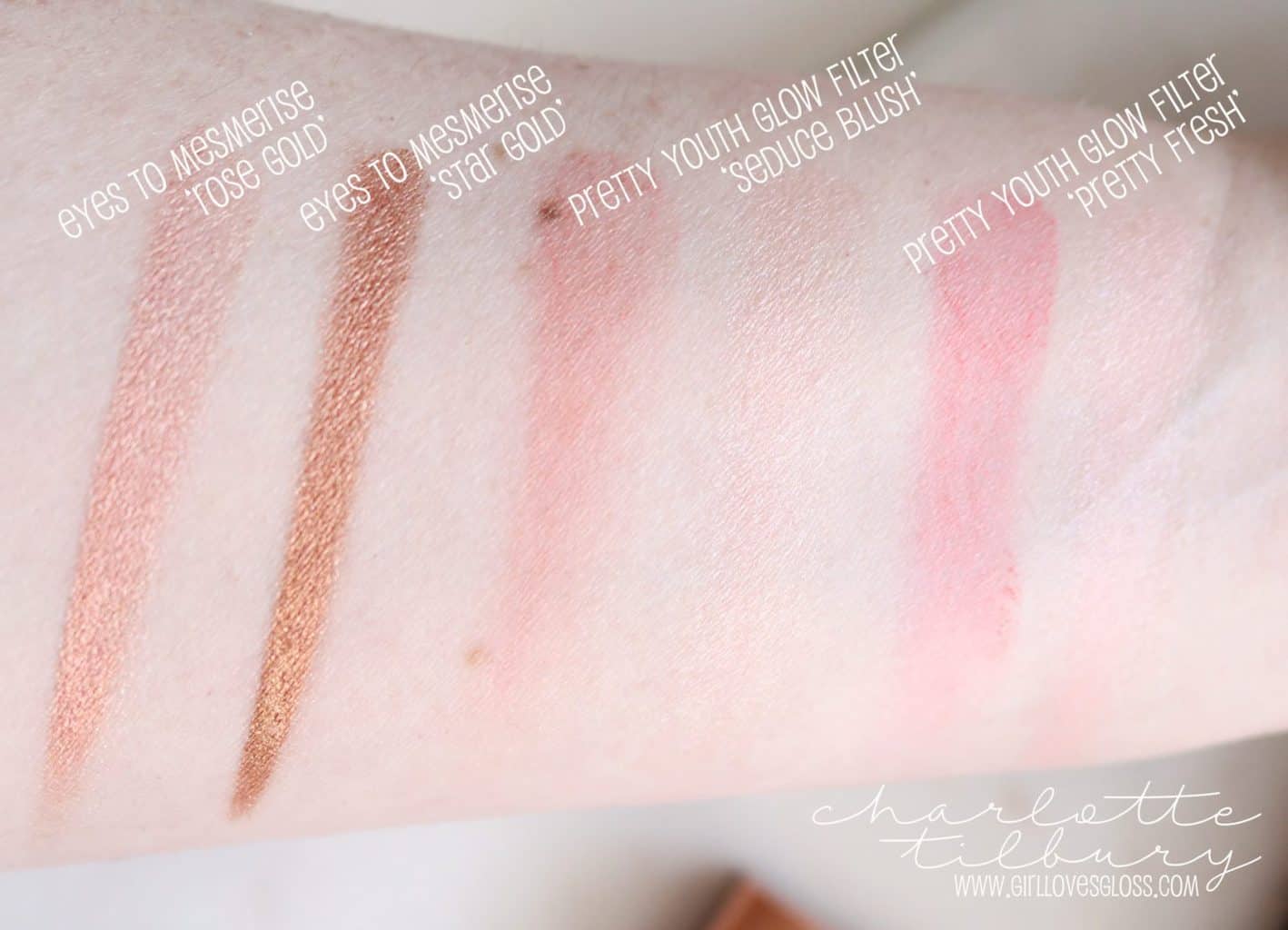 Charlotte Tilbury Pretty Youth Glow Filters & Brush
---
Available at Charlotte Tilbury | Beautylish | Nordstrom
The Pretty Youth Glow Filter cream blush and highlighters are no ordinary cream product. They are formulated with rubbery waxes that create an instant cream to powder finish. This is created to blur imperfections and pores. I'm not normally a fan of cream to powder products. I generally them emphasizing of texture, so I was definitely intrigued with the product claims.
Normally I don't believe in products that use a specific brush, but the Cheek Hug Brush actually does apply this the best as far as I am concerned.
The formula of the blush and highlighter is dense, so the brush really picks up the pigment well. Like most cream blushes, the pigmentation is slightly sheer, but builds really well and blends out seamlessly.
Unlike most cream highlighters, I don't find this gives much 'glow' but rather is very subtle. Personally, I would love the blush shade to be paired with something more glossy, but I do get the blurred look that the brand claims.
Surprisingly, I find this lasts really well on my complexion when most cream blushes disappear in the blink of an eye. I'm sure this has to do with the instant cream to powder formula. These are limited edition and I am curious to see if Charlotte is waiting to see how they are accepted by consumers before offering more shades.
I find the product 50/50 love or leave; The blush performs and looks beautiful, especially on bare skin or tinted moisturizer. I thought I would lean towards the more neutral Seduce Blush shade, but it is actually the pop of colour in Pretty Fresh that does the most for my complexion!
I love when Charlotte expands her line. There's an incredible amount of research, formulation and testing her products before ever launching them. Everything serves multiple purposes, and these new offerings are no different.
While the Pretty Youth Glow Filters aren't 100% what I want them to be, they completely hit the mark on what the brand claims them for! Creating a blush and highlighter product that also smooths pores and imperfections is brilliant.
The Eyes to Mesmerise formula is friendly to all lids and really lets you play the painter when it comes to a one and done look. The two new shadow shades are permanent to the line, but if you are interested in the Pretty Youth Glow Filters, act quick, they are limited edition!

---
Some of the products mentioned in this post may have been provided for consideration. These products may be linked using an affiliate link, which provides me with a small commission in return for providing readers with honest and authentic reviews. The earnings from affiliate links are what keep GirlLovesGloss.com running! You can read my full disclaimer here.