Going Where No Mascara Has Gone Before: MAC Pro Beyond Twisted Lash Mascara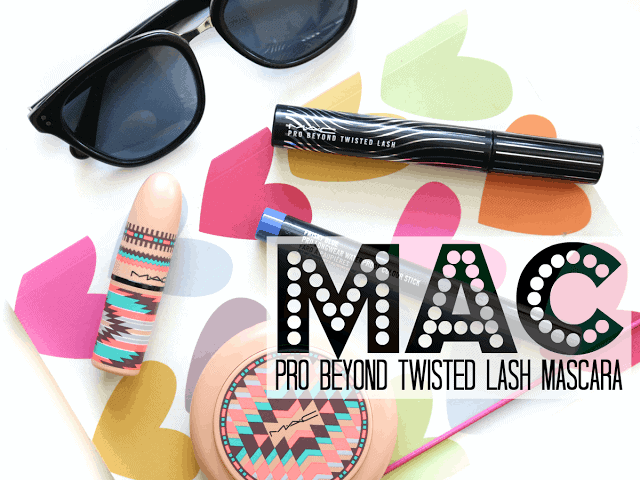 The last few years have shown us some incredible innovations in terms of mascara wands haven't they? Gone are the days of the standard ole spiral brush – we're seeing every shape under the sun, from hourglass to conical, spikes to combs, and everything in between. One thing we haven't seen however is much innovation in terms of the actually wand, that is until now. Enter in
MAC's new Pro Beyond Twisted Lash Mascara
into the mix and we've got a bit of a game changer…
At first glance the newest mascara offering from MAC,
Pro Beyond Twisted Lash
, looks pretty average with it's skinny brush. Here's where it gets unique though: the wand is completely flexible to 90 degrees! Gone are the days of getting mascara across the bridge of your nose, in the inner corners or the brow bone as you attempt hand gymnastics to get mascara on every lash last. Being able to flex the wand any way you want, means you have unobstructed access to your lashes without having to go ambidextrous. As you remove the wand from the tube, you simply bend it how you desire, and play around with which angles work best for you.
Now this might seem gimmicky to some, but if you ever watch makeup artists apply mascara to models, it's incredibly common to see mascara wands that have been purposefully bent in order to get best results. It's a trick I used myself for years (that is with traditional bristle wands –
obvs the plastic/silicone wants don't have the wire structure to bend
). As someone who has quite long lashes, but that are thin and fine, I found the trick super helpful for getting access to the most lashes I could. I love that MAC has really pushed boundaries in terms of mascara advancements with
Pro Beyond Twisted Lash
– a completely mobile mascara wand is not something I've seen anywhere yet (if you have let me know in the comments below!)
Innovation aside, let's talk about application, formula and performance, shall we?
At first glance I immediately took a liking to the actual bristle wand which is very narrow with short bristles. I generally like wands like this because they really get to the root of the lashes and allow you to "wiggle" the wand without getting product absolutely everywhere. My all time favourite (and sadly long discontinued) L'Oreal Lash Out Mascara had a brush very similar to this and I bought it over and over for AGES.
In terms of formula, it is on the thicker and drier side and relatively dark black. Normally I would expect this to provide more volume than length, but with Pro Beyond Twisted Lash I found the exact opposite. While the formula dried relatively fast, holding the curl I put in my lashes, it really started to clump my lashes together as I tried to build volume. I worried that the dried texture would have flakes under my eyes by midday since it felt quite 'crunchy' on the lashes, but it held up a solid 12 hours with no flaking, smudging or wilting!
So is the bendy wand gimmick or God send?
I actually found it very handy to be able to bend the wand as needed to get at every lash, and it made applying mascara to the lower lashes a snap. I am pretty comfortable doing the old reverse-grip-reach-across-the-face application when it comes to doing my left eye, but this made it easier. I think if the formula was a little wetter in texture, it would have provided more drama and less bunching.
Curled Lashes, One Coat of MAC Pro Beyond Twisted Lash Mascara, Two Coats.
So while I didn't find the formula of this mascara 100% suited me or did anything mind blowing for my lashes, the wand really did impress me. I think this is the beginning of a new generation of mascaras that will spark a new movement in the beauty industry. In a time when beauty products can't get away with just being gimmicky, they also need to be revolutionary in terms of performance – this the start of something!


Tell me what you think of this concept in a mascara in the comments below, and which product has struck you as super unique and innovative recently!