Kicking Breakouts to the Curb With Neutrogena's Light Therapy Acne Mask
This post is sponsored by Neutrogena®.
If you've been perusing your local drugstore lately, you may have seen this nifty new beauty gadget by Neutrogena that looks like a bit of a cross between a hockey and a welder's mask. What it actually is, is the Neutrogena® Light Therapy Acne Mask – an at-home way to use red and blue LED, UV free light therapy. Dermatologists have used light therapy for years now to aid in reducing breakouts, mild and moderate acne. So I think it's pretty exciting that Neutrogena has come up with affordable access to this kind of treatment! I've had my good friend, Sara, test this out for the last several weeks so let's see how it lives up to its claims…
Neutrogena® Light Therapy Acne Mask – The Claims
---
Neutrogena claims that users of the Light Therapy Acne Mask can see results in as little as one week, and over 12 weeks:
98% Of users showed fewer breakouts
94% Had smoother skin
90% Had reduction in red, inflammatory acne 
85% Agreed it was gentle on the skin
How It Works
---
The Neutrogena® Light Therapy Acne Mask is a wearable device that uses red and blue LED light technology to simultaneously kill bacteria (blue) and reduce inflammation (red). The beauty of it is that you only need to wear it once a day for 10 minutes. Sara preferred using it in the evening. After cleansing her skin free of makeup, she would pop the mask on while winding down for the night. The aim of the game with Sara was to target her dry, reactive skin that breaks out both hormonally and due to sensitivities.
As soon as the first couple of days she noticed her skin had calmed, but it was after a week and a half of use that she really felt she could see her pigmentation issues fading. Sara also noticed it cut the healing time for active acne down significantly and made products like her facial oils and hydrating masks sink into the skin more efficiently.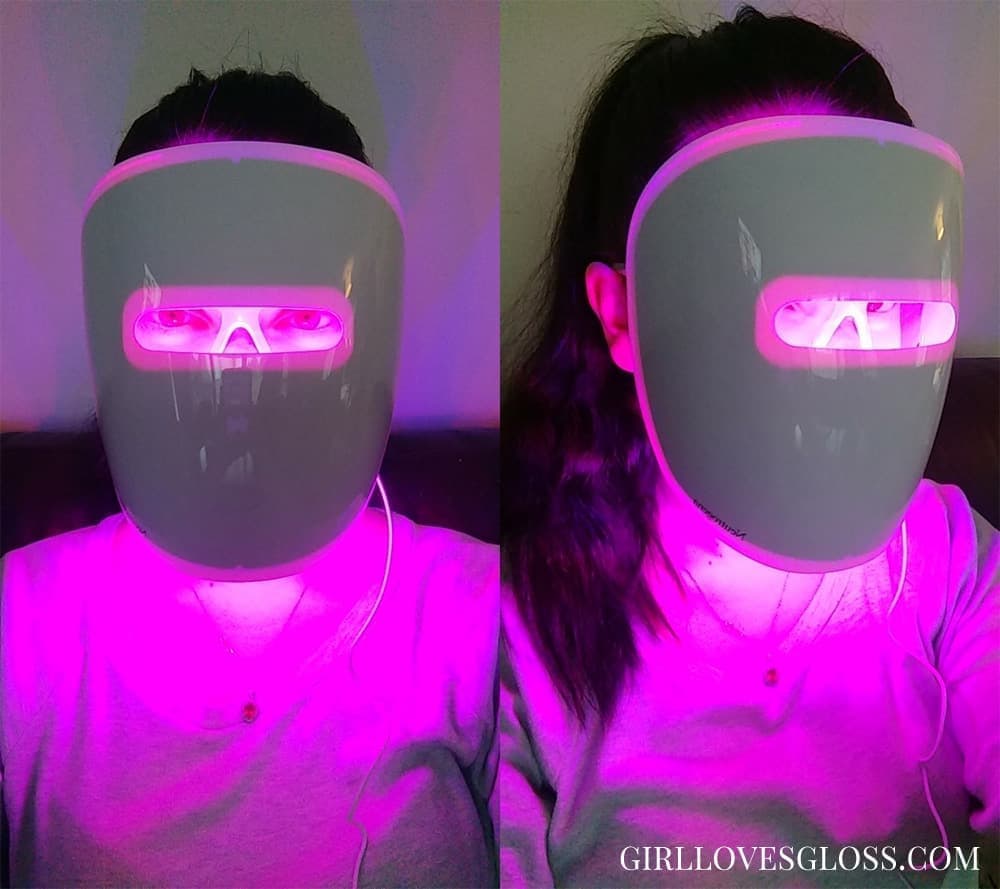 Pricing and Availability
---
At 19, Sara is still working with teenaged skin that can be fickle. Knowing that she can manage her concerns with a mask that only needs to be worn for 10 minutes at a time, without a visit to the doctor or an expensive prescription is a massive plus. The Neutrogena® Light Therapy Mask can be found in all major drugstores priced between $45-$50 CND and comes with 30 sessions in each activator. Once you are done the 30 sessions, you can purchase a new activator for around $19-22 CND and you can actually recycle your used one at no cost to you by visiting the 'Recycle Your Activator' page here.
Personally, I think Neutrogena's development of this mask is ingenious. I've known people of all ages rely on light therapy to treat their skin concerns for years. The major downfall is always waiting for a referral and appointment and potentially being left with a hefty bill if it isn't covered. Offering consumers the chance to try out a safe, UV free light therapy at their own convenience in their own home is brilliant!
I think this would be an incredible device for busy teens or those who have gone off to college and need something quick and portable. I love that the activator times the 10-minute sessions and can easily be recycled at no cost thanks to a partnership with Stericycle. Oh, and hey, it might even come in handy when you want to surprise the mail delivery person or get a chuckle the next time you answer a Facetime call!
You can learn more about the Neutrogena® Light Therapy Acne Mask here, or on their Instagram, Facebook, or Twitter accounts. 
I partnered with NEUTROGENA® on this sponsored review and was provided with the Light Therapy Acne Mask. All opinions and experiences are that of myself and my tester, Sara.