As a girl who will forever be filling in her naturally sparse brows, I am always curious about new brow products on the beauty block. When I heard Urban Decay was launching two new brow products I knew I needed to try them.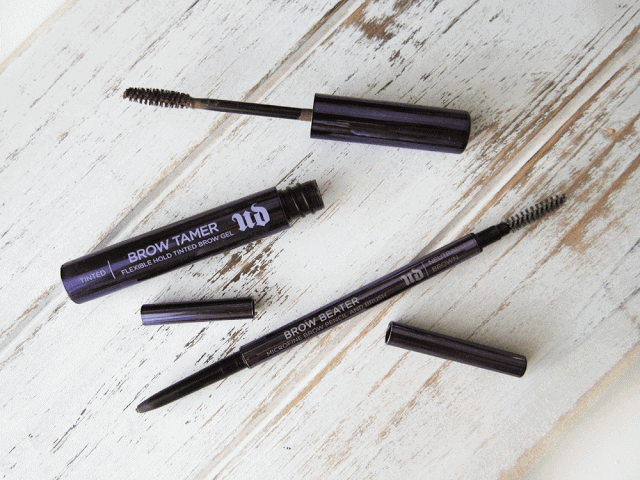 Urban Decay's Brow Beater Microfine Brow Pencil and Brush is very reminiscent of many tiny brow pencils on the market these days. The pencil part itself is minute, and draws on tiny hair strokes well, and the spooly brush on the other end helps soften everything and blend it together. The difference with this versus other similar brow products is the waterproof quality, which Urban Decay is known for with their pencil products. I have the shade Neutral Brown, which is slightly warmer than I would like, but gets the job done. The pencil itself is smooth and relatively soft without being too waxy, so it blends up nicely with the brush on the end.

Also new is Urban Decay's Brow Tamer Flexible Hold Tinted Brow Gel, which claims to be water resistant and long wearing as well. Now, it's tough to get me to stray from my beloved Benefit Gimme Brow, but I've been wearing this for the better part of two weeks happily. Unlike many brow gels, I don't get crispy brows that go crusty after a couple hours, nor does it go on looking wet or weirdly shiny.

I actually do feel that this offers a flexible hold as promised. I like how thin the wand is, which makes for no messy application and helps get every little brow hair, though it doesn't have an volumizing fibres like the Benefit does, but rather justs sets the brows in place. I have the shade Neutral Brown, and would say it does run more 'neutral' in undertone than the pencil (which I would love to have been an ashy brown)

I have a full 'brow pencil smackdown' post coming, doing side by side swatches, and comparisons of three very similar brow pencils, so keep your eyes peeled for that.

Have you tried any of the Urban Decay brow products? If not, what is your favourite brow product right now?
Follow
*This post contains PR samples