Makeup To Make It Through a Heat Wave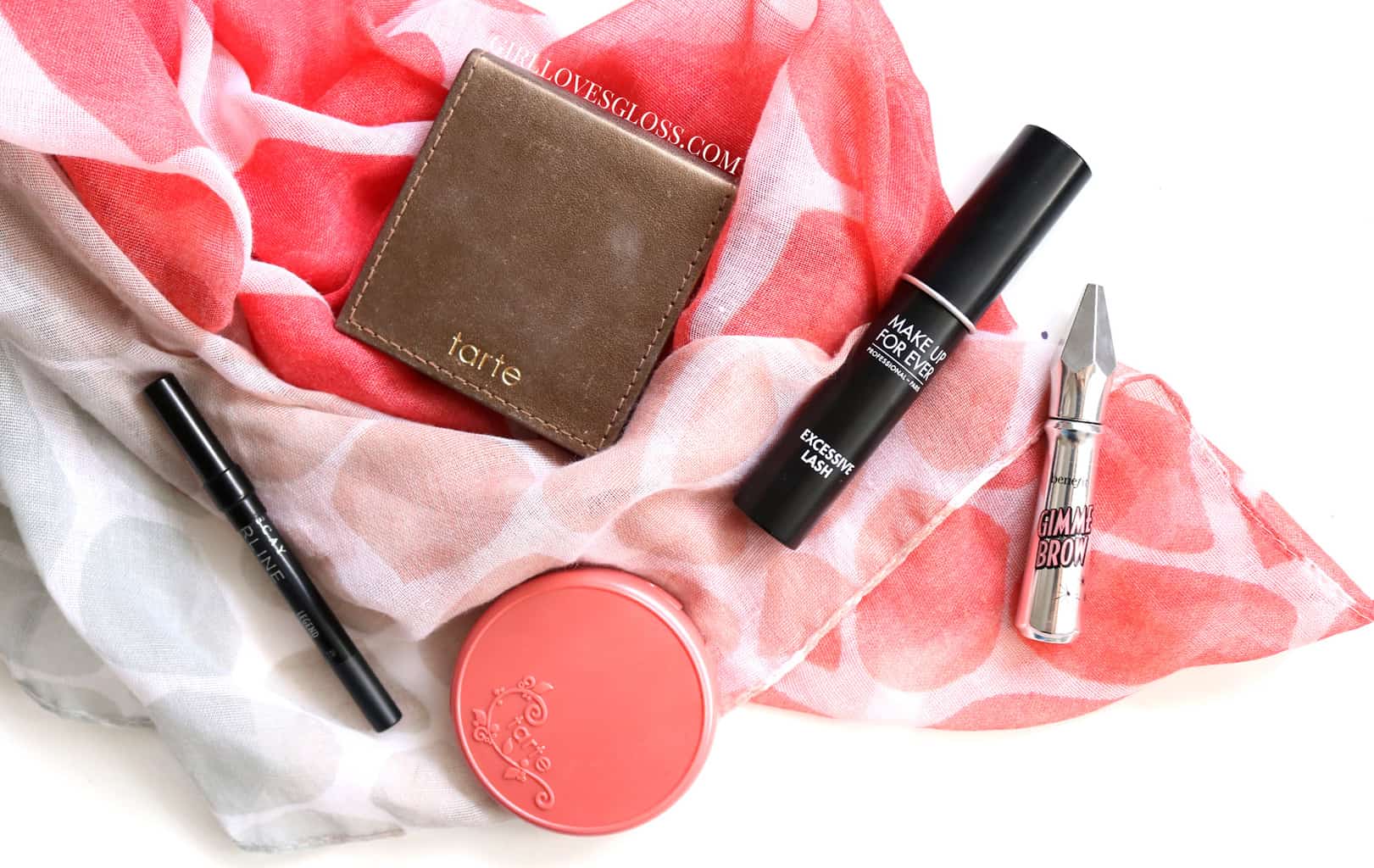 While Vancouver is normally a very mild city in terms of weather, it was actually hit with a heat wave this summer. In combination with the horrific wildfires all over British Columbia, a sticky, humid, smoggy fog washed over the city and has hung around for the last two weeks. Besides feeling like I was melting into a puddle (seriously, pregnancy + heat wave = utterly miserable Jaime) I really didn't want to LOOK like I was melting too. Here's what got me through….
Affiliate Links
Tarte Park Avenue Princess Matte Waterproof Bronzer:

Sephora, Ulta, Tarte
Besides the longest name ever, this bronzer has been my tried and true for YEARS. If you've been reading GLG for a while you already know this so I won't go on and on too much. Park Ave Princess is the only bronzer that doesn't break up and go patchy, stays on all day and blends seamlessly on my skin. I will never be without it. 
I was not blessed with beautiful brows. They grow downward, are naturally sparse and love to get that nasty brow dandruff midday with other brow gels. Gimme Brow sets them in place and keeps them there, with volumizing fibres that give me teeny brows some oomph without getting gross by the end of the day. Thin browed girls everywhere should have this in their makeup bag!
Urban Decay 24/7 Waterline Pencil: Sephora, Ulta
Eyeliner during a heat wave can be a recipe for disaster. Instead of my usual wing, I run this in my waterline for the definition I want, minus the gathering in the inner corner, smearing or panda eyes.
Tarte Amazonian Clay Blush in Glisten: Sephora, Ulta, Tarte
This was one of the first Tarte blushes I fell in love with (yes, I own them all!). To me, this is a WAY better version of NARS Orgasm (peachy pink with golden shimmer). I love the glow this gives my cheeks without looking sweaty or sparkly; It's just a luminous finish that is so pretty in the summer time and actually lasts through the entire day!
Make Up For Ever Excessive Lash Mascara Sephora
Yes, you guys know I love this by now. Unlike many of my waterproof formulas that still leave smudges on my brow bones, Excessive Lash is easy to take off but acts like a waterproof formula while it's on. It's been a total game changer this summer in the warm, sticky heat, keeping my lashes looking dramatic without the tell tale smears everywhere.
SHOP THE POST
---

What were your tried and true products this summer that got you through the heat?
Some of the products mentioned in this post may have been provided for consideration. These products may be linked using an affiliate link, which provides me with a small commission in return for providing readers with honest and authentic reviews. The earnings from affiliate links are what keep GirlLovesGloss.com running! You can read my full disclaimer here.