DUPE ALERT | Essence I ♥ Extreme Crazy Volume Mascara
"Dupe" usually refers to a product that matches up pro for pro with another, usually something that costs more, therefor making finding an affordable "dupe" a highly covetable discovery. But what about when your so-called dupe actually out performs it's higher priced twin? Well then we've got a real winner on our hands, now don't we?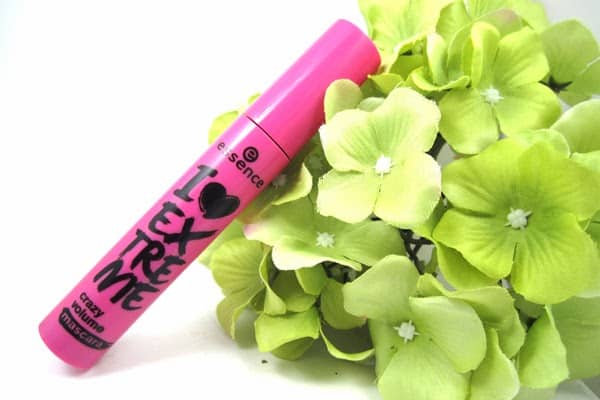 I wasn't looking to dupe a certain mascara when I stumbled across the
Essence I
♥
Extreme Crazy Volume Mascara
(phew, that's a mouthful!) but I couldn't help make the comparison to another mascara when I opened up the tube. You see a while back I had forked out the $23 for
Clinique's High Impact Extreme Volume Mascara
(what is with these long winded names??) after falling smitten by the crazy brush that promised to grab every single lash.
I was disappointed. Sure it's tightly packed bristles grabbed my lashes, but it caked on WAY too much product, even for me, and left my lashes feeling heavy and wilted. It wasn't pretty.
Enter in
Essence's
mascara, coming in under a fiver at $4.99. The brush is identical – finely spaced bristles that round around the tip like the ever famous (yet complete let down, for me)
Benefit's They're Real
, to get to even the tiniest of lashes. The difference between this and its high end twin? It leaves just enough product to build up great volume, whilst still defining and even holding a curl without being a waterproof formula. Halle-freakin-lujah!
The proof is in the pudding, you can see in my handy dandy, slightly terrifying, closeup the results for yourself.
[1] is naked lashes, before curling.
[2] curled lashes, pre mascara.
[3] one coat of Essence I ♥ Extreme Crazy Volume Mascara
[4] two coats of said mascara. No lash combing.
Lashes stayed curled all day, kept a soft feeling to the touch and didn't smudge of flake. I found the formula quite dry, but easy to work with and layered on top of itself well without needing to comb through lashes. At less than quarter of the price this mascara performed like I had hoped the
Clinique
offering to. Colour me impressed.
Essence can be found in Canada at some
Shoppers Drug Mart
locations. Have you tried anything from this line?