Mascara Monday | Covergirl Peacock Flare Waterproof Mascara
You know when you try something new, and every day you grow fonder and fonder of it until you're a bit obsessed? Like avocado on toast, but for the beauty world. The Covergirl Peacock Flare Mascara is totally one of those products. I tried it, I liked it alright, but by the end of the week I was in love! My before and afters speak for themselves, and the $10 drugstore price tag makes my wallet sing happy songs!
Affiliate Links
CoverGirl Peacock Flare Mascara in Waterproof
---
Available at Ulta | Amazon Canada | Amazon US | Target
What I look for in a mascara: I'm a total mascara snob, I want volume, definition and length that is super black and fanned out. Not asking for much, right?
What CoverGirl Says: 
Feather-fan brush catches, coats, and separates each lash
High-build formula provides instant clump-free volume for lashes that are dark, lush and fanned out for a dramatic transformation
Does not flake or smudge.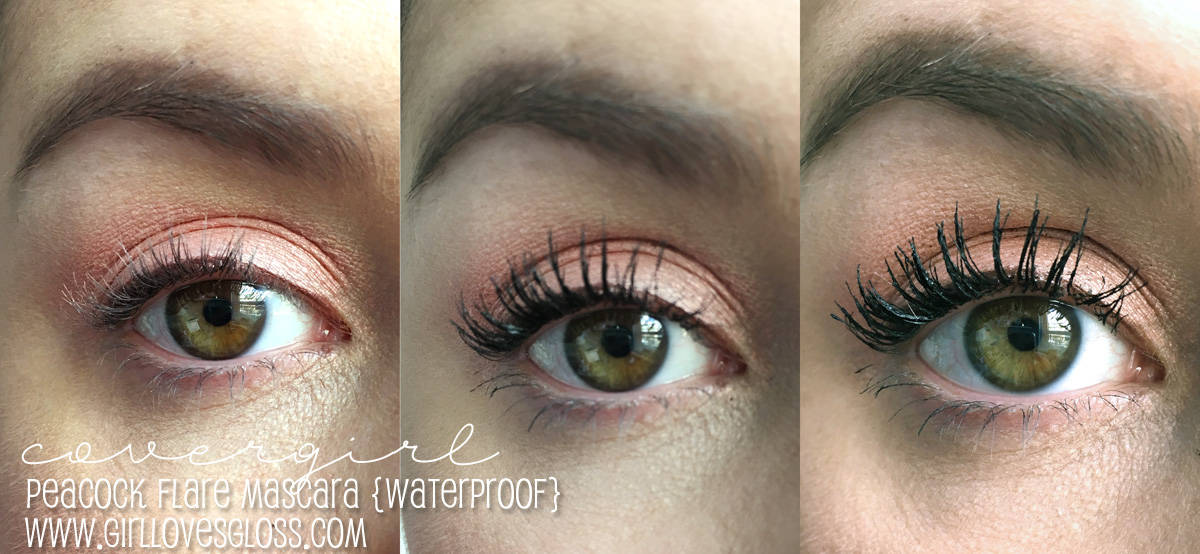 Let's start with the packaging and brush. In typical drugstore fashion these days, the outer packaging isn't chic nor anything to write home about. For the price tag of $10, I certainly don't expect much. The wand is most definitely unique, however; I usually steer clear of gimmicky mascara brushes because I find them more awkward than anything. In this case, I do feel that the spiralling bristles do a good job of catching every little lash. Instead of tapered ends, the brush wings out, and this makes it super easy to flare out the outer lashes like the brand promises. This also gives incredible separation while still building volume. Unfortunately, it doesn't apply to lower lashes great, but I usually use a totally different mascara for that anyways.
As mentioned, upon first application I was just so-so on how I felt about this mascara. Having said that, each time I wore it, I liked it more! It is super black in pigment and held my curled lashes up all day. I haven't had any issues with flaking, and maybe get a touch of transfer on the brow bone occasionally, but rarely does a mascara not do this for me. I love that it's actually buildable, as the formula isn't super wet, nor dry, and a bit mousse-like. It sets up without being too crispy feeling, with some flexibility which is how I prefer my mascara to feel.
Some waterproof mascaras can be super hard to remove at the end of the day, even with remover. Thankfully, this is not the case, and my lashes actually feel healthier than they have in months! That could be totally unrelated, but I'm not sad about it. CoverGirl used to be my go-to for mascara for YEARS, so it's really nice to find a new love with the brand. I'd say if you're not great with these types of wands, or prefer a natural look, this won't be for you. I've been wearing CoverGirl Peacock Flare Mascara for a month now, and have already bought a back up (that's when you know its love!).
What is your most recent mascara love??