5 Lightweight Foundations For All Skin Type
Sometimes, I just want a tint or a bit of coverage for that natural good skin vibe.
Skin tints are something I am picky with because they need to do something, without looking heavy or cakey on the skin. And finding one for all skin types can be even more challenging.
Here are my 5 favourites and why I love them.
I'm not always willing to go barefaced, which has led my hunt to find 5 lightweight foundations that vary in coverage and suit all seasons of my skin from oily to combo to dry.
*denotes PR samples. Affiliate links
5 Favourite Lightweight Foundations
Whether it's the need for something super sheer, incredibly hydrating, slightly mattifying or with really good SPF – I've got you covered!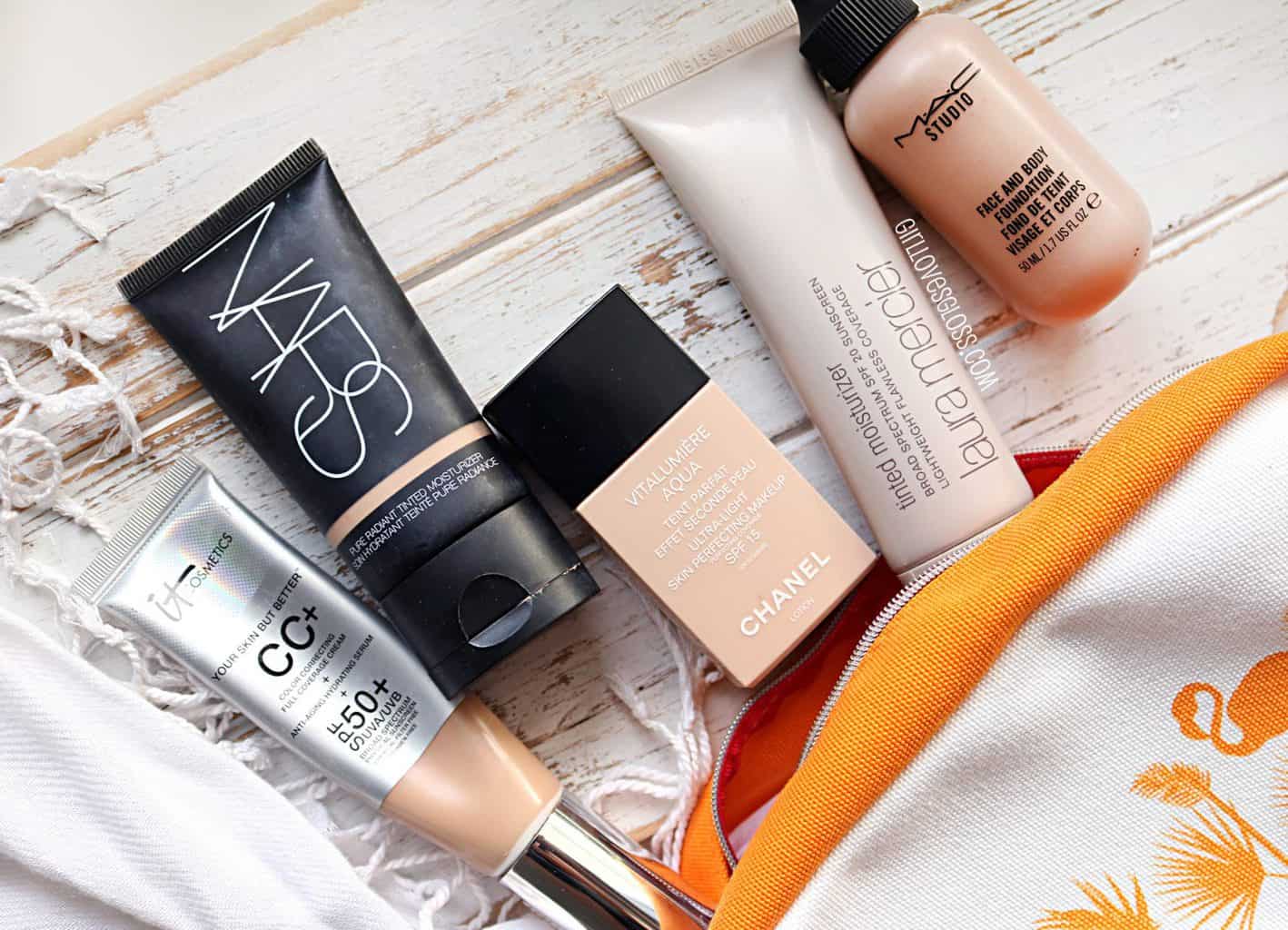 When You Need Something Buildable
---
MAC Studio Radiance Face and Body – Available at MAC | Nordstrom | Selfridges
Finish: Dewy, or satin when set with powder
Coverage: Sheer-Medium
Shade Range: Excellent starting at stark white to deep in multiple undertones.
Sun Protection: None
This water-based foundation has been used backstage for absolute ages and is a tried and true makeup artist favourite. In 2021 it got a makeover to be called Studio Radiance Face & Body, but is just as reliable (I've tried both versions)
Reason being, it's completely customizable.
Chances are if you haven't liked this in the past, it's because you weren't applying correctly; Don't even think about using a sponge, instead apply with a buffing brush or hands, and work into the skin until you feel it thicken up. To build, repeat this last step and you can go from sheer to medium no problem!
It's water-resistant, so it doesn't break down quickly in sweaty situations!
MUST READ> How to Apply MAC Studio Radiance Face & Body Foundation.
When You Need Something For Combo Skin
---
Chanel Vitalumiere Aqua – Available at Nordstrom | Feel Unique | Selfridges
Finish: Satin
Coverage: Light
Shade Range: Minimal with nothing past tan in depth
Sun Protection: SPF15
Another water-based foundation here, but this one settles to a bit more of a natural matte finish.
I personally don't feel the need to set this with powder. This is a fab option for those with combination skin and needs something that wards off oily skin a bit.
It has minimal sun protection but makes for a great everyday base if you won't be spending plenty of time outdoors. I love that this foundation almost feels like water going on the skin, and is best applied with hands. The compact plastic bottle makes it perfect for handbag or travel!
When You Need Something Hydrating But Still Has Coverage
---
NARS Pure Radiant Tinted Moisturizer – Available at Sephora | Nordstrom | Feel Unique
Finish: Satin
Coverage: Medium
Shade Range: Excellent for a tinted moisturizer. Shades range from fair to deep.
Sun Protection: SPF 30
This is so much more than a tinted moisturizer!
It's got a gorgeous skin-like appearance that leaves the skin hydrated and smooth with the perfect amount of coverage for me. Unlike many tinted moisturizers, it actually stays around all day!
When You Want Something Sheer With SPF
---
Laura Mercier Tinted Moisturizer* – Available at Sephora | Nordstrom | Feel Unique
Finish: Dewy
Coverage: Sheer
Shade Range: Good, but could have a few more shades in the deeper end of the spectrum
Sun Protection: SPF 20
This is a cult classic and there's a good reason why!
Light like a lotion, the sheer formula that can be slapped on without worrying about lines. The real beauty of this is that it can be reapplied throughout the day as a sunscreen of low SPF should.
Something to take note: In the US this is marketed as a SPF 20, but in Canada there is no mention of it on the packaging. This is due to Canadian sun protection standards. It does still have the UVA/UVB protection, but can't claim it on the packaging. So while it says SPF 20, in Canada I would consider this more like a SPF 15.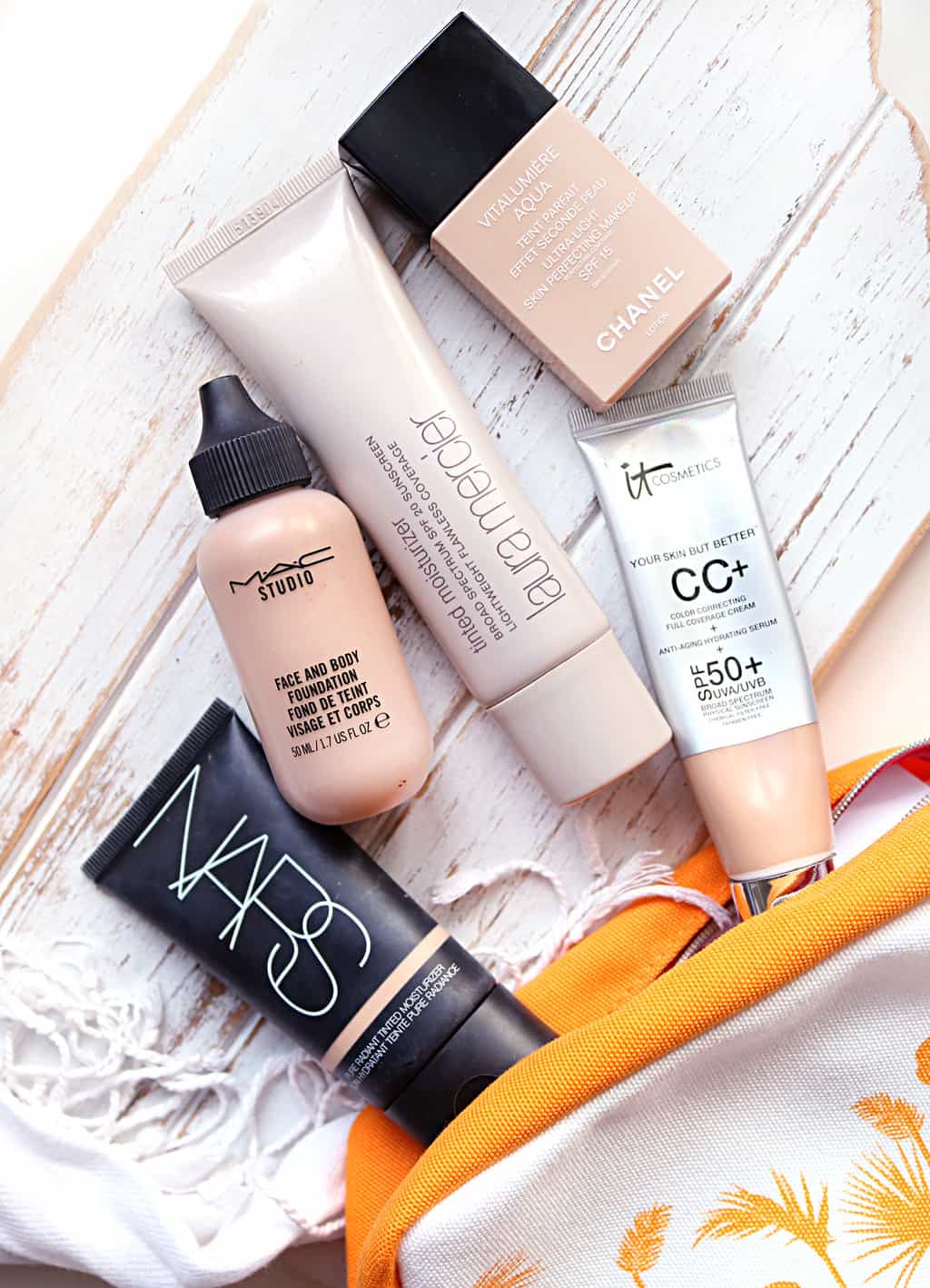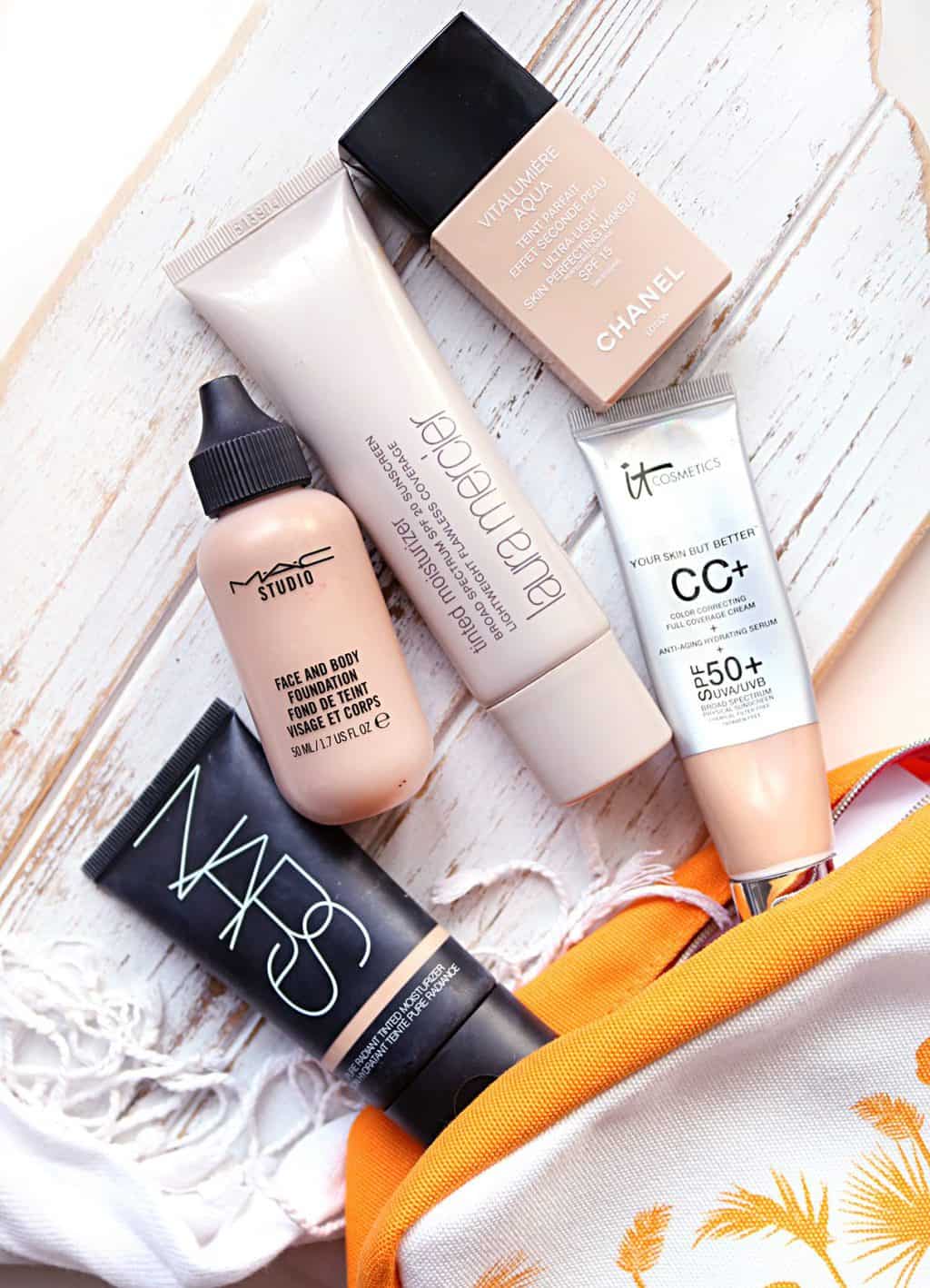 When You Need Coverage and High Sun Protection
---
IT Cosmetics Your Skin But Better CC+ Color Correction Full Coverage Cream* – Available at Sephora | Beautylish | Ulta
Finish: Satin
Coverage: Medium
Shade Range: Decent, but runs dark so could use a couple more shades
Sun Protection: SPF 50
Now I understand that this claims full coverage, but I wouldn't go quite that far.
This has incredible UVA/UVB coverage of SPF 50, which is what makes it such a winner in my mind. I prefer to apply the formula with my hands and press it into the skin for the best coverage.
If you hate layering skincare, plus sunscreen, plus makeup, when the weather gets warmer, this is the perfect product for that!
Something to note: This runs dark, and my NC20 skin is somewhere between Fair and Light realistically.
What's your favourite lightweight foundation/base to wear?