Tarte Breezy Cream Bronzer vs Chanel Soleil Tan de Chanel
FUN FACT: ONE OF THE FIRST POSTS I EVER WROTE WAS ON CHANEL SOLEIL TAN DE CHANEL BRONZER, AND IT'S STILL ONE OF MY MOST READ POSTS!
My Chanel Soleil Tan de Chanel review was written back in 2013, and I'm always amused to see it still getting hits (mainly because the photography is crap LOL). We all know that Chanel knows how to make a cult product though, and Soleil Tan de Chanel definitely holds that status.
In fact, the first time I remember seeing it was on the Pixiwoo YouTube channel and it was promptly sold out everywhere for ages until I could get my hands on it. These days it's much easier to find cream bronzers, but Soleil Tan de Chanel was ahead of the game.
Since then, there are have been loads of cream bronzers on the market, and I've tried many. One that has really stood out to me though is the new Tarte Breezy Cream Bronzers, and after hearing some considered it a dupe for the Chanel, it was about time I put the two up against each other!
A WORD ON INCLUSIVITY
While Chanel Soleil Tan de Chanel became a cult favourite, it most definitely hasn't been without criticism. Originally, it was called 'Bronze Universel', which in itself was a bit of a joke considering it only came in one, very warm, shade. Chanel is no stranger to having a very white leaning brand.
Recently, it underwent a formulation makeover that has sadly left many previous lovers to walk away; Not only did the brand miss out on a huge call out to add more shades to be inclusive, but the heavy use of coconut oil completely changed the formula.
When I purchased the Tarte Breezy Cream Bronzer, I noticed it was available in 3 shades, with Seychelles (the one I chose) being the lightest. I know a common criticism regarding bronzers is that they are often only formulated for lighter skin tones, so seeing that the brand goes quite deep is a huge step in the right direction.
SHOP THE POST
---
LET'S BREAK IT DOWN
This would likely be a very long blog post if I wrote in sentences about both these products, so I figure I'd break it down into important notes. At the end, I'll give my final thoughts. It's important to note that this is compared to the original Soleil Tan de Chanel, not the 2020 reformulated version.
AVAILABLE AT:
CHANEL: Chanel
TARTE: Sephora | Tarte Cosmetics
---
QUANTITY:
CHANEL: 30 grams
TARTE: 16 grams
---
FRAGRANCE:
CHANEL: Classic Chanel beauty perfumed
TARTE: None
---
UNDERTONE:
CHANEL: Warm
TARTE: Neutral-warm
---
TEXTURE:
CHANEL: Silky cream to powder
TARTE: Silky cream to powder
---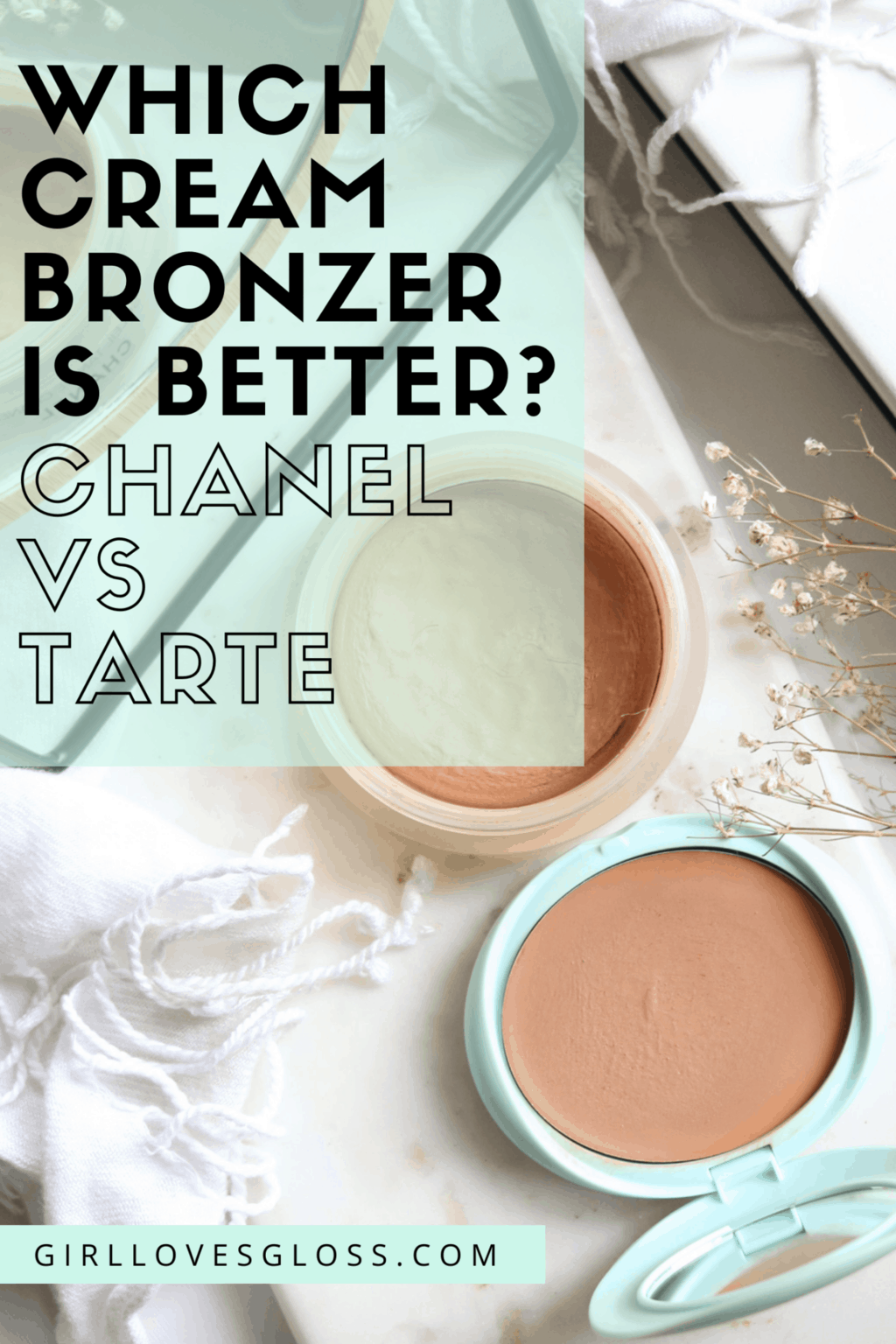 LONGEVITY:
The Tarte lasts significantly longer on me, holding up to a powder bronzer level. The Chanel gives me about 2/3 of the day.
---
FINISH:
CHANEL: Satin
TARTE: Satin
---
PRICE/VALUE:
CHANEL: $54 CND/ $1.80/gram
TARTE: $38 CND/ $2.38/gram
---
CRUELTY-FREE:
CHANEL: No
TARTE: Yes
---
THE SWATCHES
As you'll be able to see, they are definitely different colours. While Tarte Breezy looks rather warm in the pan, it actually applies quite neutral on the skin. You can see this when swatched next to Chanel, which can learn dangerously close to orange depending on the day for me.
FINAL THOUGHTS
I am really pleased with the Tarte Breezy Cream Bronzer! Due to my normal to dry skin, creams can sometimes be a bit funny on me; Dehydrated skin has a tendency to absorb any moisture in a product leaving the product to wear away quite patchy. While the Chanel buffs into the skin beautifully and seamlessly, it just doesn't last on me very long. Tarte products have always had really good longevity for me, and the Breezy Cream Bronzer also delivers on that reputation!
Like the Chanel, it has a silky texture that buffs into the skin really well with a brush like this one from Sephora or this one from Real Techniques. It can be sheered out easily, or built up for a bronzer lover like myself, with little effort.
Now obviously the Tarte packaging isn't as luxurious as Chanel, but it's really functional. The compact is slim, with a mirror and no bulky packaging; The matte seafoam green packaging is plain, but very easy to keep clean. Tan de Soleil was clearly designed to be a vanity item, with its large package container and screw top lid; I've had mine for years (yes its still fresh!) because it simply isn't as convenient to use!
Have you tried a cream bronzer? Whats you're favourite and why?