Sourdough Starter Cracker Recipe
2020 MIGHT JUST BE KNOWN (AMONGST OTHER THINGS) AS THE YEAR EVERYONE TRIED TO BECOME A SOURDOUGH BREAD BAKER.
Enter in this easy sourdough starter cracker recipe.
Some of you may have even ventured into making sourdough starters, which is something I actually did about a year ago. Since then, I've explored a few different recipes for yummy uses for my sourdough starter besides just sourdough bread (which I've also been baking like crazy).
One of my favourite recipes, and possibly one of the easiest is for these artisan sourdough crackers. I've tried a few recipes, some that puff up, some that required flipping and scoring and some that just didn't have the flavour profile I wanted. In the end, I decided to tweak several recipes the way I saw fit until I came up with something that was my own, and the perfect tasty snack!
These are flaky, crispy, perfect to serve on cheese boards or to dip in hummus, and are surprisingly easy. In fact, they are so easy, you'll never be able to stomach dropping $6 on a box of fancy crackers at the market again.
Before you start pulling out the baking supplies (you won't need much!) it's important to note that this recipe uses sourdough starter in it. If you've not got a starter already, expect you'll need a few days to get one established.
I'm by no means an expert on this, so I'll refer you to a google search with loads of methods, recipes, and ratios for how to create a sourdough starter. Or, you can always pop into your local bakery and ask if they'll sell you a wee bit of theirs – you really only need about ½ cup to start.
If you do choose the second route, make sure you read up on how to feed and maintain a sourdough starter. It can seem like a lot, but once you get the hang of the ratios you'll be able to do it in your sleep!
HOW TO GET CRISPY, FLAKY CRACKERS
There are a few tips that are essential:
You want to roll the dough out as thin as possible – 1-2mm if possible. I've found the best way to do this is to split the dough, and roll between two sheets of parchment paper. You should be able to make half the dough spread edge to edge of the sheet that fits approx a 16 inch baking sheet.
I've done this with both butter and olive oil as the fat component, but butter gives a flakier cracker. I always use salted butter.
Bake until really golden brown. You don't want burnt edges, but it you don't wait until the edges are brown and the centre starts to go golden, you end up having what takes like stale tortillas rather than crispy crackers.
Since this is a sourdough recipe, and time equals flavour, I've been known to mix the dough up and then let it rest for a few hours on the counter. You could easily put it in the fridge, covered, overnight.
I store these crackers in a plastic ziplock bag, and they stay crunchy for several days. If your house is anything like mine though, they won't last that long!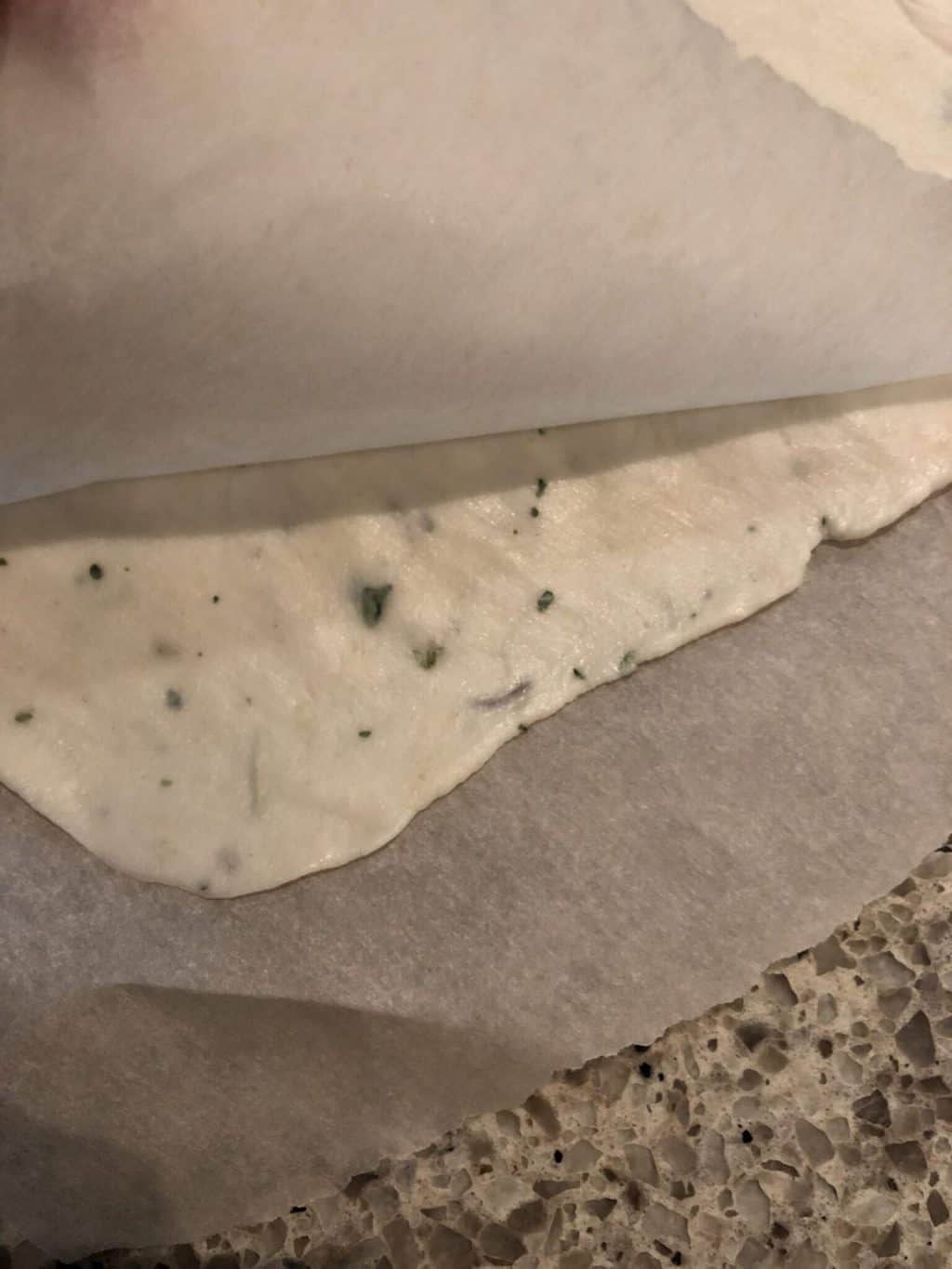 LET'S TALK FLAVOUR
There's SO much you can do with a cracker!
My preferred method is some Italian seasoning and garlic powder because it takes great all on its own, with some sharp cheddar or dipped in hummus. My toddler particularly approves of that last one, and you know when your toddler likes something, you just stick to the old "if it ain't broke…" mantra!
Don't be afraid to use your imagination though!
HERE'S SOME CRACKER FLAVOURS THAT WOULD BE AMAZING:
CRACKED BLACK PEPPER AND GARLIC
NUTRITIONAL YEAST
FINELY CHOPPED PISTACHIOS AND DRIED CRANBERRIES
SESAME SEED
ROSEMARY
PARMESAN CHEESE
DRIED BASIL AND SUN-DRIED TOMATO (blitzed to a paste and mixed with the dough)
Easy Artisan Sourdough Starter Cracker Recipe | Sourdough Discard
Total Time:
15 minutes
35 seconds
These crispy crunchy crackers are SUPER easy to make and are so much better than what you can buy in a store!
Ingredients
1 Cup Ripe Sourdough Starter
¾ Cup All-Purpose Flour
¼ Cup Butter
1 TSP Pink Himalayan Salt
1 TSP Dried herbs (optional)
½ TSP Garlic Powder (optional)
TOPPING:
1 TSP Extra Virgin Olive Oil
Pink Himalayan Salt
Instructions
Preheat oven to 350F
Mix all the ingredients in a stand mixer with the dough hook or by hand until the dough comes together and feels elastic. This should only take a couple minutes and it will be sticky.
Cut 3 sheets of parchment paper the size of your baking sheet.
Split the dough in half.
Roll the first half between 2 parchment sheets as thin as possible (1-2mm MAX).
Peel off the top parchment, and move the bottom piece to the baking sheet.
Repeat step 5 with the second half.
Use a brush to brush on some olive oil and generously sprinkle with salt.
Bake for 15-20 minutes or until golden brown edges and the center is lightly golden.
Lift baked cracker off the pan and let cool on its parchment while you put the second sheet of crackers in the oven.
Allow crackers to cool completely, before breaking into pieces.
Notes
TIPS
I've found it helps to anchor the edge of the parchment between you and the counter when rolling to really get the dough as thin as possible.
Pay special attention to how thin the cracker dough is in the center of the sheet - the thinner the better.
I've done this with a mix of whole wheat and all purpose flour, but found they didn't get quite as crispy as normally.
I've also substituted the butter with olive oil (and added a bit more salt to compensate) and they turned out great, but I prefer the butter flavour.