Hairmax Laserband 82 – Is At Home Laser Hair Regrowth Possible?
SOMETIMES, IT DOESN'T GROW BACK.
Postpartum hair loss, that is; Sometimes it doesn't all grow back. While I definitely had some hair regrowth after the dreaded postpartum shed, it's still significantly thinner, two years later. And here's the thing, I didn't have a load of hair to begin with, and now it bothers me a bit.
So when HairMax offered to partner up with me to test out the LaserBand 82, an at-home medical laser hair regrowth light device that can reverse hair thinning, I was kind of stoked, to say the least! But how does it work? And more importantly, DOES IT WORK?
It's an annoying part of the postpartum process that sneaks up on us; You get about 4 months into baby bliss and suddenly your snaking the drain of your shower and cleaning handfuls of hair out of your hairbrush. And I know the books all say that it is the hair you don't shed while you're pregnant, but I can honestly say I didn't get the glory of pregnancy hair that many gets.
I was left feeling a bit of despair over my wimpy locks and when you're already in that delicate postpartum phase of life, that can be tough. Sure there are options like a Minoxidil product (think Rogaine), but what you may not know is that once you start, you can't stop. It's also not safe for pregnancy or breastfeeding, so that wasn't an option for me given we'd like to expand our family more.
[click_to_tweet tweet="Is it possible to have hair regrowth with an at-home laser hair restoration device?" quote="Is it possible to have hair regrowth with an at-home laser hair restoration device?"]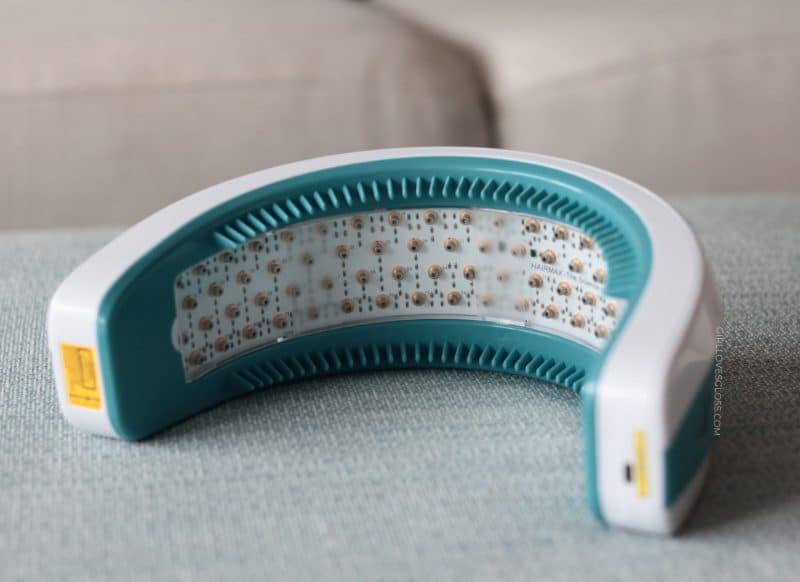 I hadn't even considered that there could be devices out there that worked for hair regrowth until a family member mentioned that he'd had incredible results with one. Enter in Hairmax Laser Band 82, with clinically proven technology that has been FDA cleared for BOTH men and woman.
A LITTLE BIT OF INFO ON THE HAIRMAX LASERBAND 82:
Delivers therapeutic light energy to stimulate hair follicles, reverse thinning, restore your hair's natural growth cycle and promote hair growth

82 Medical grade lasers (No LEDs)

246 Total laser coverage when moved over scalp (82 lasers x 3 areas)

Fastest treatment time – as little as 90 sec

Band design for full scalp coverage

Patented hair parting teeth to deliver light energy to scalp

Cordless & lightweight
HOW TO USE THE HAIRMAX LASERBAND 82:
The reason I loved this model over some of the other Hairmax options available, was that it works in as little as 90 seconds, 3 times a week. I knew personally that if I had to commit to a longer time frame, I'd likely not make time to use it, and this way I can do it right after washing my hair or right before bedtime.
You slide on the LaserBand 82 as you would a headband, making sure the teeth comb through the hair. This parts the hair in a way that the lasers can most deliver light to the scalp. You then expose each section for 30 seconds; The Laserband 82 will vibrate when its time to slide it further along.
Depending on the size of your head, you can be done in as little as 3 sections, or 90 seconds, done three times a week.
MY THOUGHTS… SO FAR
Now, I've just started using the HairMax LaserBand 82 over the last month, so I'm obviously not going to see results yet. Don't worry though, I'll be back in a few months time with some before and afters to share! In the meantime, I will say that both my husband and I are testing out, because why not? Neither of us has had any sensitivity, irritation or otherwise ill effects. It doesn't heat up, tingle or anything that might give cause for concern. We've also both been using it the directed 3/90 second sessions per week for a month and have only had to charge it once!
I would love to answer any questions you might have about HairMax, at-home laser hair regrowth and postpartum hair loss in general. Please leave them in the comments below and I will be sure to answer them in the follow-up post!
SHOP HAIRMAX LASER DEVICES
---