Fenty Beauty Pro Filt'r Collection | Worth it for Dry Skin?
Few new beauty brands have taken the world by storm quite as much as Fenty Beauty did. The brand dropped like a beauty bomb on the industry… but it didn't grab me. Until recently.
I originally looked completely past Fenty's one and only foundation offer, Pro Filt'r, simply because of its name including the descriptor 'matte, long wear foundation'. After all, I'm a dry skinned girl and at 35 I have the beginnings of fine lines and skin texture. With the brand expanding the range to include Pro Filt'r Instant Retouch Concealer and Pro Filt'r Pro Filter Instant Retouch Setting Powder, it was about time I gave it a proper go.
Fenty Beauty Pro Filt'r Soft Matte Longwear Foundation
---
Available at Sephora | Fenty Beauty | Harvey Nichols
What it is: "This long-wearing, light-as-air foundation gives skin an instantly-smooth, pore-diffused, shine-free finish. The oil-free formula is made with climate-adaptive technology that's resistant to sweat and humidity, and won't clog pores—so that wherever you are, it's going to work on your skin" – Sephora
Coverage: Medium
Shade Range: Impressive with 50 options in several undertones. I wear shade 190
Application: Fenty has its own foundation brush (brush is always my preference) as well as the Precision Makeup Sponge.
My Thoughts: I am surprisingly impressed by Pro Filt'r! I find it is amazingly adaptable. Over the last few weeks, I've tested it on its own, on top of various primers, and mixed with oils. I like it any way I've tried! My prefered method does have a drop of oil mixed in, or on top of a generous priming moisturizer to give it a bit more cushion on my skin. It glides over pores and texture well and doesn't settle into lines. I like that it sets on its own and I don't need to set it with powder to keep it from moving. The wear time is great as well, lasting through from early morning right past dinner time. The only place I do notice a bit of caking is if I get it too close to my undereye area and perhaps a bit on the sides of the nose. I don't find I have any transfer issues with Pro Filt'r which is a huge plus for me!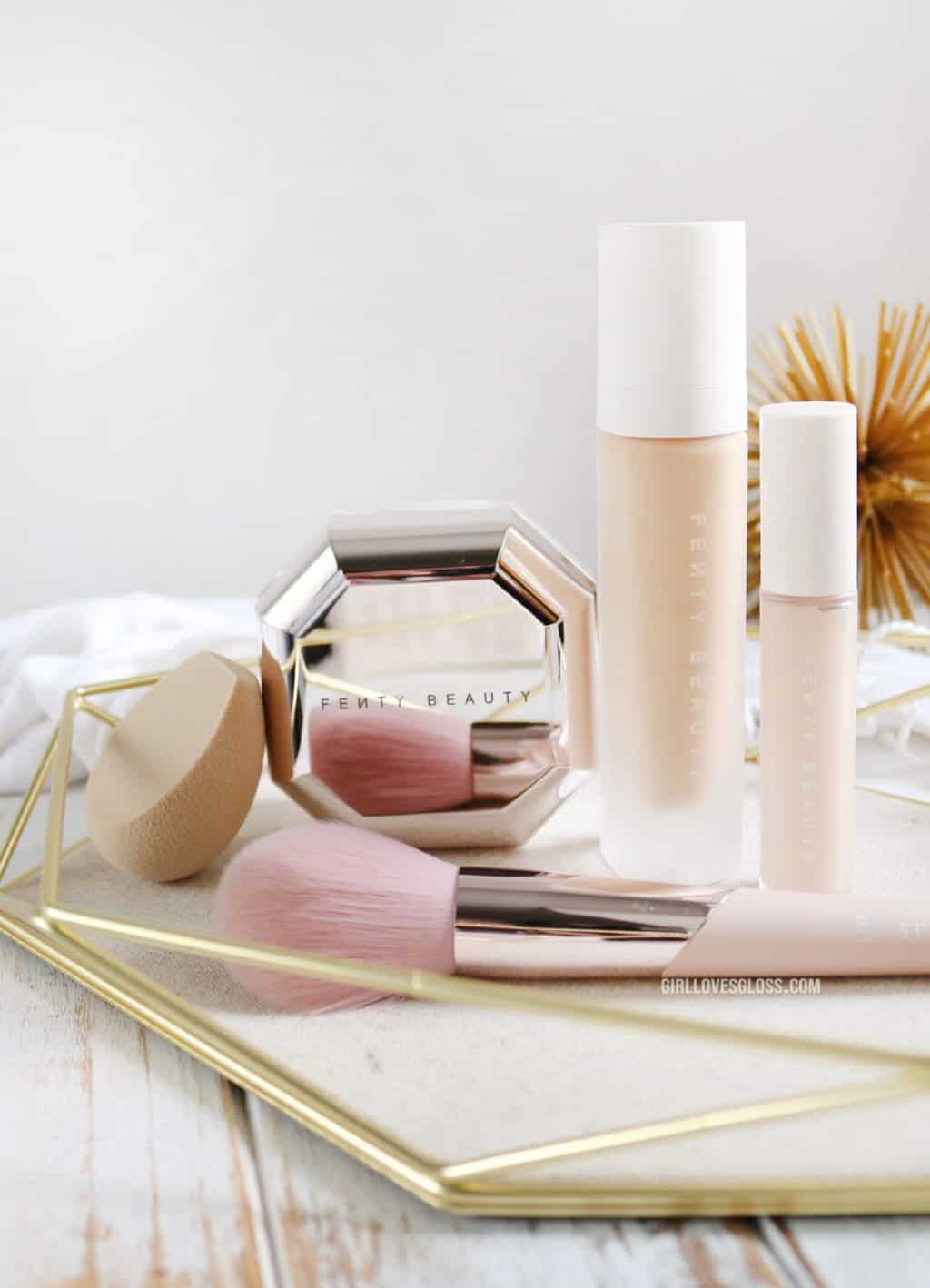 Fenty Beauty Pro Filt'r Instant Retouch Concealer 
---
Available at Sephora | Fenty Beauty | Harvey Nichols
What it is:  "This is the full-coverage cure to living life to the fullest. This sweat-resistant formula comes in a groundbreaking range of 50 easy-to-shop, soft-matte shades, each designed to pair with your Pro Filt'r foundation shade. Start with your Pro Filt'r foundation shade and adjust from there." – Sephora
Coverage: Medium
Shade Range: Impressive again with 50 shades meant to correspond to the foundation. I ear 150 under the eyes and 190 on the face.
My Thoughts: This is definitely a medium coverage for me with a bit of buildability. I actually much prefer this on my face for blemishes and spot correcting; It sits over texture beautifully! I find it creases and gathers a slight bit under the eyes. It by no means is in a make or break kind of way, but I wouldn't use this under eyeshadow or as a base and I definitely need to set it. If I had picked this up simply for under eyes, I feel like I might have been slightly underwhelming. As a face concealer though, it excels and I am so glad I got the chance to try two different shades! I use 190 on my face and it is a great match to the foundation in terms of adding that extra layer of coverage. I've tried it on a few different foundations now, and it doesn't cake, bunch or oxidize!
Fenty Beauty Pro Filter Instant Retouch Setting Powder
---
Available at Sephora | Fenty Beauty | Harvey Nichols
What is it: "This silky loose powder works all day to reduce shine and blur the look of pores, fines lines, and imperfections for a hyper-smooth filter that won't flash black. Eight versatile shades melt into your unique skin tone, letting you set, perfect, and brighten without caking or settling." – Sephora
Coverage: Tinted
Shade Range: Again impressive with 8 options. I wear Butter.
Application: I prefer the Powder Puff Setting Brush for a light dusting. The Precision Makeup Sponge is ideal for baking or pressing the powder into the skin thanks to its flat edge.
My Thoughts: It's hugely important that brands recognize translucent powders aren't actually translucent on all skin tones. Often medium-dark complexions struggle with loose powder giving an ashy look, so I am thrilled at the inclusivity. I found Butter ever so slightly yellow in tone which I like in a powder. It's super silky and finely milled, enough so I can use it under the eyes! I'm not the type to bake, but given the texture of this, I would say it is a great option for that. I wouldn't say it's the most oil absorbing powder out there, which for me is great, but if you have oil issues be warned. My only complaint is that I do find it quite fragranced; The scent goes away after a couple of minutes, but I find it unnecessary. Given how silky and smooth it looks on the skin, I can look past the perfume!

Ok Fenty Beauty, you finally got me. I truly hadn't been interested in much of the brand until this point but I feel like the Pro Filt'r range is really well curated. Now if only Rihanna could get her development team on a dewy foundation… the dream! I love it when I am pleasantly surprised by products I previously had assumed weren't the right fit for me.
Shop Fenty Beauty Pro Filt'r
---