Revisiting Colourpop Cosmetics | Is The Value Worth the Hype?
A COUPLE OF YEARS AGO, I SWORE OFF COLOURPOP.
While I loved the affordable price point, I had previously had some questionable customer service that left a sour taste in my mouth.

Fast forward, and it seems like not a week goes by without a new Colourpop launch. It can be very hard not to get wrapped up in the constant, "OMG pretty need that!" FOMO feelings. The constant barrage of launches actually turned me off the brand; It has just been too much, too frequent.
Having said that, as a blogger I get asked about the brand frequently.
I always believe in giving brands a second chance and it's important for me to try the brands you all are interested in seeing! So I went ahead and ordered a few things during their holiday sale back around Christmas time and considered it a clean slate.
I know it might seem like Christmas was forever ago, but it took over a month for my order to arrive here to Canada. I won't lie, it wasn't a good second impression. I chalked it up to the holiday season slowing things down and decided to focus solely on the products themselves.
I've spent the last few months playing with the products I purchased to really get a full scope of how they perform.
Would the cream eyeshadow dry out?
Would the powder products withstand various primers and lack of primers?
Would I continue to reach for them beyond my first initial honeymoon period?
I know, this seems like a lot, but remember I had sworn off the brand. I wanted to make sure I really liked or disliked the products I purchased and have clear thoughts on why!
So let's break down what I bought:
I wanted to test a handful of products, including some formulas that were new to me, as well as some that I knew I had previously liked to see if they were still what I remembered them.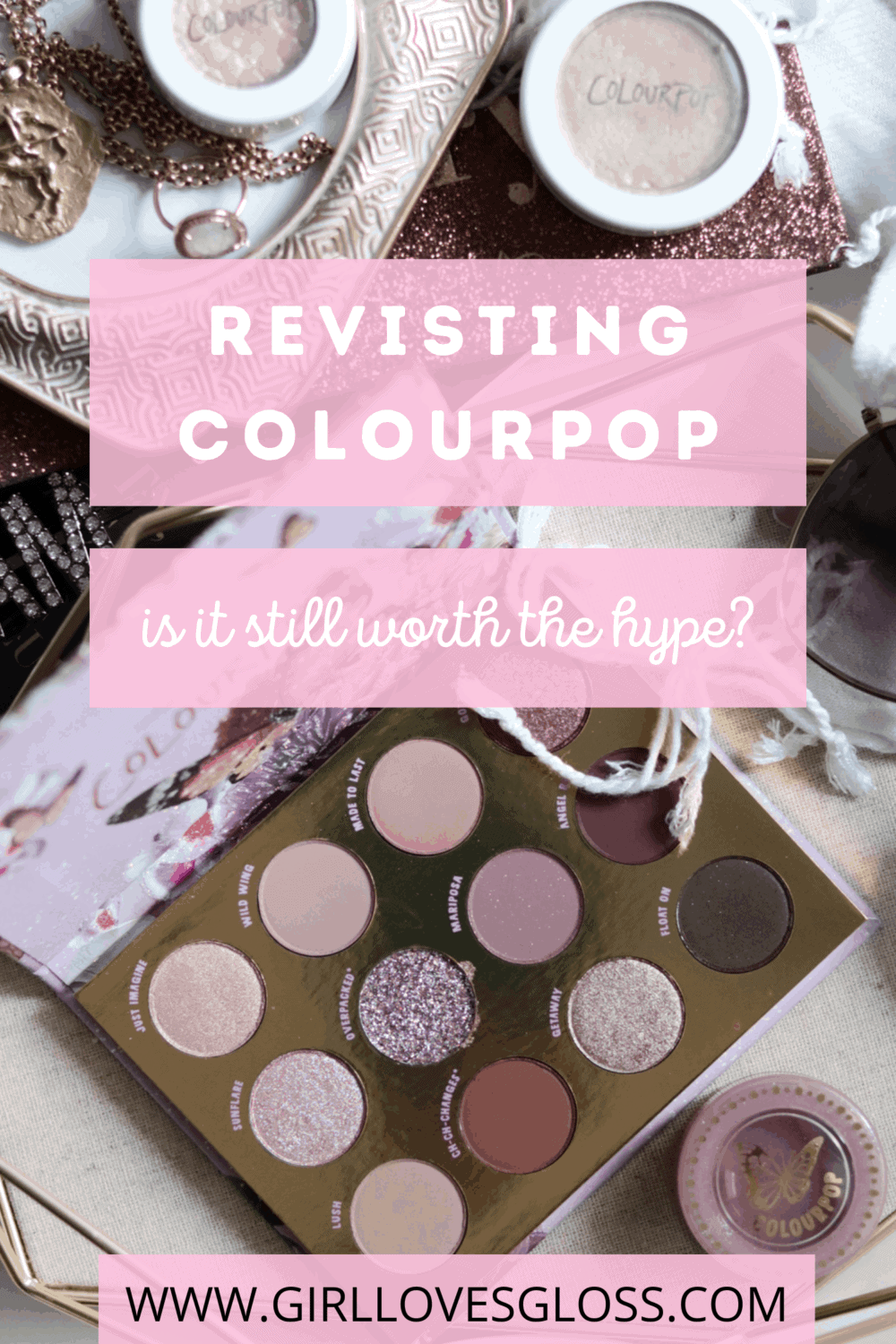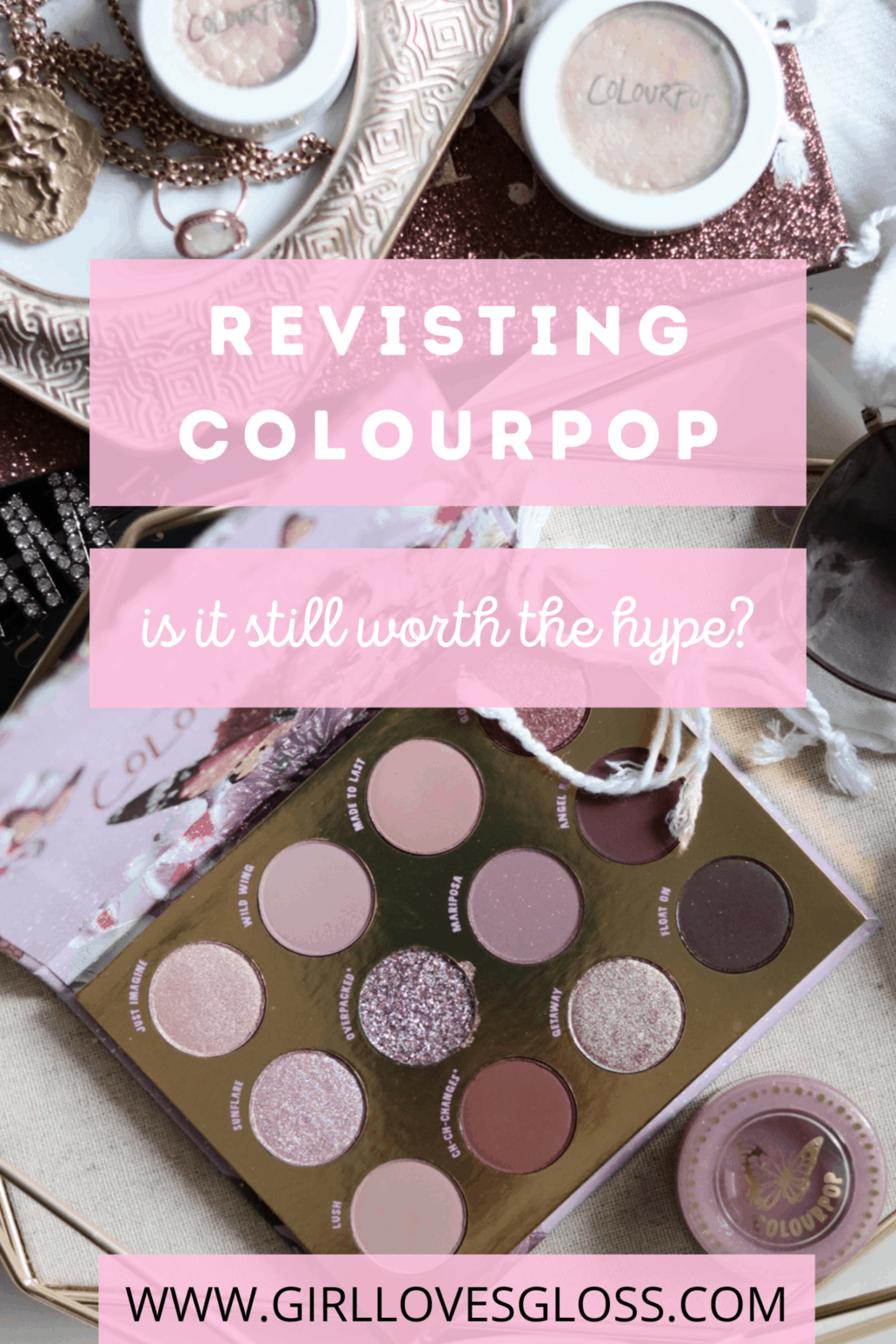 I'd previously loved a few of the SuperShock Shadows, which Amaze and LaLa being some of my all-time faves to wear. I picked up 3 sparkly and metallic shades having had good luck with those textures before, but this time around it was a mixed bag.
The shades Prickly Pear and I Heart This, are both beautifully pigmented and have gorgeous colour shifting nuances that make them a one and done option. Ladybird, however, was a big disappointment. It's basically a glitter topper but lacks impact and consistency, applying patchy and migrating everywhere.
One product I'd heard about over and over was Flexitarian Highlighter. It's often sold out during sales, so I took that as a true sign of a hyped product.
I was hoping for glossy, reflective, creamy highlighter goodness.
I almost got my dream, but instead of glossy it really is just very frosty.
I've applied it with multiple brushes, my fingers and a sponge, and find myself just working a little too hard to make it work for me. Now, this isn't a slight on the quality of the product here, because it is actually gorgeous.
But on me, it is too silvery, too frosty, and too unforgiving on my 36-year-old skin. I can see why this is popular with younger faces and those who don't have fine lines or texture; It would have been a huge hit with 1997 Jaime.
The Jelly Much Shadows were a new edition from the last time I'd ordered from Colourpop, and the texture really intrigued me. The formula is a cool to the touch, jelly cream that sets down after a few seconds.
I picked up Boo-Kay because I felt it matched beautifully with the palette I chose and was also a shade I could see myself wearing stand alone. The shade itself is stunning; Think dusty rose leaning mauve with a gold pearl laced through it.
The texture is actually really easy to work with; I prefer my finger to pat it on, but a stiff brush works well, too. You can build it up, but I suggest doing so while its still a bit "wet" and blending any edges at that time too. It's a 'work one eye at a time' kinda shadow.
The longevity really is there with these, they don't crease on me and the sparkle is still on my lids and not my cheeks at the end of the day. I definitely am interested in picking up more shades!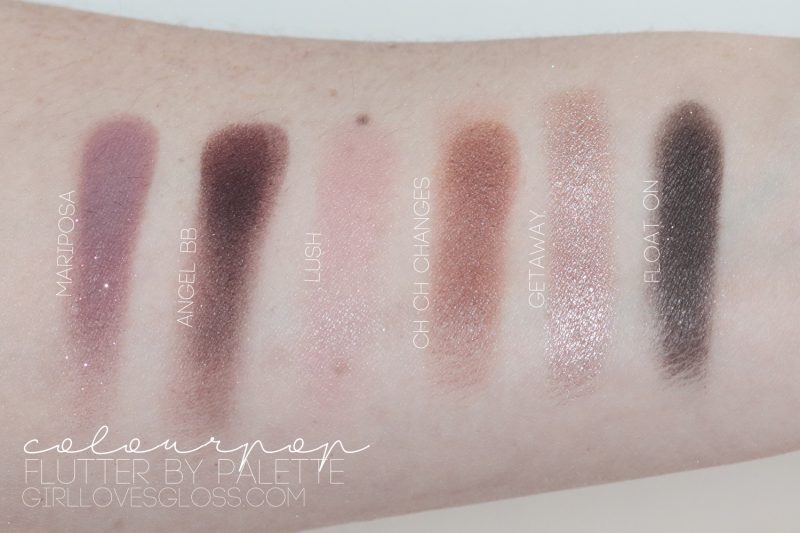 Finally, but easily my favourite out of all the products I picked up, is the Flutter By Eyeshadow Palette. This palette is stunning.
With a variety of finishes including matte, glitter, metallic, pearl and matte glitter, it's a mauve-neutral lovers dream!
The mattes are creamy, pigmented and blend out really beautifully. There was only one shadow that let me down in pigment a bit, and that was Lush; It just didn't show much on my light-skinned complexion.
Colourpops's metallic formula is incredible. I find them really smooth in texture and the impact they give is beautiful. Unlike some metallic pressed shadows that lose their colour, these stay true on the lid. Every time I pull out this palette and use one, I'm reminded of how impressive they are!
Now there is one major con with this palette, and with a lot of the Colourpop eyeshadow palettes: The pressed glitter.
Sure it looks gorgeous in the pan, but these are a hot mess to work with. I would never wear this kind of chunky glitter on a regular day, let alone a day that wasn't Halloween or a costume of some sort, so its a miss for me. Don't get my wrong – I love some sparkle in my life, but this is like craft glitter and I love my eyes too much for that.
I've seen that Colourpop has since released some palettes without a pressed glitter in them, and I will most definitely choosing those going forward!
In the end, the palette won me over. Turns out I'm a Colourpop fan – who knew!?
SHOP THE POST
---
Have you ever had a brand that you wrote off only to give another chance? What do you think about Colourpop?