The Skincare Line You Should Know About | Jordan Samuel Skin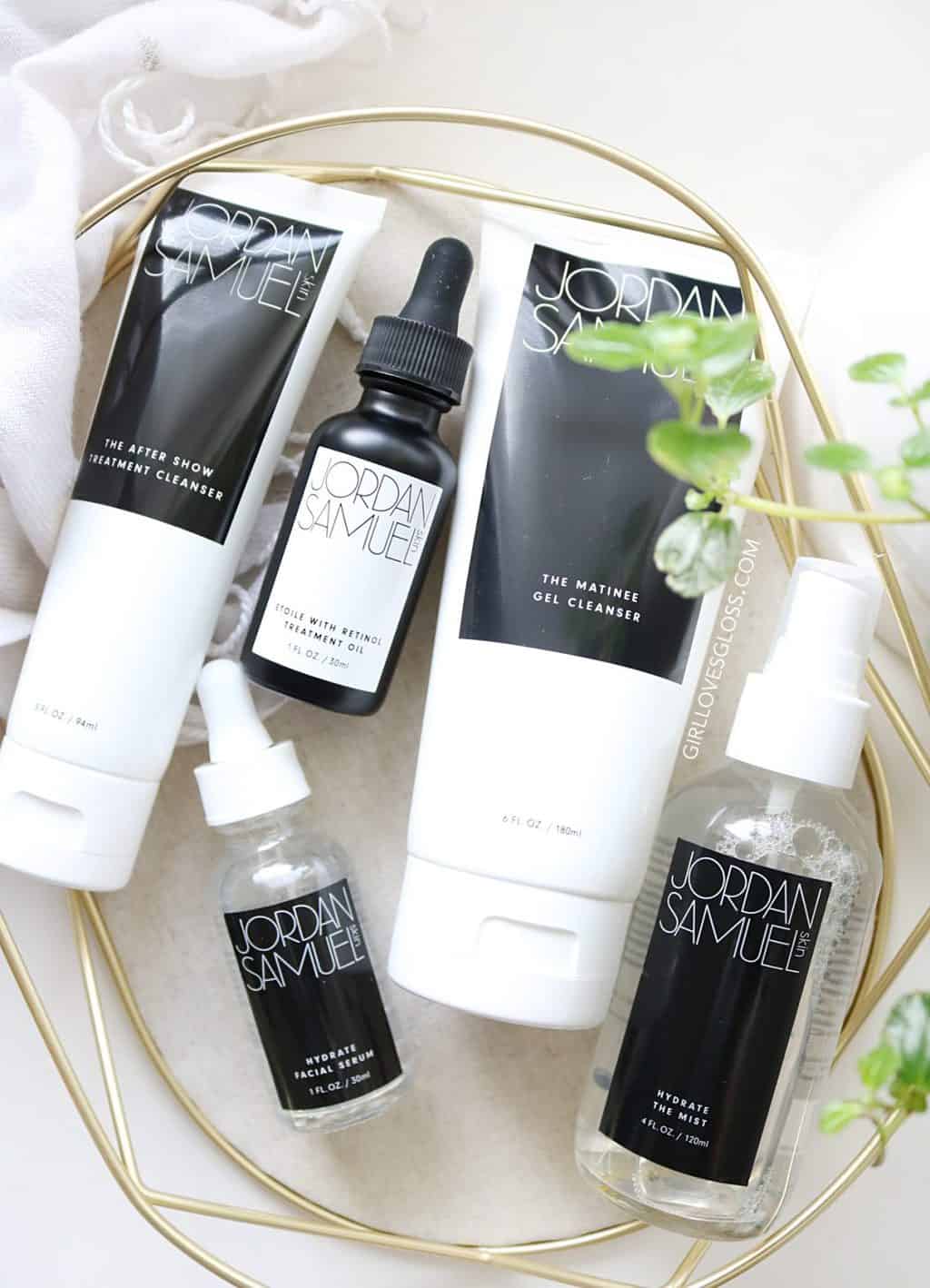 [dropcap]O[/dropcap]ccasionally I'll come across a brand that will instantly excite me. Recently, that was
Jordan Samuel Skin
. I'd been curious about Retinol for a while (I am 35 after all!) and had been pointed towards the brand as a non-intimidating entry into the Retinol world. After hearing the brand was a favourite of the Queen of Skincare,
Caroline Hirons
, I knew I needed to get my hands on it. The kind people at Jordan Samuel Skin generously offered some of their hero products to try, and I've got some strong feelings about them!
Jordan Samuel Skin Review
---
Available exclusively at Jordan Samuel Skin
Jordan Samuel is a professional ballet dancer that struggled with his skin thanks to the hot lights, sweating and petroleum-based stage makeup. He noticed how ballerinas had beautiful flawless skin and started watching their routines. From there he started making his own oil-based cleansers, and hydrating serum and the passion began his skincare line! With a focus on health and good-for-you and anti-inflammatory ingredients, Jordan Samuel Skin is a boutique range that keeps your skincare routine simplified without excessiveness.
Hydrate Facial Serum
---
This serum packs a punch while still feeling like water on the skin! Full of hyaluronic acid, stabilized vitamin C and hexapeptides, it also has cucumber, tamarind and passion flower to help keep you hydrated and radiant. It truly feels completely weightless on the skin and makes for an amazing base for the next product I am going to mention (and possibly the star of the Jordan Samuel Skin show!). I've been using this morning and night and it sinks in so quickly and my skin instantly feels plump.
Etoile With Retinol Treatment Oil
---
This stuff is LUSH. If you've wanted to try Retinol, but have been worried about possible peeling, irritation and redness, this is a no-brainer. This silky smooth feeling oil has 0.2% pure Retinol (note the opaque glass bottle!). It's combined with cranberry seed, argan and marula oils. This delivers the most amazing youthful glow the morning after I use it. My skin looks significantly more even in tone, plumper and has a smoother texture. This is truly one of the most beautiful skincare products I've gotten my hands on since starting this blog!
The After Show Treatment Cleanser 
---
Since Jordan started out mixing up his own cleansers to remove heavy stage makeup, I was thrilled to get the chance to try both. The After Show is a gel-to-oil formula that breaks down heavy makeup and sunscreen. It's based with olive, jojoba and grapeseed oil to gently but effectively break down grime. It will remove my waterproof mascara if I really work at it. I generally prefer to use a dedicated eye makeup remover anyway, however. It does completely cut through full coverage foundation and sunscreen, which is no easy feat. I also love the tube packaging for easy travel.
The Matinee Gel Cleanser
---
Have no fear folks, this is not a foaming, stripping gel cleanser. Instead, it is a water-soluble cleanser that has skin-soother chamomile and cucumber. It also has a small amount of salicylic acid to refine the skin subtly. Matinee makes a beautiful second and morning cleanse and my skin responds really well to it. Again, Jordan focuses on promoting radiance and not stripping the skin and this cleanser nails it!
Hydrate The Mist
---
I won't lie: I originally didn't like this. The 'mist' was like a garden hose stream to the face! Then I realized the brand had included a secondary, gentle, mister and terms out they want you to have both options The product itself is gorgeous. Powerhouse ingredients included red seaweed, hyaluronic acid, cucumber, tamarind, passion flower and glycerin make it multifaceted. This makes a beautiful mid-routine spritz, a hydrating pre-makeup step, a setting spray that helps makeup settle into the skin – it does it all!
Final Thoughts
---
Jordan Samuel Skin is a gorgeous, simplified skincare range that deserves every ounce of praise I've seen it get. I genuinely liked everything I tried, but the winning combo is without a doubt the Hydrate Facial Serum and the Etoile with Retinol Treatment Oil. I'm almost done my bottle of the Etoile and I am panicking a little; the love runs deep! 
*Jordan Samuel Skin doesn't test on animals and is Vegan*