Worth The Hype | UPPAbaby Cruz Review
One of the biggest purchases you make when you have a baby is undoubtedly a stroller. It is arguably one of the purchases that you need to last the longest and gets used the most.
Like most infant and toddler related gear, there is a HUGE price range which can make a first-time parent more than nervous. I mean, how do you know when to splurge and when to save? What makes a good stroller investment?
 UPPAbaby Cruz Stroller + Bassinet Review
---
I want to preface this entire review by stating that the UPPAbaby Cruz* was not the original stroller we had.
We had bought a travel system to go with our car seat originally and the entire stroller/car seat combo set us back around $600. It was the budget we had to work with and honestly wouldn't have known any different because we didn't really even look at strollers in a higher price tag.
Once little Everly got here, I immediately noticed that the stroller really wasn't functional while she was so tiny. It had a drop-down back so we could lay her down, but only on an incline and it was much too big and not nearly cosy enough. If you read this post about our adventures in baby colic, you'll recognize now why this wasn't ideal.
We needed a stroller that would calm and soothe our baby.
Upon first receiving our UPPAbaby Cruz and the additional UPPAbaby Bassinet*, I instantly marvelled at how easy it was to put together. It took maybe 15 minutes to set up the entire stroller and the bassinet (which is sold as an additional option).
We chose the Pascal shade, which is a pale grey on the Carbon black frame with the tan leather handlebar cover (which gives such a nice grip and look to the stroller!). Each year the shades change, but I love how many options there are. If you're going to use a stroller for a couple of years, and possibly multiple children, it might as well look nice, right?
The Cruz frame with the toddler seat on it is only 21.5lbs, and folds forward with complete ease. The handlebar also can extend 4inchs with a one-handed click, which makes this an awesome choice for short and tall parents alike.
We both also love the brake system, which is a bar that crosses from wheel to wheel and can be adjusted with the flick of a toe. Unlike many strollers that have brakes on each wheel, this smooth bar means you can use it even when wearing flip flops or sandals!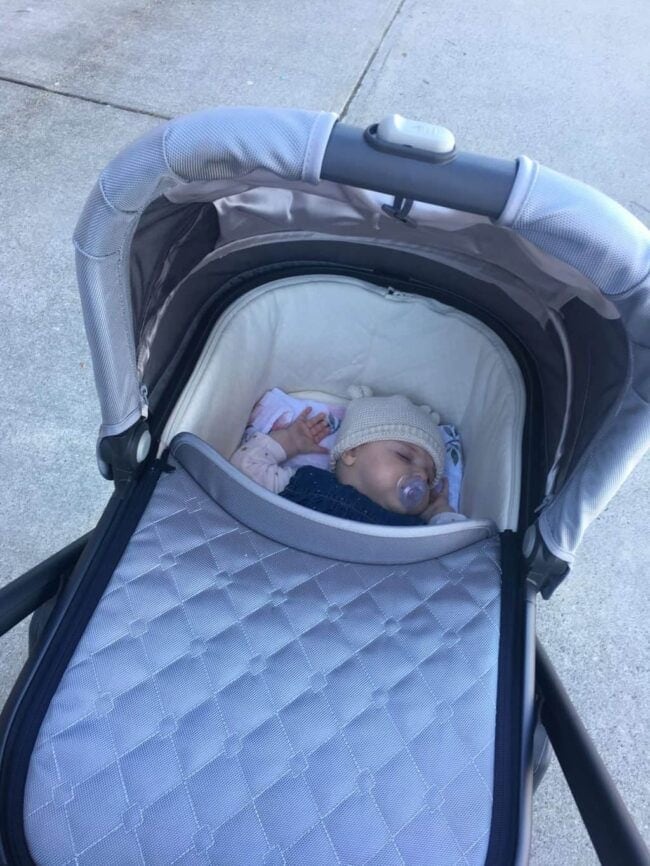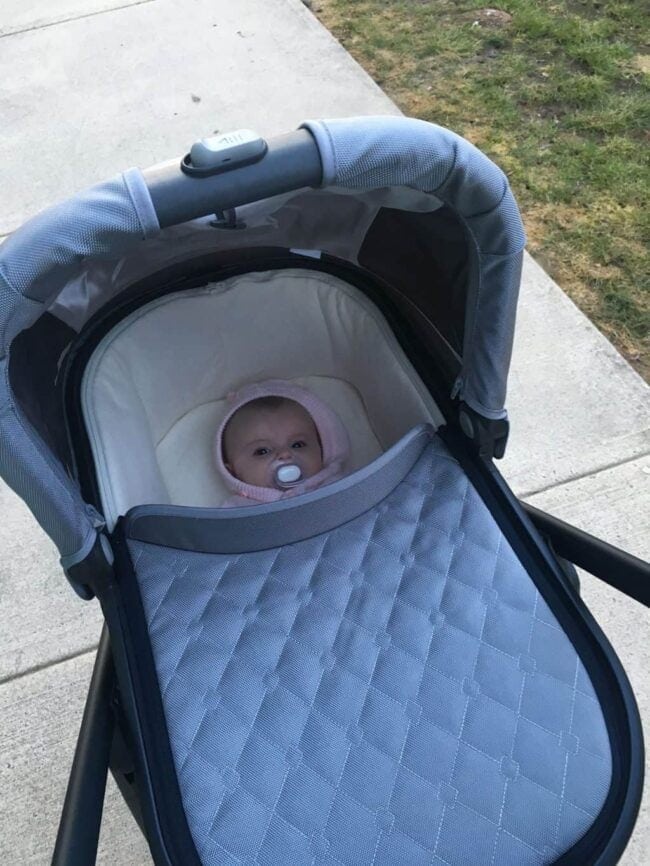 'The Cruz doesn't stroll, it glides.'
The Bassinet turns your Cruz frame into a pram and it is so adorable to push around. We were surprised at how many compliments we got on it!
Unlike our original travel system stroller, the UPPAbaby Bassinet allows baby to lie completely flat and is rated to be safe for overnight sleep. This makes it worth its weight in gold as far as I am concerned! It has a removable, breathable mattress that goes on a vented base and the entire liner can be zipped out and machine washed. More importantly, though, Everly LOVED cruising around in it. The UPPAbaby Cruz is a smooth ride; The Cruz doesn't stroll, it glides.
The Bassinet comes standard with a bug shield net and with a pull out UPF 50+ sunshade, which I used ALL THE TIME. It kept the bright winter sun out of my baby's eyes and created the perfect shaded environment for her when she fell asleep. We also got the rain cover, which is pretty much a no brainer in the rainy Pacific Northwest!
Top Tip: Tired of strangers sticking their face in your pram/stroller? Pull down the sunshade and it's a big invisible sign that says, "Back off, my baby is sleeping!".
Shop the UPPAbaby Bassinet
---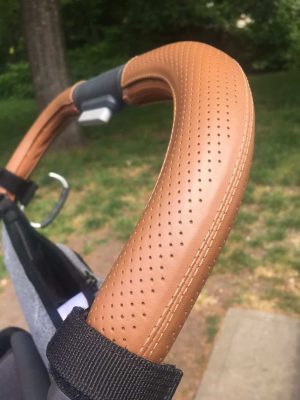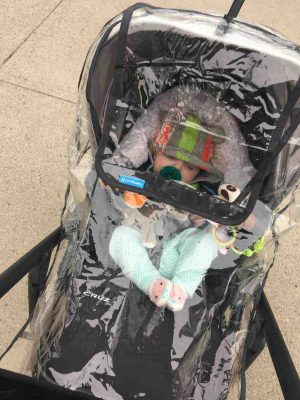 As soon as she was big enough, we moved Everly into the Toddler Seat that comes with the Cruz frame. I love that this can face out or towards me so I can entertain her if needed.
The leather-covered bumper bar removes from the left or the right and makes the perfect addition to hang toys off of. Everly loves holding on to it now that she is 9 months old.  I can also easily adjust the recline with one hand, which is perfect for when she nods off. The leg rest can also be adjusted from straight or declining for the comfort of your child as they grow.
Like the Bassinet, the Toddler Seat comes with a canopy that has the pull out UPF 50+ sunshade. I used this all summer in the heatwave to keep her fair skin from burning. The mesh vent out the top has a cover that can roll up, letting air flow through. It also comes standard with the bug netting and the rain cover, which we're now using that Autumn is upon us.
If you couldn't tell already, I am really, really pleased with the UPPAbaby Cruz all around. I love the narrow frame which means it's easy to navigate narrow aisles and car parks. Everly loves her ride and can transition from wake to sleep seamlessly.
It's also super easy to get her unbuckled and into the crib when she nods off right before we get home from a walk. Because there is a large 25lb storage basket underneath, I can fit all my grocery shopping in it under the toddler seat.

Can you sense a theme here? Basically, the UPPAbaby Cruz is an amazing city dweller's stroller.
You can get the UPPAbaby Mesa car seat to click right into the base making it a travel system, but there are also adaptors for several other brands car seats making it really universal. There are also loads of accessories you can get including a Bassinet Stand, Infant Snugseat, and the Cruz Piggyback which allows your toddler to hop on for a ride too, and many more. I would say if I had any complaint at all, it would be that when you have the Bassinet on, it's pretty hard to get anything into the basket below because it sits lower on the frame. It wasn't a make or break for us, but something to note.
So as it turns out, when it comes to the UPPAbaby Cruz, you truly do get what you pay for. We both instantly saw the value that this stroller holds, and now can't imagine not having it in our lives. If you are a soon to be parent, or a parent that is looking to upgrade, I wholeheartedly suggest splurging on UPPAbaby if your budget can be adjusted to do so.
Shop UPPAbaby Cruz
---