Trying Out Tula Probiotic Skincare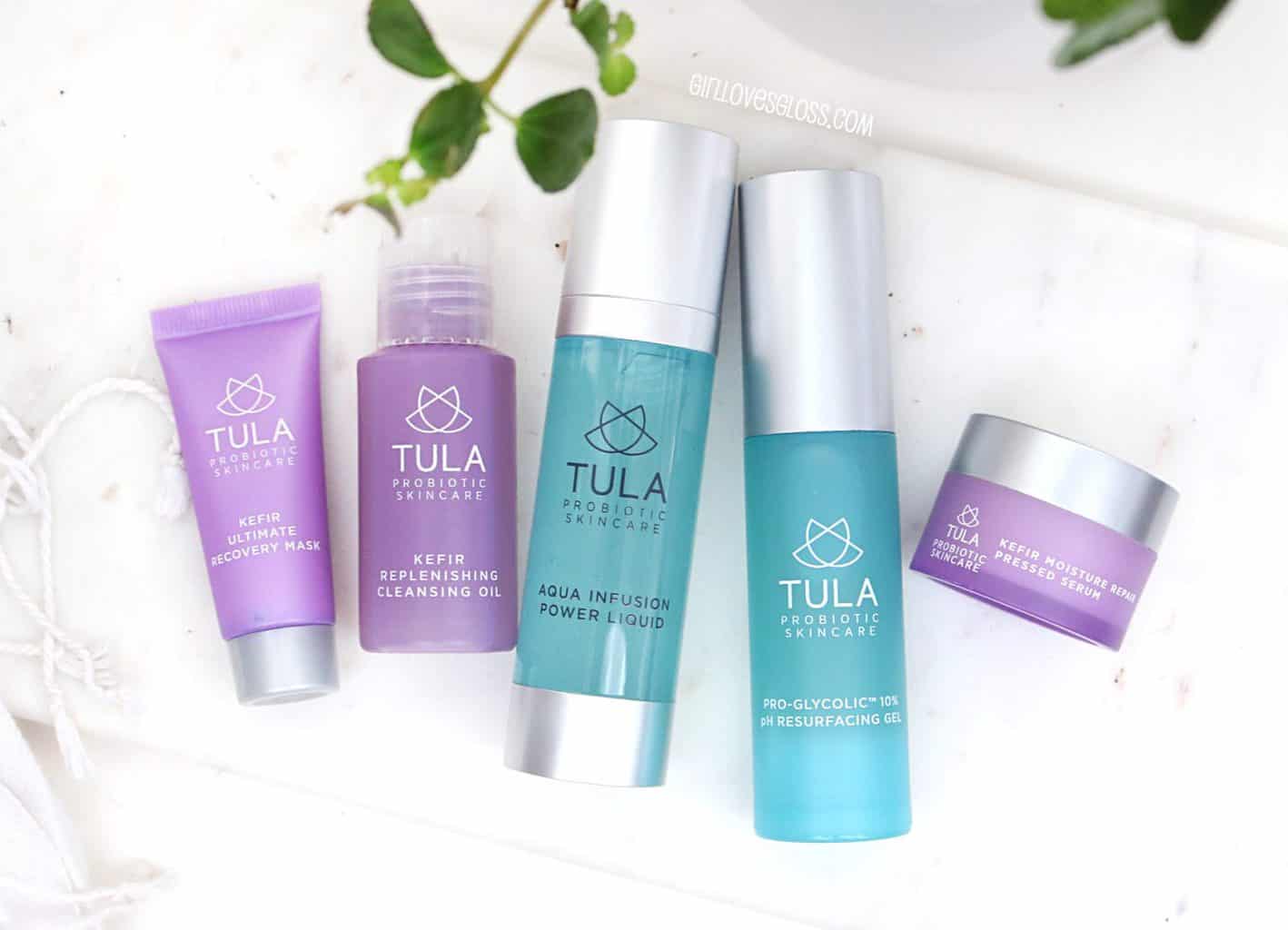 [dropcap]W[/dropcap]e live in an era where there are plenty of beauty brands now that are sold predominantly online. The concern in buying something like skincare online when you can't test it out in a store is always there. However, brands like Tula are making it so easy to get the right product for you. I was intrigued after seeing Tula on Instagram. Unlike some Instagram beauty products that make a name for themselves in slightly dubious ways, Tula stands out. The brand creates products catering to skincare niches in a way that is simplified, without loads of technical jargon but still deliver on claims. The brand sent over 5 minis for me to try out, and the results were quite surprising!
Pssst – want 20% off your order? Use code GIRLLOVESGLOSS
*PR Samples. Affiliate links
Tula Probiotic Skincare Review
---
Tula Probiotic Skincare | Nordstrom | Dermstore | Beauty Bay
What the brand claims: "We use probiotics as the foundation of all TULA products. These same bacteria that are best known to help balance and calm your stomach are also clinically proven to help promote the look of skin's natural balance, locking in moisture to leave your complexion more hydrated and reducing the appearance of inflammation."
What my skin type is: I have dry, dehydrated skin that can be prone to hormonal breakouts and clogged pores. I'm 35, to fine lines and skin texture is a concern of mine.
Aqua Infusion Power Liquid
---
This micro-encapsulated serum is packed full of hydrating ingredients like hyaluronic acid, prickly pear and the probiotic strain Lactococcus Ferment Lysate, which aids in locking in moisture all day long. It's a lightweight serum that packs plenty of moisture without leaving any sort of residue which makes it a great option for all skin types! I love having a serum like this on hand for day/night use because I find they match well with pretty much any other skincare cocktail I throw at it.
100% vegetarian | Cruelty-free | Sulfate, DEA, TEA and Soy-free. 
Kefir Replenishing Cleansing Oil
---
This is a great silky cleansing oil that does a fab job of removing my makeup. While it's not as cushiony as I prefer my cleansing oils, I think many will actually appreciate the thinner texture. What I love most is that it emulsifies beautifully into a really lovely milk before rinsing away cleanly. I get no residue or eye irritation with this.
It has probiotic strains Bifida Ferment Lysate and Kefir Hydro Complex, which balance and sooth the skin respectively. It is also formulated with a Ceramide Complex to prevent drying or irritation, Arctic Winged Kelp to promote elasticity and Rice Bran Oil to leave the skin velvety smooth.
Cruelty-free | Sulfate, DEA, TEA and Fragrance-free
Pro-Glycolic 10% Resurfacing Gel
---
You guys know I love an acid in my skincare routine and this one was love at first use! The Glycolic Acid exfoliates the skin, and ingredients like Turmeric and Blueberry fight inflammation and free radical damage. Mushroom and Beet extract make it 400x more hydrating than hyaluronic acid on its own. The probiotic strain Lactococcus Ferment Lysate locks in that moisture.
My skin felt amazingly smooth after using this! It was instantaneous results and I felt like the rest of my skincare absorbed so much better after. It has definitely become a firm favourite and I definitely don't want to be without it in my skincare collection!
Cruelty-free | Sulfate, DEA, TEA and Fragrance-free
Shop Tula Skincare and get 20% off with code GIRLLOVESGLOSS
---

Kefir Moisture Repair Pressed Serum
---
I love the concept of a 'pressed' serum! It has the texture of a balm that feels velvety on the skin. I use this in conjunction with a day or nighttime moisturizer, but if you have combo or oil skin this would be a 2-in-1 product for you. This feels lovely and I've used it at night and during the day under makeup with great results.
Formulated with probiotic strains Kefir Hydro Complex to sooth and create a barrier, and Bifida Ferment Lysate to even tone. It also has the Ceramide Complex and Arctic Winged Kelp mentioned previously, and Botanical Oils to nourish chapped skin.
Cruelty-free | Sulfate, DEA, TEA-free
Kefir Ultimate Recovery Mask
---
This is a nice, soothing mask that plumped up my skin nicely. You're supposed to leave on for 10-15 minutes then wipe away with a damp cloth and massage in any excess, which is my kind of mask. Anything longer than 15 minutes just doesn't make it into the rotation for me. While I found this product nice, it didn't initially wow me. I'll continue to test over time to see if the results become a little more apparent.
It also has the Kefir Hydro Complex and  Lactococcus Ferment Lysate, which create soothing hydration and locks in moisture. Apple Extract also is Vitamin C rich to help improve the tone and texture of the skin.
Keep reading for my final thoughts!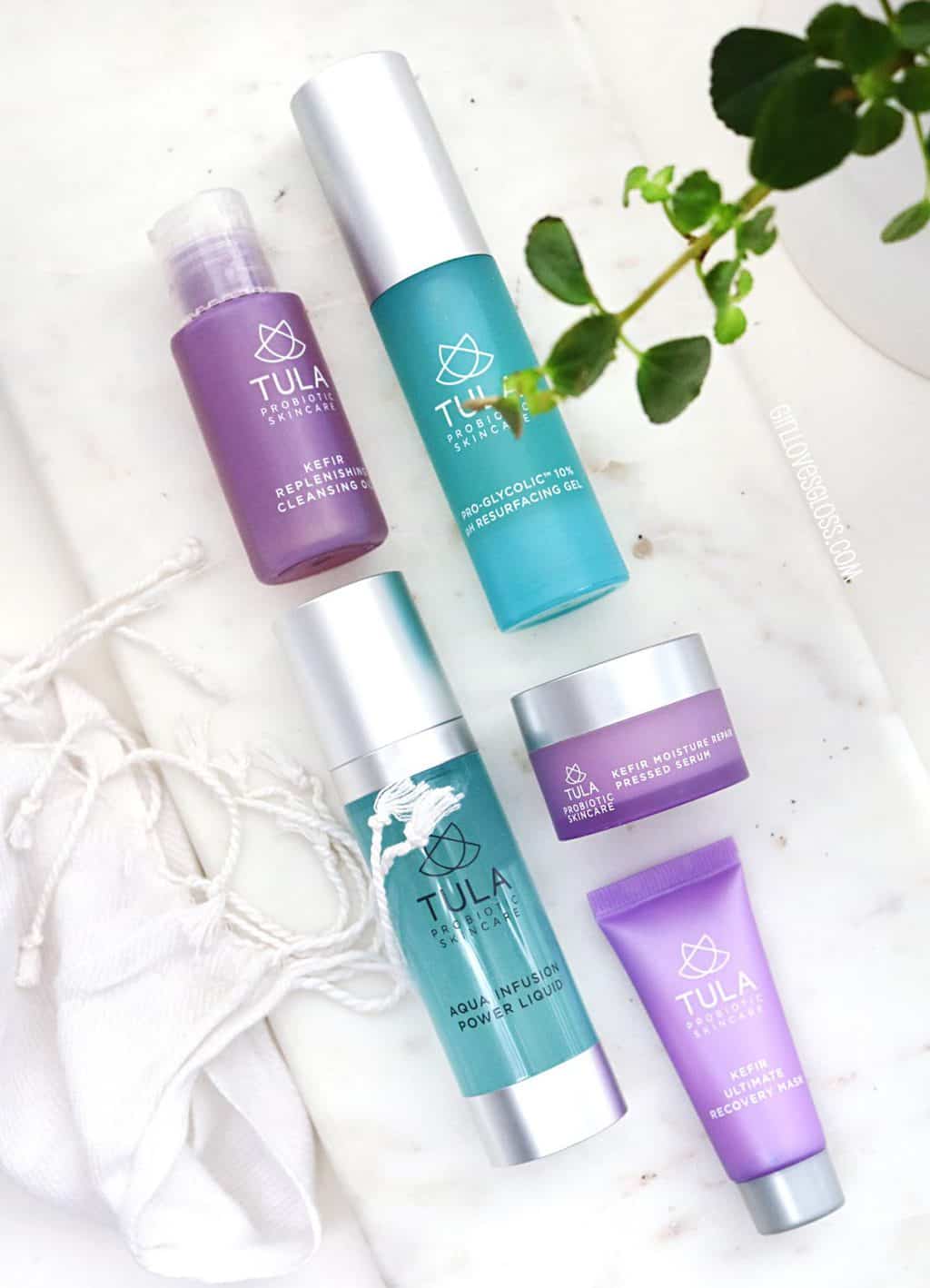 I was really pleasantly surprised by Tula Skincare! The ingredients speak for themselves, and the formulations are lovely and create a nice user experience. I've found some fast favourites and the adorable turquoise and purple packaging isn't hard on the eyes either. I was also pleased to see that the range was co-founded by Dr Roshini Raj, a board certified, practising gastroenterologist at New York University. She has a special interest in womens health and cancer screening and is well published in the field!
The lovely team at Tula has very generously offered an incredible

20%

discount when you use code

GIRLLOVESGLOSS

at checkout! Shop here:
---

Some of the products mentioned in this post may have been provided for consideration. These products may be linked using an affiliate link, which provides me with a small commission in return for providing readers with honest and authentic reviews. The earnings from affiliate links are what keep GirlLovesGloss.com running! You can read my full disclaimer here.