Second Chance Beauty | Maybelline Total Temptation Waterproof Mascara
Six months ago I reviewed the original version of the Maybelline Total Temptation Mascara in this post. I had hoped it was a dupe for an expensive formula that I was currently loving. In the end, I found it just alright and not worth a repurchase. My main gripe was it wilted my lashes a bit so when I saw there was a waterproof version I decided to give it a second chance, and I am glad I did! To see some before and afters and find out why this version is different from the original, keep reading!
Maybelline Total Temptation Waterproof Mascara Review
---
What Maybelline says about Total Temptation Waterproof Mascara: Build on bold volume to create irresistibly soft, separated, and fluffy lashes coat after coat with Maybelline's Total Temptation Waterproof Mascara. Features a creamy and whipped formula enriched with coconut extract.
What I look for in a mascara: We know by now I am picky; I want a super black formula that doesn't flake or smudge, builds volume and keeps my curl. Length is a bonus.
What my lashes are naturally like: Long, but very fine and thin that struggle to hold a curl. 
---
The brush is a traditional mascara wand with no weird curves, spikes or crazy oversized hourglass shape. That's how I prefer my mascaras personally; I find wands like this make less mess and get right to the root of the lash easier.
Consistency is no different than the original version of this mascara, either. The texture is a whipped, thickening formula. It coats the lashes easily and beefs them up in even just one coat. The difference here is that doesn't immediately start to wilt the curl in my lashes. Because waterproof formulas tend to set faster due to the wax content in them, they are a great choice for someone like me.
Total Temptation does also have the faint coconut-ish scent, but it seems to be fainter than the original formula did, and doesn't hang around once the lashes have dried.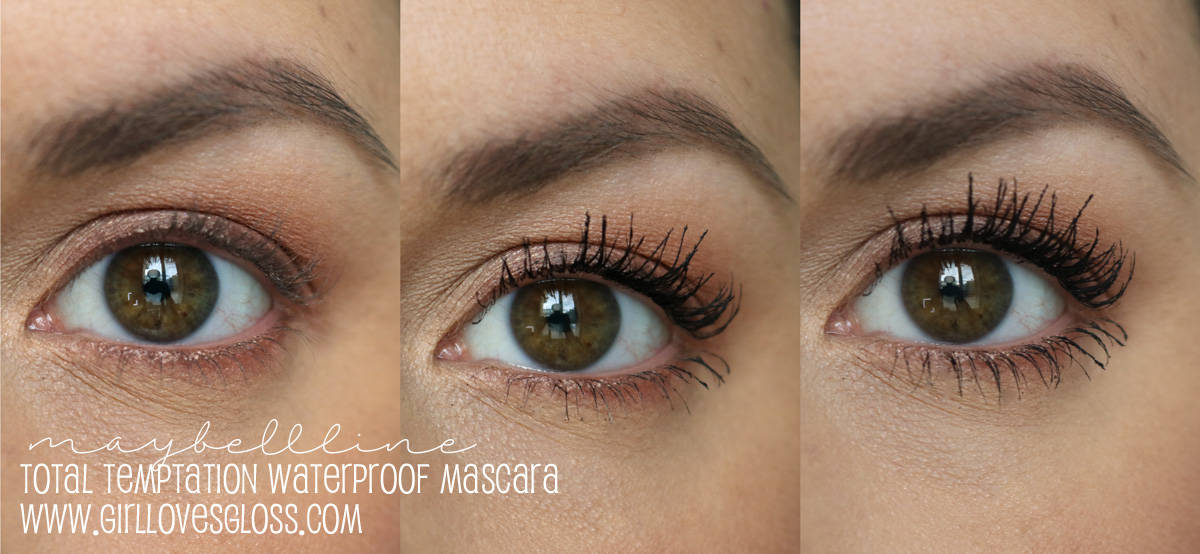 Unlike the original version of Total Temptation Mascara, I get no flaking with this, and I get no transfer onto my browbone, which is a major issue for me, even with waterproof formulas. It's been particularly humid here lately, so I feel like it's the perfect time to test this!
It was also no issue to build this formula up to the desired effect. You can see in the before and after, that it definitely fills out the lash line for that thick lash effect, but it also adds length!  I didn't have any significant clumping, nor did I get it all over my lids applying it (a common problem when you have fine wispy lashes like mine). Another massive plus is that it removes really easily with a waterproof makeup remover. With some waterproof formulas, I feel I am using multiple cleansers to remove, and this comes off within 10 seconds with my favourite makeup remover and cotton pads.
So final verdict? I am so glad I decided to give the waterproof version of Maybelline Total Temptation a try! While the original formula was just so-so for me, the waterproof is a hit! I love that I can build up the intensity, and get a full voluminous effect without the feeling super crispy or brittle lashes.
Shop Maybelline Total Temptation Waterproof Mascara 
---