One Not to Miss | Laura Mercier Mod to Modern Caviar Set
Every holiday season cosmetic brands drop beautiful shiny limited edition bombs on us left right and centre. It can be hard to narrow down what's actually a great buy and what is just wrapped up in sparkly packaging for holiday hype. There are a few brands that I always pay attention to when it comes to holiday releases though, and Laura Mercier is one of them. Each year they launch a set of their famed Caviar Sticks – a favourite formula of mine – and this year they've nailed it once again. Whether your a makeup hoarder collector like me or want to swipe it on as you're out the door, you're going to want to check this set out!
*PR samples, Affiliate Links
Laura Mercier Mod to Modern Caviar Stick Set
---
Available at Sephora | Nordstrom
This year's Caviar Stick offering is comprised of four shades and I adore every single one (hows that for praise?). In the past, these sets have had anywhere from 4-6 shades in them with prices to match but I've always felt there were one or two sticks I wouldn't use (like the green Khaki of 2015's set or the black Tuxedo of 2016's set). This year, however, they are all super natural neutrals. Some might find this boring, but to me, it these the perfect base that can be built upon.
Now I will mention there are two repeat shades that always seem to be included in these sets: Amethyst and Rose Gold. These are the brands best sellers so I can see why they always include them. I already owned them in my collection, but am perfectly happy to have some travel-friendly sizes handy!
New shades include Vanilla Kiss, which I am convinced is the most perfect all over lid primer or under browbone shade. I've been waiting for Laura Mercier to release a shade like this for years! Also new is Au Natural, which is a slightly deeper neutral tan camel shade that makes a great one-and-done lid shade for pale skin, or a fabulous base for tan to deeper skin tones.
Vanilla Kiss: Matte creamy ivory beige
Au Natural: Matte pale camel
Amethyst: Shimmering plummy bronze
Rose Gold: Shimmering champagne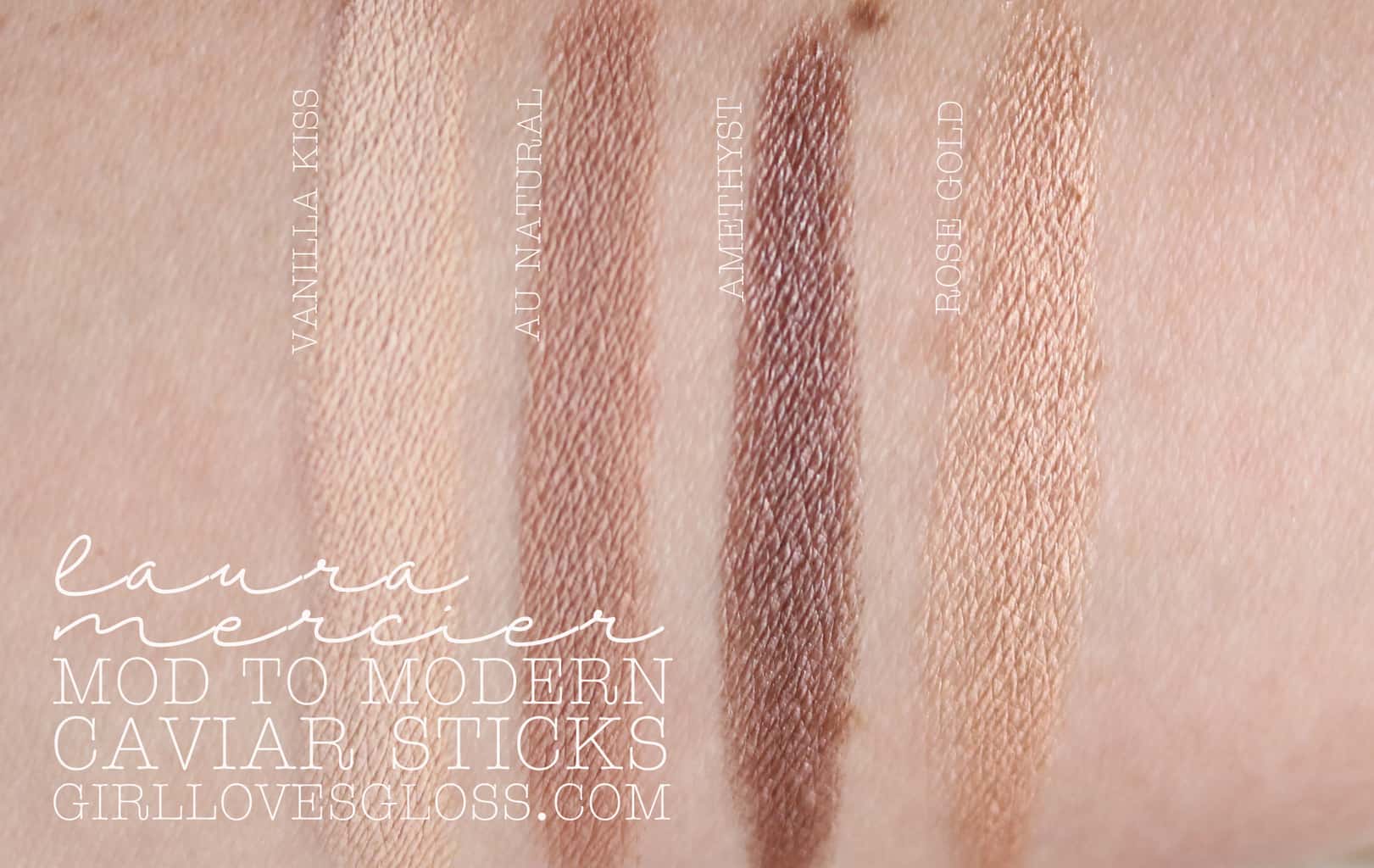 The formula on these is excellent; You get a bit of blending time before they set and then stay all day. I don't get any creasing or cracking, and powder blends on top of them beautifully. It's obvious why the Caviar Sticks have become a start playing in Laura Mercier's line. If you're wondering about value in this kit, it's a great buy. The set retails for $50 CND, at 0.03oz/each. A single full size Caviar Stick is $35 CND for 0.05oz of product! 
Even better, if you fall in love with one particular shade, they are all part of the permanent line!
Laura Mercier Mod to Modern Caviar Stick Set
---
Some of the products mentioned in this post may have been provided for consideration. These products may be linked using an affiliate link, which provides me with a small commission in return for providing readers with honest and authentic reviews. The earnings from affiliate links are what keep GirlLovesGloss.com running! You can read my full disclaimer here.