Laneige Lip Sleeping Mask and Eye Sleeping Mask
Does your skincare work for you while you sleep?
The Laneige Lip Sleeping Mask and Eye Sleeping Mask just wiped out a serious problem I was having with my skincare.
My biggest concerns when it comes to products aimed at lips and eyes are hydration and longevity. I don't want to apply lip balm every 20 minutes, and I hate it when my eye cream sinks in so fast it feels like I didn't even use any.
I've got normal-dry, dehydrated skin and look for products that put in the (wo)man hours when I need it most. Laneige has formulated two products, the Lip Sleeping Mask and Eye Sleeping Mask that are meant to work while you sleep to deliver ultra hydration, and I am living for them!
For years it used to be not uncommon for me to wake up in the morning with a split lip; They would get so dry through the night. I tried every lip balm under the sun, and none of them lasted through the night. In fact, it became a ritual to reach for my balm it the very minute I woke up. Until Laneige Lip Sleeping Mask, that is.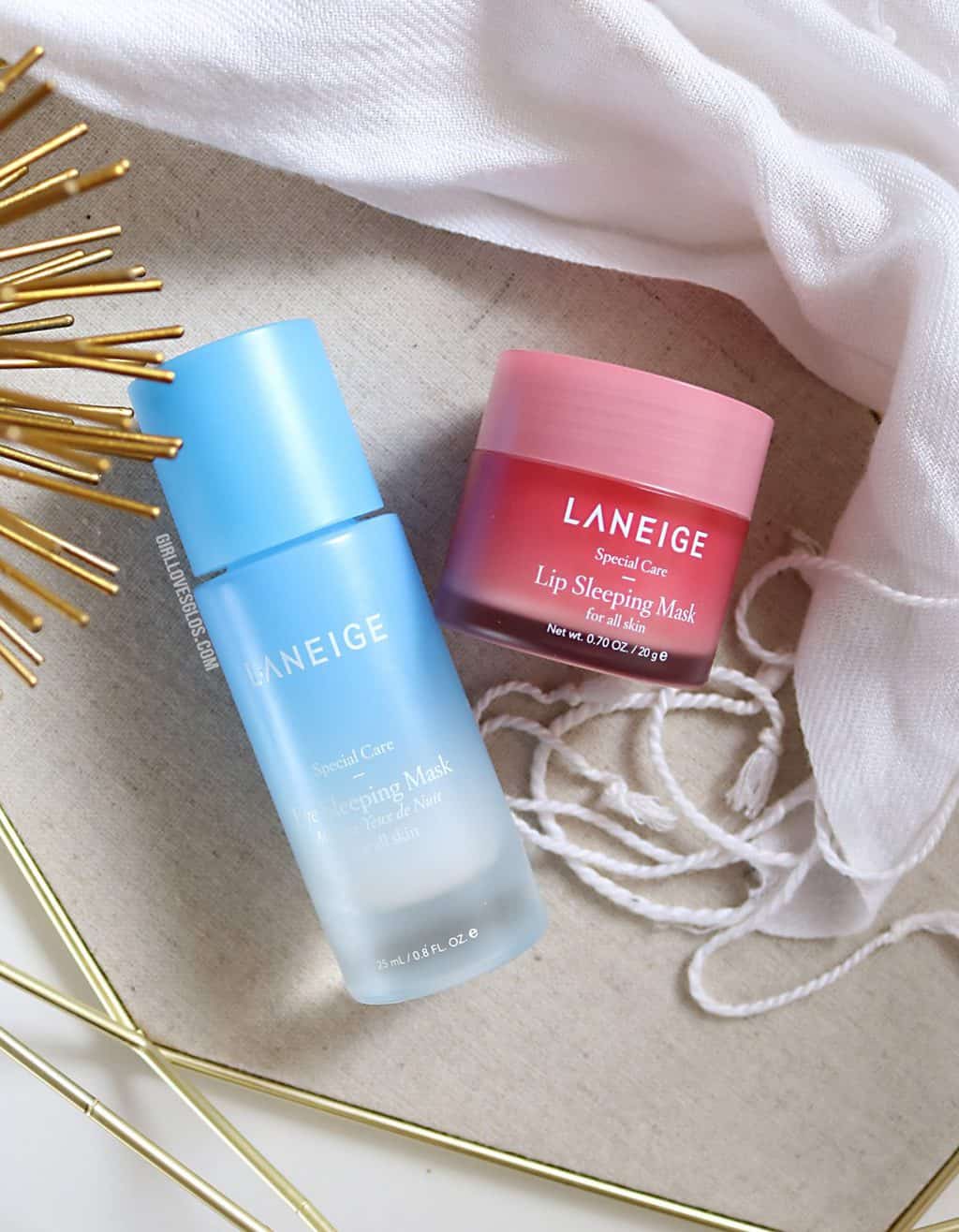 Then I discovered the Laneige Lip Sleeping Mask and everything changed. Not only do you get a generous 20 grams, but a little goes a long way.
The formula has a creamy, cushion feel that gives your lips a lush feeling, without being waxy or greasy. I've just cracked open my second pot of this and have no signs of slowing down on my love!
I slather this on before bed, and guess what? When I wake up I still have balm on my lips. Yep, Laneige Lip Sleeping Mask just THAT good.
So given how much I adore the Laneige Lip Sleeping Mask, it's not shocking that the Laneige Eye Sleeping Mask* also wins an A+ from me.
Unlike most eye creams and treatments which are only 15ml, Laneige offers up 25ml in a gorgeous frosted blue glass bottle.
The applicator is really the shining star here; The ceramic ball-tipped applicator depuffs instantly and feels AHmazing. Somehow it always feels cold, even in the dead of summer, which truly makes it a must-have for those mornings when you need a hail mary.
The formula is a lightweight, silky serum that hydrates with a cooling sensation that lends itself both to evening and morning. It sinks in well enough that it performs under concealer should you want it to. It also works fast enough that it can take care of the aftermath from a tear-jerking rom-com in a flash.
I also love to layer this serum with a more emollient eye treatment at night sometimes to get a double whammy effect (sometimes you have to pull out the big guns, am I right?)
Laneige has nailed it when it comes to solid formulations that pack a punch where you need them to! Not ony are you getting luxury feeling skincare with well-thought packaging, but you're getting it at a mid-level price when you consider the price per grams.
Laneige has even branched out creating several flavours of the lip sleeping mask, with limited edition holiday offerings as well. I've loved the original, the Apple Lime and the Mango. And yes, if you're into Vanilla, they've got that too! Watch for the minis during the holiday season where you can try 3-6 different flavours in smaller jars, if you're the type that gets bored easily.
Shop the Laneige Lip & Eye Sleeping Masks
---

---
Did you find this review helpful? Pin the image below to share the love!