New Kid on the Block: Hourglass Vanish Seamless Finish Foundation Stick
I knew the minute I saw the
Hourglass Vanish Seamless Finish Foundation Stick
I needed to try it. First of all stick foundations are so easy to use, and make perfect travel companions, secondly, the 26 shade range looked phenomenal, and thirdly the funky triangle shaped tube had me all sorts of curious.
Hey, what can I say? I love great packaging!
Hourglass had some incredible claims about this foundation, so I gladly put them to the test!
First and foremost, let's go over the claims for the
Hourglass Vanish Foundation Stick
. The brand boasts a long wear waterproof 'poured liquid formula', that adjusts to your body temperature giving a perfectly blended, yet full coverage finish. Words like "invisible" "weightless" and "seamless" had my attention instantly drawn; I've tried many stick foundations in my day but most of them leave a chalky, powder-finish feel that just doesn't work with my dry skin. Upon application I noticed that these are exceptionally creamy, and glide right on to the skin. While sometimes emollient products like this can blend away into nothing, I was really impressed with how pigmented the product is and how well it covered! I was easily able to build up to full coverage where I needed it (over blemishes, and on my chin) and the triangle shape of the stick actually made it very convenient to apply around the nose and under the eyes. Hourglass claims that Vanish has the 'coverage of a concealer' and I would tend to agree! I received two shades, Buff and Nude, which both had golden undertones and fit my NC25 and NC30 (when I have some tan on) skin really well. There are cool, neutral and warm tones in the range of 26 shades so there should be something for everyone.
In terms of finish, I found this to settle to a satin look and feel, and only noticed minor caking around dry spots/flakes if I hadn't prepped my skin well. I do definitely recommend a hydrating primer with this if you have issues with foundation settling into pores or fine lines. If you have dry skin like me, prepping with a good moisturizer before is key.
I found that with or without a primer, I got the same wear time, which easily made it through a 8 hour work day in the dead heat of summer and broken air-con at work
(yep, grimy),
so that impressed me greatly. I even tested it on the waterproof claims after watching a tear jerker one night and can vouch that my base held up with next to no wear!I will say that I found that I got the best results with a brush, namely the
Hourglass Vanish Foundation Brush.
 If you're a damp sponge lover for foundation application, this might not be for you, and in fact I find in general stick foundations don't love being mixed with water. Instead I got best results when applying a couple 'streaks' across cheeks, down the nose, and a "V" on the forehead and chin. Then as the product melts into the skin a little, I buffed it in with the rounded tapered Vanish brush that really did give me an airbrush finish. The brush is super soft, dense and the slightly flattened side makes patting on extra product on trouble areas a breeze.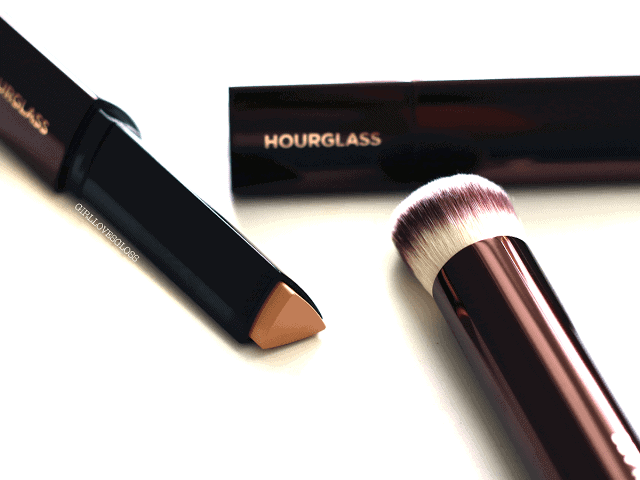 I was incredibly impressed with the
Hourglass Vanish Foundation Stick
– it just adds to the incredible list of complexion products that Hourglass has knocked out of the park! I love how convenient it is to apply and that I barely need to work at it to get a flawless base. If you've been looking for a long wearing or waterproof foundation, and don't love spending a ton of time getting ready in the morning, this might just be for you!
Shop the Post
---