If you've ever read this blog before, you will already know that the
Tarte Amazonian Clay 12 Hour Blushes
are my favourite blush formula of life. Until a week ago I owned 9 shades, and that collection just gained 4 more and a highlighter thanks to the Naughty Nudes collection! I'm thrilled the brand expanded the range to include some warmer neutral shades, and while they're all gorgeous I have some definite favourites.
Tarte Amazonian Clay 12 Hour Blushes
have gained 3 new shades (and one shade was already existing: Exposed) to the permanent range thanks to the
Naughty Nudes Collection
, as well as a highlighter which is the first of its kind in the Amazonian Clay range.
Let's talk about the blushes first, shall we? They range from a rosy nude in
Exposed
to a pale apricot in the shade
Sensual
then a true peach in
Risque
and a slightly terracotta peach in
Seduce
, which truly rounds out the permanent line in my opinion. These are exactly the formula I've come to know from Tarte: a super long-lasting blush that looks traceless on the skin and doesn't wear off patchy throughout the day. I've never had issues with Tarte's blushes having a powdery texture and the pigmentation of these is just as good as the original line.
Blush has always been the product that fades fastest on my skin, and I remember the first time I saved my pennies for one of the
(new at the time)
Amazonian Clay Blushes being blown away by how long it truly did last on my skin. Even my all time favourite bright shade,
Tipsy
, blends effortlessly and never appears clown like. These new shades (and the shade Exposed which was part of the original lineup) are what I would consider "sculpting blushes" and give a great lift to the cheekbones without clashing with the rest of your makeup, or appearing bright or garish.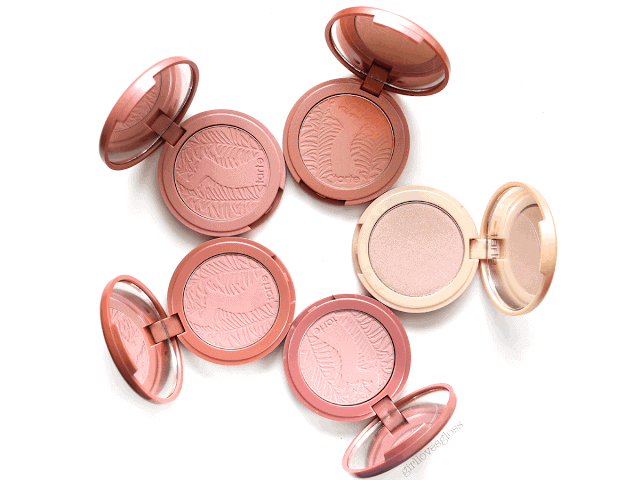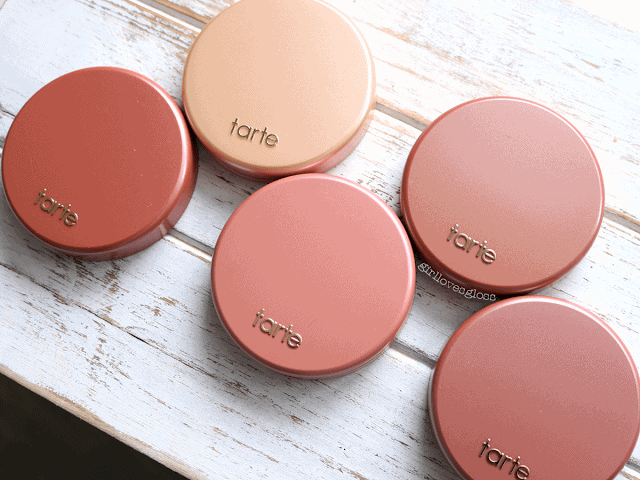 When it comes to the new
Amazonian Clay Highlighter in Exposed Highlight
, Tarte has finally infused a highlighting product with the long wear of their Amazonian Clay line. The brand is no stranger to illuminating products in the past, but none have ever been launched in the regular packaging alongside the permanent lineup.
Exposed Highlight is a pale gold beige that blends out to give the skin a stunning sheen. While it is nowhere near as intense as most highlighters seem to be on the market these days, this really gives the skin a true dewy look that is incredibly hard to mimic with a powder product! The texture of the powder is smooth and buttery – more so than the blushes – and builds beautifully without emphasising pores and fine lines. This is truly the case of a swatch just not doing it justice, because when you skin catches the light wearing this is when you will fall in love!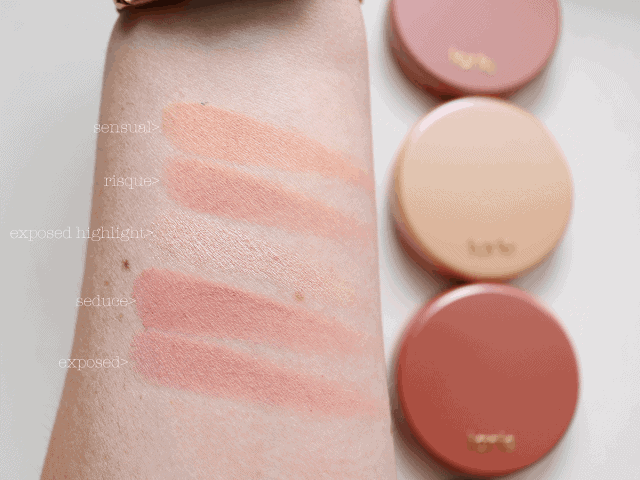 This isn't the first expansion on the Amazonian Clay range that Tarte has done since launch, but it definitely rounds out the colour line perfectly. I've already caught myself favouring the soft peach of Risque, but I'm sure next week that will change ( as it does with any beauty junkie!)
Which shade looks most appealing to you? Have you tried any of Tarte's blushes/highlighters in the past?



Some of the products and/or services mentioned in this post may have been provided for consideration and are denoted with an "*". These products may be linked using an affiliate link, which provides me with a small commission in return for providing readers with honest and authentic reviews. The earnings from affiliate links are what keep GirlLovesGloss.com running! You can read my full disclaimer here.