Love Sparkle? This is For You | NARS Ignited Palette
If you watch my Instagram stories, you'll know I did a little squeal of joy when the NARS Ignited Palette showed up, just days before Christmas.
I mean, look at that packaging!? It is stunning! And while the shades look like a blend of everything that was trendy in 2017, warm and pinks, it is anything but. This was insanely hard to photograph folks. The sparkle and duochrome shifts are immense in person. In order to truly show you the glory, I had to take pics with flash. With FLASH, people. I know, I know, it hurts my photographers heart a little and I could have sworn it was like blogging in 2006 all over again, but here we are…
NARS Ignited Eyeshadow Palette*
---
Limited edition. Still available at Sephora
Right off the bat, I want to clarify something. I always do my swatches on dry, unprimed skin, with a double pass and dry fingers. You won't get pretty, stencilled swatches from me because that just isn't real life. I want to know how the colour payoff is and how the shades nuance on their own. This palette made me work for it a bit because of how multidimensional it is. It is a wet/dry formula, and in this case, I always swatch dry to give a true first impression.
It's a mix of matte, shimmer and metallic sparkle, and I say sparkle, not glitter, because there is nothing chunky about this palette. I think it will shock those who order online, swatch unseen, who may assume its just a warm neutral rose palette.
What I love is that NARS has given you all the neutrals you need as mattes. It means you can work with this palette realistically for complete looks. The glimmering sparkle shades do stick to the lid sans primer, if you use your finger, which is what the brand suggests. I also like the way they apply with a wet brush or by using a tacky primer then packing on with a brush. Either way, they are stunning and easy to wear during the day without having a 90's face glitter revival. If you want to go full glam though, it's easy enough to do with this as a one-stop shop palette.
In terms of longevity, a primer does help the vibrancy last all day. The mattes blend smooth and silky all on their own though and are beautifully pigmented. I don't find I get fall down, even with the extra sparkly shades and the pigment stays from morning till night.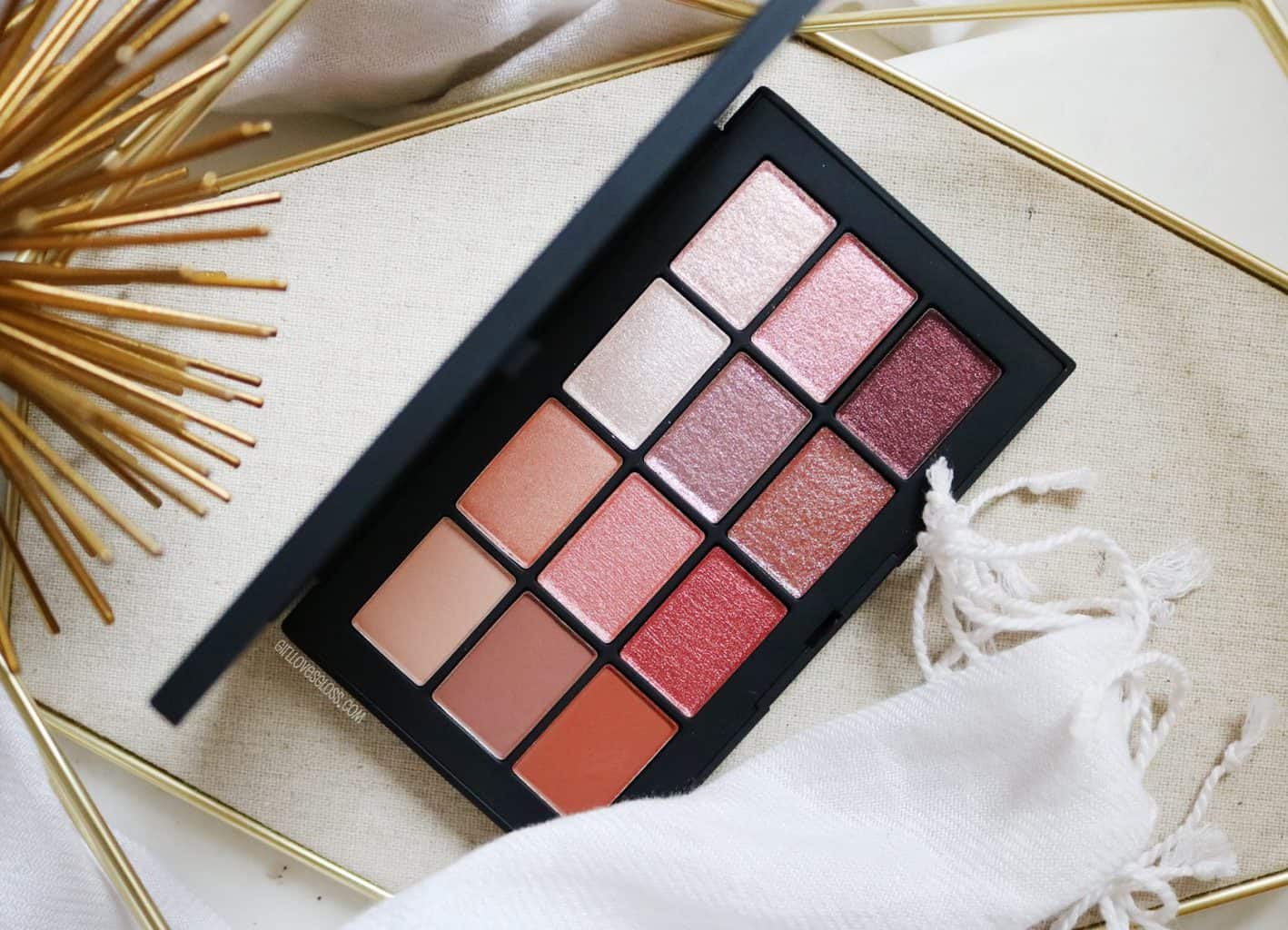 Personally, I dig it. A lot. I know it might be a bit of a hit or miss depending on what you are expecting. I will say though, it is unlike anything else I own. In a beauty editors world, that's near impossible!
The NARS Ignited Eyeshadow Palette has 12 shadows at 1.4g/each retailing for $74. Their individual shadows are 1.1 grams each and retail for $23-26 approx, so the value of the palette is actually incredible!
Shop NARS Ignited & My Other NARS Favourites
---
---