Clinique's Pop Lacquer Lip Colour + Primer : Review & Swatches
After falling in love with the
Clinique Pop Lip Colour + Primers
last year, I had a feeling it was only a matter of time before the brand came out with a liquid lipstick version. Unlike the trend of uber matte liquid lipsticks of late, the
Clinique Pop Lacquer Lip Colour + Primers
* are actually a super high shine finish that is meant to stay hydrating with full coverage colour. Right from swatch I knew these lacquers packed serious punch to them, and were so much more than a standard lip gloss.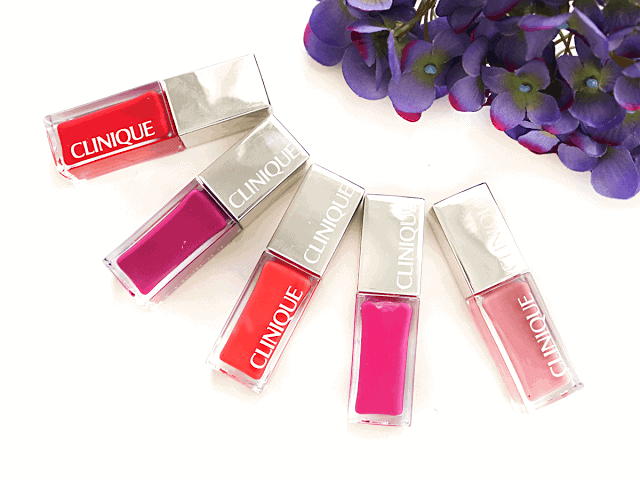 The
Pop Lacquer Lip Colour + Primers
have one of the most explanatory names out there: they combine the colour of a lipstick, with the hydrating lasting power of a primer. I always have my doubts about anything lip related that claims to be long lasting, because usually in my experience that means they are either super drying, or leave a nasty patchy stain in attempt to give longevity. Thankfully, these do neither of those two things. Instead they apply a full coverage pigment lacquer to both top and bottom lips without dipping the applicator back in the tube!
The texture is on the thicker side for a gloss, with a tell tale tacky feel which I don't love, but it does hug the lips beautifully leaving a super smooth even finish minus any settling into lines or bleeding.
The other downside for me is that I had hoped they would make some peach shades like my fave
Lip Pop in Melon Pop
, but there isn't a single peach, peachy pink, or peachy coral. Neutral lovers will rejoice, you've got several choices there, but I wish the shade range overall was slightly more balance. There are ten shades in the range:
Peace Pop: A deep violet
Love Pop: A purple berry with pearl
Cocoa Pop: A medium pink neutral with pearl
Lava Pop: A classic blue red
Happy Pop: A vibrant orange coral
Sweetie Pop: A bright Pink
Wink Pop: A pale milky pink
Go-Go Pop: A vibrant Fuchsia
Nude Pop: A true nude
Sugar Pop: A neutral blush
L-R: Lava Pop, Peace Pop, Happy Pop, Go-Go Pop, Wink Pop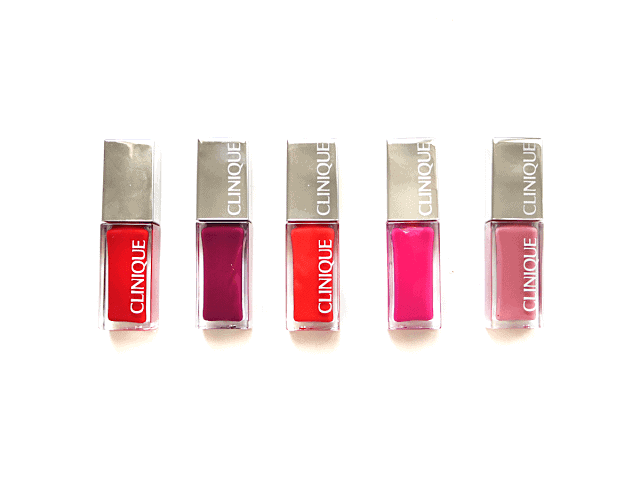 The wear on these is really nice, it doesn't gather or get gummy in the inner corners as much as some glosses do, and tends to fade away gradually and gracefully. I love that Clinique made a gloss product that can be worn all on its own and has full pigmentation. As you can see in the swatches, that even Wink Pop, the paler shade, has wonderful coverage and looks that way on my naturally dark lips. I felt like my lips stayed hydrated while wearing these, and they didn't cling to any dry flaky spots which is always a struggle for me!
Personally I think these are one of those products that if you can find "your shade" you will love. If only they had made a peach shade like
Melon Pop
, I'd be 100% sold!
Shop the Post: