Clinique Lid Pop Shadows: Packaging Over Pigment?
When Clinique launched their
Cheek Pops
a couple years back, the internet went crazy for them. The uber cute Gerbera Daisy motif pressed into a powder so silky some swore it was a cream, put Clinique back on the map in terms of colour cosmetics as far as I am concerned. So when they recently launched the
Lip Pops
, I had hoped the pigment and quality would live up to reputation. They had the same super sweet design, and some really bold fun colours, but did they live up to the hype?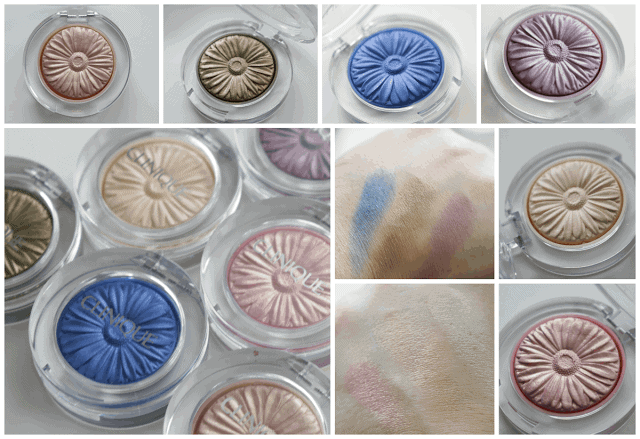 The
Clinique Lip Pops
come in an eight shade range that promise to 'instantly give the lids a burst of colour' that 'builds and blends easily to a customizable level of intensity'. I got my hands on 6 of the shades and was sadly really underwhelmed. While swatched with a finger I could build up the pigment slightly, I just couldn't get that to translate to the lid, with brush or with fingers. I suppose if you are the type who really loves a sheer wash of colour, than these would be perfect for you, but for myself I have come to expect more colour payoff. The gorgeous golden pink of Petal Pop for example, looks absolutely stunning in the pot – but I couldn't even get it to show up on my lids with a damp brush. Unlike the Cheek Pops, I found most of these quite dry in texture, and while they do live up to Cliniques claim that they look 'powderless', the let down in pigmentation is real with these.
There were definitely some worse performers than others in this range, but out of the six of eight I tried, none lived up to the notion I had in my head for these. I do think they would be perfect for a makeup beginner, someone who is tentative with eyeshadow, or the teenager who isn't allowed to wear too much makeup to school for example. If you're an avid eyeshadow lover, or makeup enthusiast however, these get a pass from me (sadly!). Hey, they can't all be winners!
Have you tried a product lately that you had higher hopes for?