Makeup for When You Feel Like Crap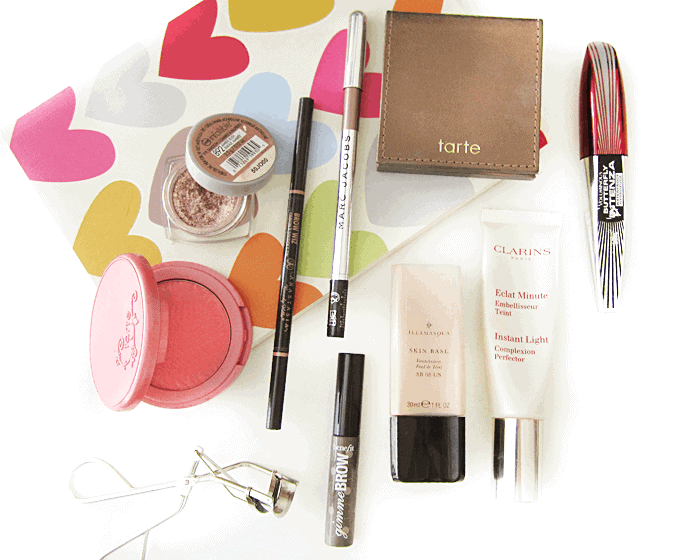 Yep, yesterday I felt like absolute rubbish. My back was tweaked and after spending about 3 hours on the road driving, I was feeling less that pretty. I know for some, makeup means nothing, but for me on a crummy day a little makeup can totally perk up my mood. So here are my picks for products that help me feel like I look my best when I feel less than fresh faced.
For me, a smooth even looking base can take me from looking like I got 2 hours of sleep, to 10. So I like to reach for my Illamasqua Skin Base Foundation that I know I can rely on for flawless fuss free coverage. On days when I feel like I'm looking a tad dull, I mix that with my Clarins Instant Light Complexion Perfector to add a touch more glow. I forgot to include it in the picture, but undereye concealer is an absolute must for me on days like this, and I trust nothing as much as my Mac Pro-Longwear Concealer.
I like to finish off the face with some bronzer to warm things up and a blush that is a bit more on the bright side to give my cheeks some pop. My picks are Tarte Park Ave Princess Matte Bronzer and Blissful Blush – both give me that youthful glow minus any glittery shimmer which can be a tad ageing.
When it comes to eyes, brows are super important for framing the face, without grooming my brows I just feel like there is something missing. I reach for my trusty Anastasia Brow Wiz to fill in sparse spots with tiny little hair like strokes, and then set with Benefit Gimme Brow to give some definition to the hairs.
I then like to take a brightening shadow that has a pop of colour, like my all time favourite L'Oreal Infallible in Amber Rush. I just pat this on with a finger and then softly blend it slightly into the crease and call it a day for eyeshadow. I'll swipe on a coppery brown liner like my Marc Jacobs Highliner in Ro(cocoa), which paired with the rose gold shadow really makes the greens in my eyes pop, and then layer up plenty of mascara. Naturally I will always curl my lashes before this step – nothing says wide awake and feeling fabulous like curled lashes in my opinion, and the only curler for me is the Shu Uemura.
My lips are quite pigmented on their own, so it was just lip balm for me but if colour on the lips is a must for you, I suggest something slightly sheer but brightening, like a pink or coral gloss. Heavy lipstick can drag down a look if it isn't done right, and if you're feeling under the weather the last thing you'll want to do is check your lipstick every 15 minutes.
Finally I thought I'd leave you with some tips for makeup on days when you're sick, or maybe sad, or just feeling less than normal.
– today isn't the day for heavy contouring. Sticking to a pop of bright blush and a bit of bronzer has a really fresh perked up look about it which will go miles on a day like today.
– you might want to compensate a dull complexion with shimmer, but try adding a bit more colour into your look than you normally would and then see if you need shimmer first. If you normally are a matte eyeshadow girl, pop a bit of shimmer on the lid. If you usually only put bronzer on your cheekbones, try sweeping a tiny bit across the nose and forehead to make it look like you've had a bit of sun.
– matte lipsticks can look stunning, but not on dried out cold-ridden lips. If you're feeling sniffly, reach for something more hydrating that requires less mirror application.
– even if you don't put a stitch of makeup on, curl your lashes. Your eyes will look so much more awake with just this simple step!
I hope you all are having a fabulous week! Let me know your tips for when you are feeling good but still want to look your best!