Just In Time For Summer : Urban Decay Beached Bronzer
Urban Decay has been on fire lately with both limited edition collections and new launches. I feel like the brand has been hitting home runs left right and center and with the soon-coming launch of the 100+ Vice Lipstick range I have no doubt they will continue to impress. I recently raved about the Afterglow Highlighters and in that same launch were the new
Beached Bronzers
, complete with palm tree motif packaging perfect for summer!
I instantly loved the packaging of the
Urban Decay Beached Bronzers
; The palm tree design looks like it came straight from a 1960's photograph,
which I love
, and the compact is super slim yet still holds 9 grams of product (Too Faced Chocolate Soleil holds 10 grams for example).
Available in two shades, Sun Kissed (the one I have) and Bronzed. I would say it is slightly peachier than I normally would choose for a bronzer, so I prefer to dust with a light hand all over the face to warm up my complexion as opposed to concentrating it as more of a sculpting shade. The slightly darker shade, Bronzed, has a much stronger golden tone to it, which I found almost went a bit yellow on my skintone so that might perhaps be something to keep in mind when choosing a shade. Both shades are a true matte finish.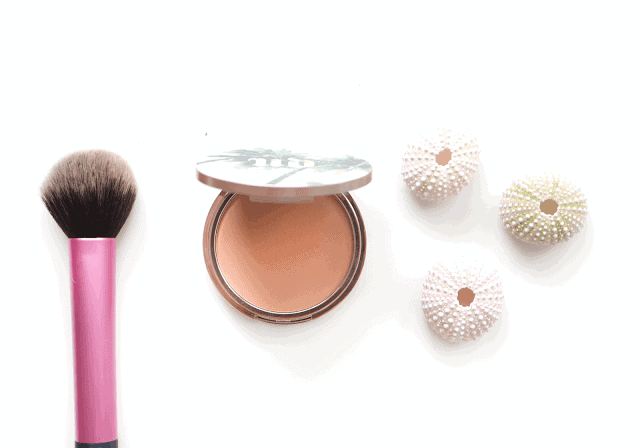 Urban Decay has marketed these bronzers as a finely milled, super soft powder that applies smoothly, doesn't streak and creates a radiant glow that won't quit. I would agree on most of these statements; the texture of this bronzer is beyond silky and feels super soft to the touch. My only problem with this is that while it blends beautifully without streaking, it almost blends too much to the point of blending away. I feel like the texture might actually be too silky, and lacks a bit of 'grip' for loss of a better term. The way I see it is that if you're a true bronzer lover like I am, this might not be enough for you in terms of impact, but if you're very fair, or a little scared of bronzer in general that the Beached Bronzers would be an excellent choice as it's hard to over do it! I've noticed that the back of the packaging states that these can be used wet or dry, so I'll have to try them wet and see how that impacts the results. Worn dry, the formula settles onto the skin nicely without looking dry or chalky.
In terms of wear, it holds up like I've come to know for Urban Decay standards: all day. I was actually surprised to see how fresh it looked at the end of an 8 hour work day (more so that pretty much anything else on my face!). I was concerned with the texture being as silky as it is that it would wear away quickly, but am happy to see that just wasn't the case.
Overall, I think these make really lovely bronzers for those who aren't used to wearing a ton of bronzer (guilty!) or are new to wearing it. I'd love to see Urban Decay come out with one more shade that is a bit more if a neutral brown.

What is your favourite bronzer, and have you tried the Urban Decay Beach Bronzers yet?