This Just In : Kat Von D Shade + Light Eye Quad in Rust
When the Kat Von D cosmetic range launched a few years back, I really wasn't sure it would grow up to have the impact it's having in the beauty world. A few revamps later, and it's becoming a legitimate colour line that spans neutral to bold colour choices seamlessly whilst offering some seriously superior textures. With the original Shade+Light Contour Palette, and Shade+Light Eyeshadow Palette being massive commercial hits, I had no doubt that when I heard the brand was launching
Shade+Light Eye Quads
, they would smash it. I managed to get my hands on Rust, the warmest of the our that were launched, so keep on reading for swatches and my review!
The
Kat Von D Shade+Light Eye Quads
come in 4 shade groupings: Rust, Sage, Plum and Smoke. The Rust quad shown below has a dusty peach, chocolate brown and rusty orange (all matte) and a cream with micro shimmer. I'll be a first to admit the black plastic, gothic, coffin-esque packaging doesn't really do anything for me, it's just a matter of style preference, but it does house the products securely. The palette opens up to a 90 degree angle, and has a small mirror inside, but no space is wasted with a crappy foam eyeshadow applicator or scratchy brush that's too small for adult sized hands. The dusty peach shade is more than double the size of the other three shades with 2.63 grams of product, while the brown, orange and cream shades are 1.15 grams (for size reference a MAC eyeshadow is 1.3grams).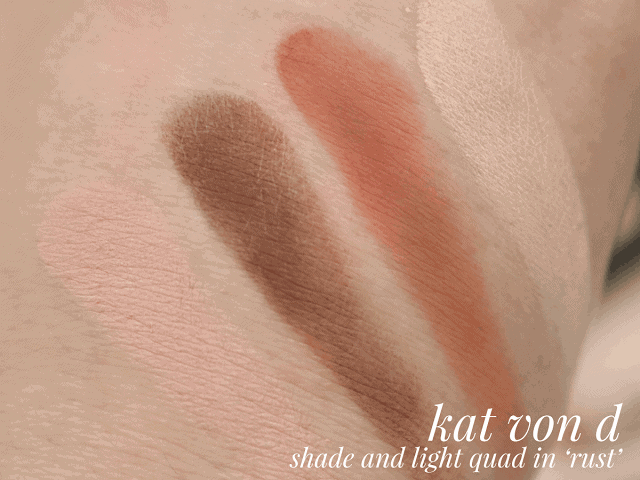 Similarly to recent shadow offerings from Kat Von D, the
Rust Quad
is incredibly pigmented, and the shadows all swatch on with a buttery feel with a slightly powdery finish (nothing a quick tap off of excess can't fix). There honestly isn't a dud in this set, and the shades really do pair well with each other. I was worried that the rusty orange shade would be hard to wear, but it adds such a wonderful warmth that can be subtle if you want it to. All four shadows lasted beautifully without creasing, and minor fading after the end of a 10 hour day, which I do personally find common for matte shadows. I found I didn't need any sort of primer or base underneath to bring out the vibrancy of these either, they build up to opaque colour without any patchiness or a chalky finish.
The price on these is really hard to beat as well. Clocking in at only $34 CND for 4 shadows (one of which is double sized) I think is incredible value! I definitely has me thinking about picking up another quad (or heck, maybe the entire set!).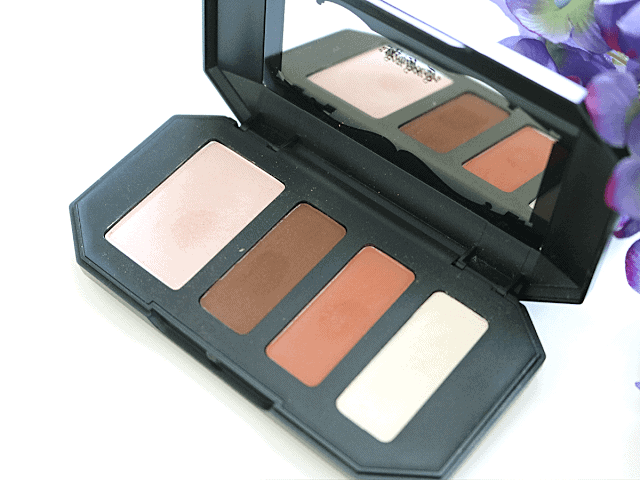 Have you tried any of Kat Von D's recently releases? The brand continues to impress me for the most part, and I'm really curious to see what they'll be launching next!
Shop the Post: