This Just In | Urban Decay's 24/7 Waterline Eye Pencils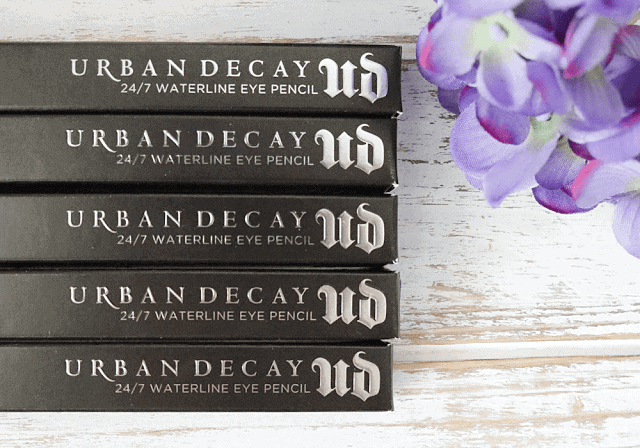 Having been a huge fan of Urban Decay's 24/7 Eyeliner Pencils for years now, it's no surprise to me that the brand finally released a new eyeliner that is actually formulated to stay around in waterline. For some this might mean nothing, but if you have watery eyes like me, struggle with allergies or are prone to get product buildup in the inner corners (nothing like gross black eye goop!) than the
Urban Decay 24/7 Waterline Eye Pencils
are seriously worth considering. I got ahold of all five shades in the range and put them to the test to see if they really do hold up to their big claims, keep reading to hear my thoughts…
The range has five colours, Legend (black), Rail (warm brown), Mood (charcoal grey) Push (navy) and Street (dark teal) but I feel the brand could have really made a hit out of these if they had included a pale beige/nude shade to the range. Something to take note is that while Legend is black, it isn't the intensely pigmented black that
Perversion
from the original line is
(is anything though?)
So, do I agree? Yes and No.
When it comes to the claim of them being creamy, demi-matte and waterproof, I 100% agree. These set super fast on both my lash lines and inner rims (the inner rim of the eye between your bottom lashes and your actual eye), and then stuck around most of the day – even after I had to fish around one day to find a wayward eyelash (don't you hate it when that happens?). These definitely stick around longer than any other pencil I've used in the waterline, including the original formula, which I am a huge fan of. Since the Waterline pencils are demi-matte, you won't have to worry about irritating glitter or shimmer like in the original formula.
Now the part I don't agree with is the claim that these are creamier than the original formula. While these are very smooth and glide on easily, they set much faster than the original, nor is the formula as soft, and because of that don't have the incredible give to them that the originals have before setting. This is certainly not a bad thing, in fact I think this is what makes them last so long after application.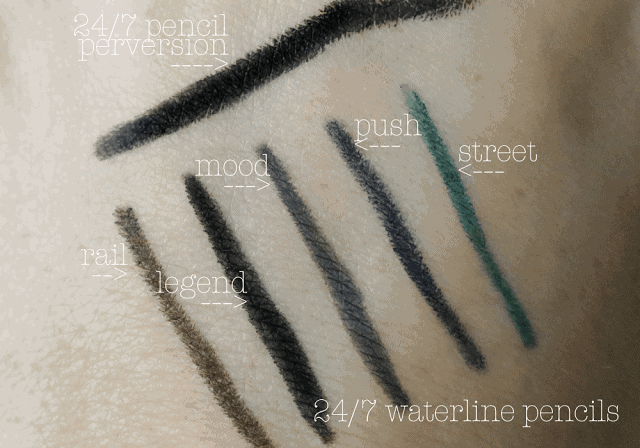 Overall I am really happy with these pencils, and hope the brand expands the range to include some much needed options like a nude, purple, and perhaps a champagne or gold. I did think it was interesting that the shade Street, a dark teal was included, and look forward to playing with that shade a little more as it isn't something I would normally reach for in water of normal eyeliner.
Leave it to Urban Decay to continually push the envelope when it comes to new formulations, shades and applications in general for makeup! My particularly watery eyes were a big fan of this formula, and if you struggle with the dreaded eye goop that gathers in the inner corners of your eyes from eyeliner, than you should definitely look into the
Urban Decay 24/7 Waterline Eye Pencils
!

If you've tried these, plan on trying them or have another favourite eyeliner to wear in the waterline, let me know in the comments below!
Follow