Is Too Faced's New Concealer the New Cult Favourite?
[dropcap]I[/dropcap]f there's one thing the beauty community loves to go nuts for, it's a new concealer. These days concealer is used for much more than just concealer (highlighting, contouring, eyeshadow priming). The new Too Faced Born This Way Multi-Use Sculpting promises a lot of things, and with a young baby, I think I'm the perfect person to put it to the test!
PR Sample. Affiliate Links
Too Faced Born This Way Multi-Use Sculpting Concealer
---
Available at Sephora | Ulta | Cult Beauty
What the brand claims: "Hydrating, full-coverage, weightless, four-in-one formula that conceals, contours, highlights, and retouches." It also boasts a buildable, crease-free formula that smooths and sculpts and is photo friendly.
What I look for in a concealer: I need something mainly for under eyes (cause this new mama doesn't sleep like she used to!). My skin is dry and dehydrated, so fine lines and settling is an issue for me as well as dryness.
---
Right off the bat lets talk about the packaging because the tube is significantly bigger than any other concealer I own. It gives the illusion that you are getting loads of product, but we all know packaging can be deceiving. In this case, it is genuine though; You get 0.5oz, and to compare Tarte Shape Tape is 0.33oz and Urban Decay Naked Concealer is only 0.16oz.
The frosted glass adds a weightiness to it that gives a luxury feel but is not necessarily practical. The doe-foot applicator does make application easy; It applies a decent amount of product with a few dots or a quick swipe.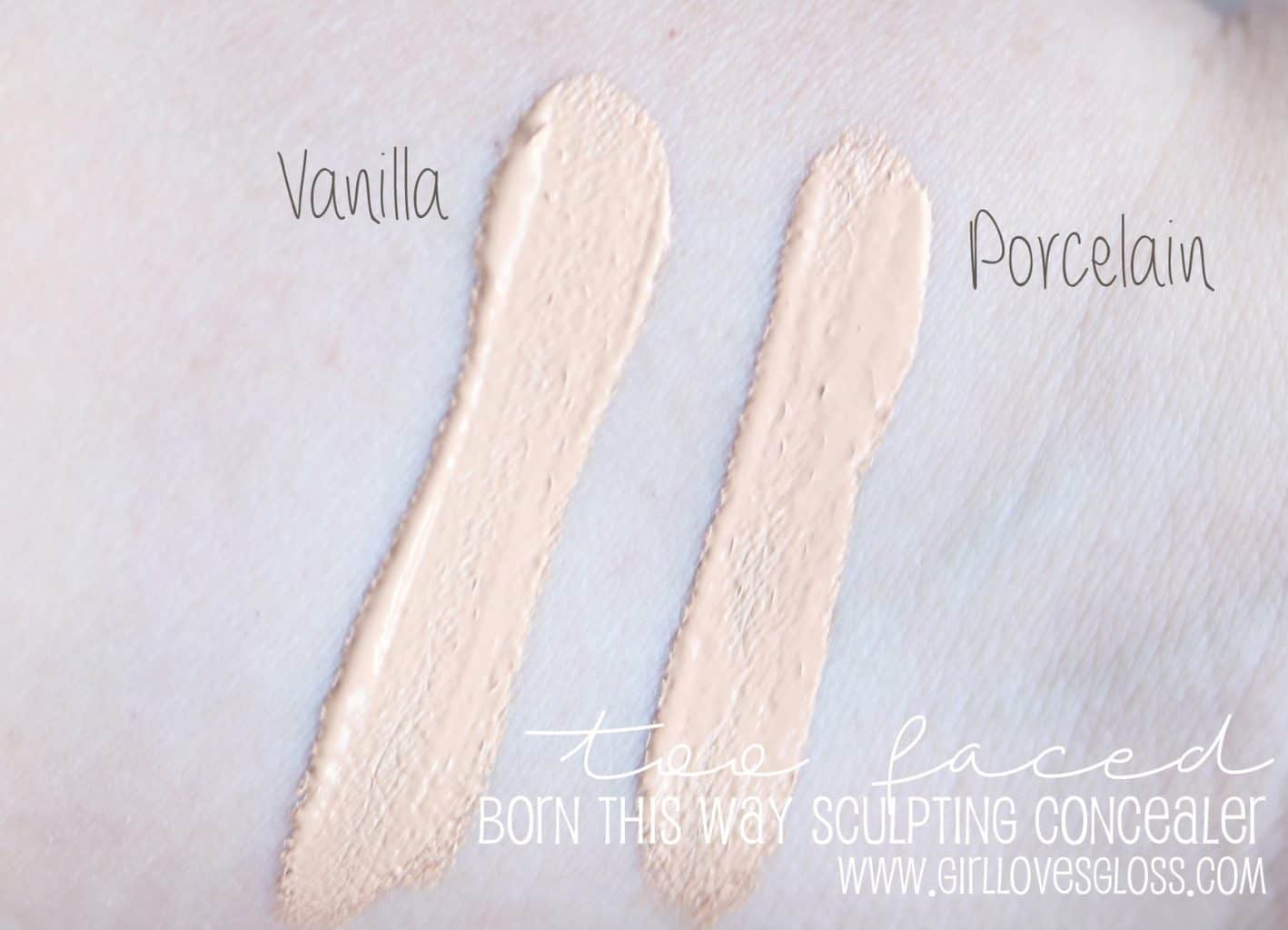 Formula, Shade Range & Wear
---
The formula does claim to offer 'super coverage' and I would agree; This is a full coverage concealer. Much like the insanely popular Shape Tape, it kicks dark circles to the curb and covered a couple of breakouts I had with no issue. The texture is where it differs; Too Faced Born This Way Sculpting Concealer sets up to a matte finish on my dry skin. Because of this, I do find it looks a touch dry under my eyes. I can definitely remedy this with a richer eye cream, but then creasing and caking can become an issue. Realistically, this minuscule and only noticeable by me, but worth nothing!
Longevity is great with this concealer; It hangs around until I take it off and made it through a particularly humid heat wave last week. I have no issues with oxidizing or changing colour when set with a powder, either.
I was sent two shades by Too Faced, of their choice; Vanilla and Porcelain. Upon some investigating the shade Almond with it's yellow undertone would have been a better match for me. While Vanilla and Porcelain both claim to be a neutral undertone, Porcelain is much more peach. The brand has launched 20 shades, so it is inclusive from very fair to very deep.
Final Thoughts
---
The coverage is incredible; It kicked my dark circles in the butt! I wish it was hydrating like it claims, but I do consider that my skin is dry, to begin with. I also did find it buildable, sitting on top of itself in layers, and on top of foundation well. For now, I am calling the Too Faced Born This Way Multi-Use Sculpting Concealer the one to beat currently. It's easier to get ahold of then this infamous concealer, and it has exceptionally more coverage than this one.
I call it a win. Considering I did not like the original Born This Way concealer or foundation, I am beyond impressed!
Shop For Too Faced Born This Way Multi-Use Concealer
---
Some of the products mentioned in this post may have been provided for consideration. These products may be linked using an affiliate link, which provides me with a small commission in return for providing readers with honest and authentic reviews. The earnings from affiliate links are what keep GirlLovesGloss.com running! You can read my full disclaimer here.