Sunday Steals | E.L.F Smudge Pot Cream Eyeshadows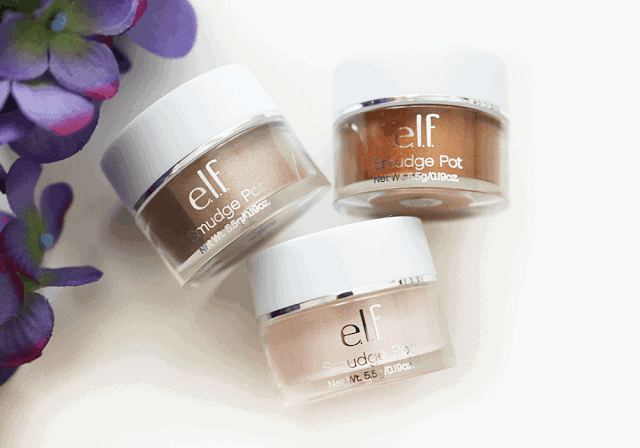 Possibly one of the best Sunday Steals going in terms of price, the
E.L.F Smudge Pots
check in at $4 CND! When I saw these I instantly doubted they would be any good, because most of my run ins with drugstore cream shadows have left greasy, creasing messes. Knowing that E.L.F (that stands for Eyes Lips Face, if you're new to the brand) makes some pretty decent products for an insanely affordable price, I figured it couldn't hurt to pick up a few for trying. So, did they hold up to higher end cream shadows?

Promising that the gel formula would provide a smooth gliding 'long lasting eyeshadow and eyeliner', I decided to picked up three shades (there are 11 in the range). I stuck to neutrals because I always think if a brand can't get neutrals right, then there's not even half the hope for colour.

Cruisin Chic – a shimmering warm golden taupe

Aint That Sweet – a pearly pale golden pink ivory

Brownie Points – a shimmering rich coppery chocolate

Right at first swatch I noticed that these are a thin, lightweight texture. While their fellow drugstore competitors like the Maybelline Color Tattoos have a thicker texture to them, not unlike MAC Paintpots, these are similar in formula to the Benefit Creaseless Creams, in my opinion.

I applied these with both fingers and a brush and found fingers to be the best application, as I do with most cream shadows. The two darker shades layered on top of each other well and built up to full opacity with one swipe in the swatches shown above, which I think is pretty darn impressive for something that cost under a fiver! The lighter shade was naturally a bit more sheer due to the nature of the colour, but would make a really pretty soft wash or base for other shadows certainly.

So the big question for me was: Do they crease? I wore these for over 12 hours on their own with no primer or powder shadow, and was happy to report back that they didn't crease, flake or smudge! While I found some noticeable fading in the inner corners (where I do tend to rub my eyes throughout the day) that just left shimmer behind, I truly don't think any eyeshadow owes me 12 hours of wear! I was so happy to see that these actually held up, I really felt like I would be reporting back that they were worth about as much as the price tag, but am delighted to be proven wrong! At $4 Canadian these are a total steal – especially considering they have 5.5g of product in each (compared to MAC at 5g, Maybelline at 4g, Benefit at 4.5g) . On top of that all, E.L.F does not test on animals, which is refreshing for a 'bargain' priced brand (unfortunately most drugstore brands around here cannot make this claim!)

E.L.F Cosmetics have quite an expansive line, that I've tried several things from (though not scratched the surface). Some are total winners, especially for the price, and others are a bit of a fail. If you would like to read a post dedicated to my top hits and missed from E.L.F, leave me a note in the comments below!
Follow