Sunday Splurge | Charlotte Tilbury's Magic Cream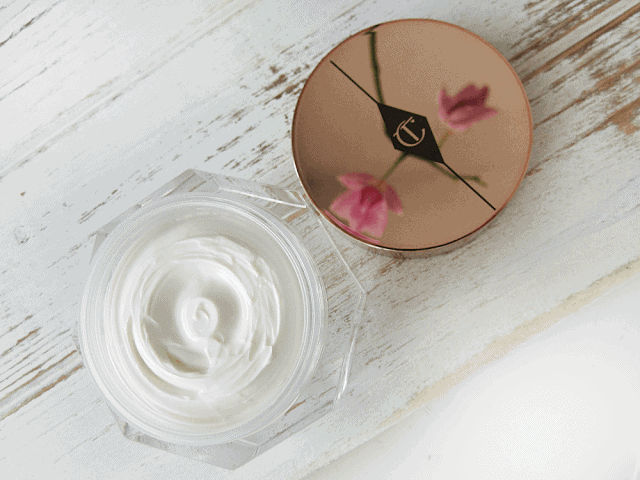 Here's a little #SundaySplurge for you that may very well take your skin from looking alright to looking absolutely amazing. Every time I treat my face to the much hyped
Charlotte's Magic Cream,
I am blown away not only for how incredible it feels on the skin, but how wonderful it makes my skin look. The name hits the nail on the head when it comes to this product –
it really does seem like a bit of magic.

The story goes that for the last 20 years Charlotte had been playing mixologist and creating her own special cocktail of skin saving goodness. She saw how tiring and harsh multiple makeup applications on models and clients backstage and on shoots were and decided to take matters into her own hands and concoct a cream that not only soothed the skin, but plumped, hydrated and evened out skin tone.

Charlotte's Magic Cream is packed full of skin loving goodness –

BioNymph Peptide Complex stimulates collagen production and cell energy and fights free radicals, to reduce the appearance of wrinkles and smooth the skin.

Sodium Hyaluronate, floods the skin with moisture and plumps up everything, and Vitamin E and Rosehip Oil which help illuminate and even out complexion. Wild Pansy promotes the renewal of Hyaluronic Acid in the skin's surface to retain moisture and

Vitamin A and C improves firmness and collagen activity for more youthful skin.
So what they heck does this all mean? For me personally,
Charlotte's Magic Cream
instantly became a must have day cream from first try. As someone who's struggled with dry, dehydrated, tired and dull looking skin – this was personally a little slice of heaven on my face. My skin feels comforted, nourished and radiant and makeup wears beautifully over it! (it also has an SPF of 15, which is great from daily sun protection – but applying more if you are spending long period of time in the sun is a must).
Not to mention it is paraben free, and the gorgeous Art Deco styled jar is decadent looking all on its own.
I feel like I am treating myself every morning when I apply this, and my skin has felt so incredibly smooth with a really natural glow to it. The cream itself comes with instructions on how to give yourself a facial massage when applying, and Charlotte has done a great video showing you how on
CharlotteTilbury.com
. If you haven't gotten into facial massage yet, I highly recommend it.
The Charlotte Tilbury Magic Cream certainly is a #SundaySplurge, but I highly doubt you'll regret it – you really need the tiniest amount due to how lovely and emollient this is, so it should last a good while. I quite frankly don't want to be without it!
Follow