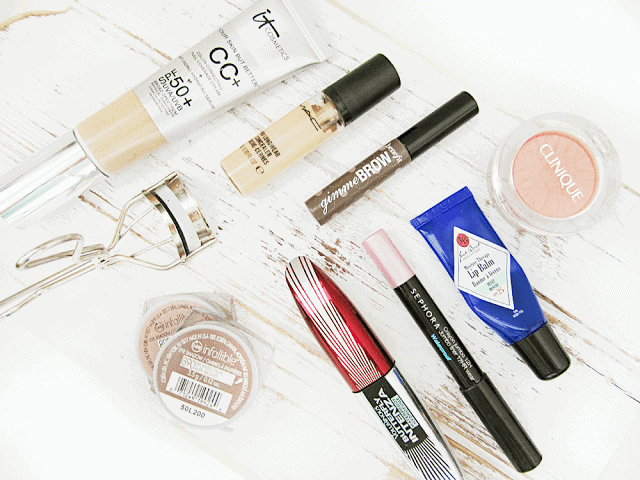 While it's been a good stretch since I've been in that back to school frame of mind, but I do remember those days like they were yesterday (don't ask how long ago they actually were, I'll never tell!). I can remember hitting the snooze way too many times, heck I still do, and savoring every last minute of sleep… wait a minute, isn't that my day to day life now?
Regardless, here are my pics for quick and easy beauty to look wide eyed and pulled together, whether you're going back to school, back to work, or just need that 10 more minutes of shut eye.
I'll preface this by saying that if you feel confident sans makeup than good on ya, and you do you. If you feel a bit more presentable with makeup, this post is for you!
If I am being honest with myself, these are the four steps I truly prefer not to leave the house without. Not saying I'd whip out my lash curlers if a fire broke out, but all disasters aside this is my bare minimum:
– Curled lashes is an absolute MUST for me. I would never not curl my eyelashes – they're straight and puny looking on their own. My trust
Shu Uemura Lash Curler
has never let me down and has trumped every lash curler that's attempted to take its throne.
– Brows are a must, because without at least running some tinted gel through them, I look like I have none. I adore
Benefit's Gimme Brow
due to the fact it actually has volumizing fibres in it, making my sparse brows so much beefier.
– Since my lashes are puny as mentioned above, I rarely get caught without a dash of mascara on. I feel like it makes the biggest difference on my face above anything else. I love waterproof mascara like
L'Oreal's Voluminous Butterfly Intenza
, because it holds the curl all day, and keeps from smudging during those eye wateringly early morning classes.
– I have the world's driest lips, and so far nothing tackles them as well as
Jack Black Intense Therapy Lip Balm.
Dry chapped lips can make someone who otherwise looks pulled together look like a hot mess. I always get the mint because I love the fresh feeling, and tend to keep a tube by my bed, on my desk and in my purse… that might be overkill, but it's how I roll.
For When You Have a Few More Minutes
If time is still against you, but you aren't yet making that frantic dash out the door, then these are my pics for a full face (if you so desire it!)
– Pick a base that has great coverage that can be worn full or sheer. I am loving
It Cosmetics Your Skin But Better CC+ Cream
*
, simply because of the fact it applies really well with hands, is totally buildable in mere minutes and has an SPF of 50 (because let's face it, who takes the time to remember that step when you're rushing?)
– Covering up dark circles and eye bags from study sessions that ran too late is made easy with a concealer that lasts all day long. I prefer
MAC Pro-Longwear
because it's still there at the end of the day, and doesn't crease and settle into lines. This is also the only concealer I've ever used that actually works doubled up as an eyeshadow primer.
Bonus.
–
I personally think one of the best steps you can take when you want to look alive and awake in a rush is to pop on a little colour onto your cheeks. I always opt for a soft peach in this case, because it's near impossible to overdo
(no clown cheeks, thanks!)
and one of my all time favourite subtle peach shades in
Clinique's Cheek Pop in Melon Pop
.
What are your favourite products for back to school, or early morning makeup? Do you find you wear less makeup or opt for on the go products more when you're in a rush?
Follow
Products denoted with an '*' were kindly sent for consideration as PR samples