New Kid On the Block | Clinique Cheek Pop and Lip Colour + Primer in Melon Pop
There's a good chance that if a brand makes a peach hued blush and/or lip colour, then I've tried it. The obsession is real.
Recently Clinique released a slew of new shades of their much loved Cheek Pop Blushes, one being named Melon Pop – which naturally I had to have. They've also released a new lip colour line called Clinique Pop Lip Colour + Primer and surprise surprise, there is one named Melon Pop. I was sold.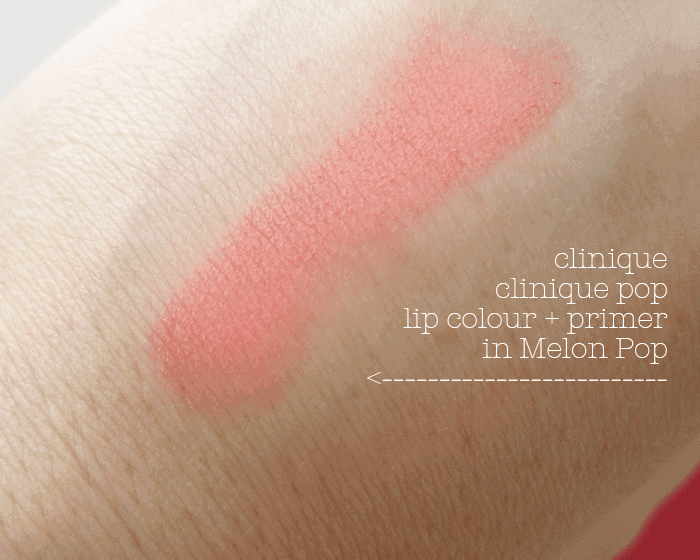 Starting with the Cheek Pop Blushes – the formula of these is really interesting, you would almost think it was a cream blush due to the fact it isn't powdery at all. It is as if your brush is barely picking up product too, which lends you to think it isn't pigmented – that is until you go to apply the product to your cheek and suddenly the pigment is there. Uniquely bizarre and utterly beautiful.
The shade I bought is from the new colours release, Melon Pop. It's a gorgeous soft spring peach with a pink undertone that makes it super wearable. Exactly the kind of shade I would wear everyday. The range is really diverse, with some amazing deep berries, and neutral nudes as well in cool and warm tones. Clinique has really hit the ball out of the park with this line; Originally with only four shades, there is something for every skin tone now.
The wear time on these are excellent, it lasted through a particularly long and sweaty (eww) workday. Given that blush is always the first thing to disappear on my face, I give that a gold star. The shade Melon Pop went on with a satin finish which I loved. It lacked some of the shimmer that the original shades had but still had a luminosity to it that made it super wearable to me.
Next on the list was the aptly matched Clinique Pop Lip Colour + Primer in Melon Pop. New completely to the brand, this range comes with an impressive 16 shade selection and claims to combine the rich colour of the lipstick and the smoothing property of a lip primer. I can't say that this lipstick lasted any longer than a regular lipstick, but goodness was it a treat to wear. The texture was incredibly lightweight and it wore velvety smooth and didn't cling to dry patches (my eternal struggle, I swear!) The pigmentation was gorgeous as well, which is always a concern for me with lighter toned lipsticks as my natural lip colour is quite dark and cool. This just glided right over with great coverage and and a creamy feel that made my lips look instantly hydrated. The soft peach shade was flattering rather than chalky like so many peach lipsticks I've tried in the past, which made this a clear winner. I will definitely be looking into the rest of the colour range!
Ringing in at $21 Cnd for the
Lip Colour + Primer
and $24 Cnd for the
Cheek Pop Blush
, I would classify these both as excellent value for money. I have been so disappointed by waxy lipsticks and powdery blushes up to twice the price of these recently, and it is so refreshing to come across especially for a brand like Clinique, which I feel didn't offer much exciting for a long while there.
Bravo Clinique, you've hit the nail on the head and converted me!