5 Favourite Blushes for Summer
We're only a few short weeks to kicking off Summer in this part of the world, and I for one feel like that is the perfect time to profess my love for a good warm weather hued blush. This time of year I tend to lean more to warmer corals, pinks and of course peaches, which seem to naturally be more flattering on sun kissed skin (or rather bottled sun kissed skin!). Here's my top picks for five blushes I don't plan on being without for the next few months.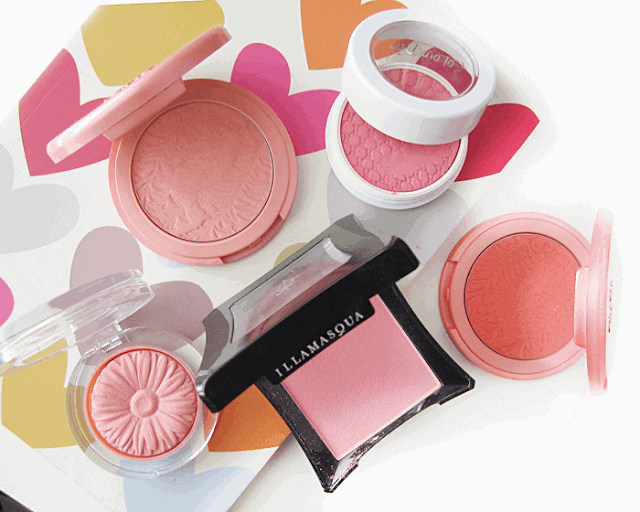 The Neutral 2.0
When I don't know what shade to reach for, I inevitably reach for Tarte's Captivating 12 Hour Amazonian Clay Blush. Its a neutral matte peach, minus an orange or pink pull, that makes it pair with darn near anything and thus making it the easy pick of the bunch.
The Cream Formula
This summer my cream blush of choice is no doubt coming from ColourPop. Pictured is Holiday, a bright clean matte pink that looks amazing on pale skin and deep skins alike for a super girly youthful flush. These can easily be tapped on with fingers, or applied with a stippling brush (which gives a really nice airbrushed look!)
The Bright Pop
Ah my all time favourite, Tarte Tipsy Amazonian Clay Blush. This true coral looks hella scary in the pan folks, but applies so gorgeously on the skin. Something about it just gives my skin life, and it looks even more amazing when I've applied a touch of tanner or gotten a tad freckly in the sun. It is a satin finish, without any visible sheen or glitter, but rather gives a subtle glow.
The New Pink
Illamasqua Blush in Tremble is one of those pinks that I fall in love with again and again, every time I wear it. It blends beautifully on all skin tones, giving a wash of bright slightly warm pink minus the garish nature of some pink blushes, while keeping a matte finish that never appears chalky.
The Soft Peach
For those who are just getting into blush or changing from their old stand bye, Clinique Cheek Pop in Melon Pop is a gorgeous soft peach that is just so pretty. It's not wild and bright, a glitter bomb or even a screaming cry from neutral but has that fresh faced feel to it. When it wore this last week someone mistook me for 20, just sayin'. Coincidence? I think not!
What are your favourite colours to wear on your cheeks when the weather gets warmer? Do you find yourself leaning towards different shades?