Make Up For Ever Ultra HD Concealer | The Best Concealer Ever?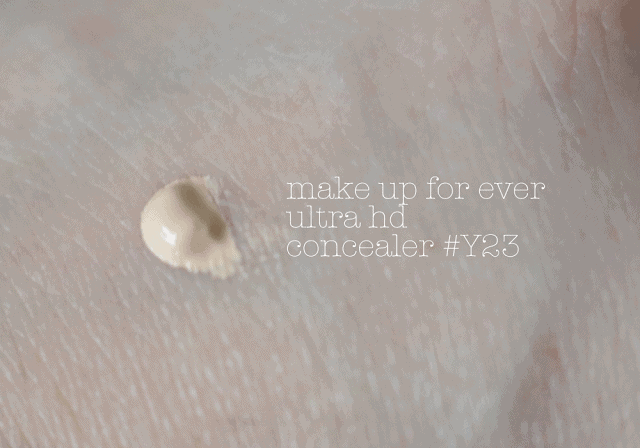 From the minute it was launched (and before that in plenty of reviews online) I heard nothing but great things about the
Make Up For Ever Ultra HD Concealer
and it's ability to correct and conceal the darkest circles under the eyes. I've been putting it to the test for the last couple of weeks and have come to the conclusion that it is a very nice undereye concealer, but is it worth all the hype it's getting?
Debateable.
As far as formula goes – this is really lovely and comfortable to wear. It's certainly not a pasty cream concealer by any means, but is definitely on the thicker side of liquid if that makes sense. I actually was amazed at how lightweight in texture this is – I really expected something much thicker like the I
T Cosmetics Bye Bye Undereye
. Instead I would liken this to a whipped version of
MAC's ProLongwear Concealer
.
Because of this lovely featherlight texture, it applies really smoothly and blends out nicely – though it does settle a bit quick if you don't set it right away, and there isn't as much play time with it as some other creamy-textured concealers. I found the best way to apply was to pat on with a finger, and then press into the skin with a super dense brush like the
Real Techniques Sculpting Brush
, or damp sponge like the
Beauty Blender
. I got the most coverage out it this way, though still felt I could see some of my dark circles shine through.
As far as shades go, the
Ultra HD Concealer
is actually broken up into 5 corrector shades (that are peach in undertone and start with 'R') and 5 concealer shades (more yellow in undertone and start with 'Y'). The corrector shades are of course meant to be worn underneath the concealer for extra cancellation of dark circles, but I only have concealer (my shade is Y23) hoping it would pack a touch more pigment to it and eliminate the extra step and product. I'm actually a little disappointed that a brand usually so reliable when it comes to skin colour diversity only released 5 shades of each with the darkest only described as suiting 'Tan Skintones' – where are the options for darker complexions? Pale girls however will be thrilled to see that there are some very fair shades in the range.
In terms of longevity and wearability, I was happy but not blown away with this product. It concealed nicely, though not as much as I would have liked, and lasted well with minor creasing in the inner corners near the end of the day (it was set with powder as I do regularly but still creased). It felt great on my dry skin, and brightened up nicely, but I would have liked it to be a bit more pigmented and budge proof, and I wouldn't say I have overly pronounced dark circles. I'd be curious to try it with one of the 'R' Corrector shades underneath, but think a concealer should stand up a little more on its own, personally. It's really good, it's just not 'phenomenal', you know?
Follow

*PR Sample provided for consideration