The Urban Decay Gwen Stefani Blush Palette | Review and Swatches
You may remember my rave over the
Urban Decay Gwen Stefani Eyeshadow Palette
last year (
read the review here
) and now the brand has expanded to further the collaboration with a blush palette in very similar deco-esque packaging. The limited edition
Urban Decay Gwen Stefani Blush Palette
was designed with the songstress to fill the void of shades she always wanted in her personal makeup collection. With four blushes, one highlighter and one bronzer, it's geared to be the "perfect blush palette". So, does it hold up to the much deserved hype of the eyeshadow palette?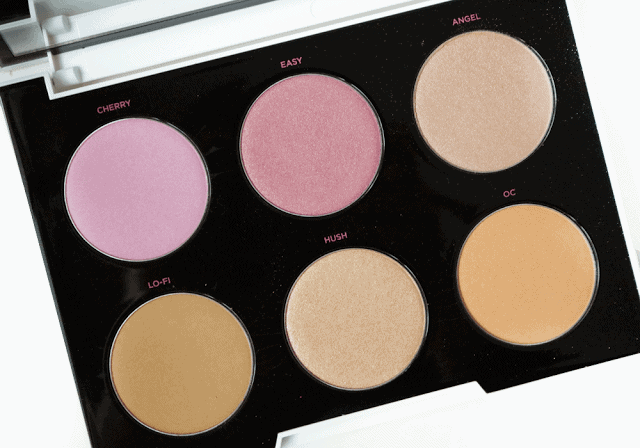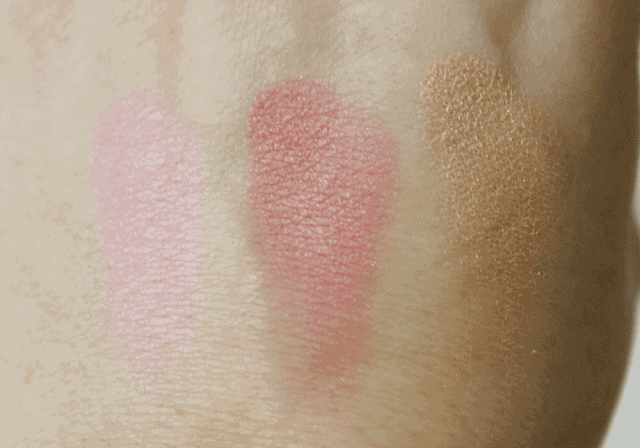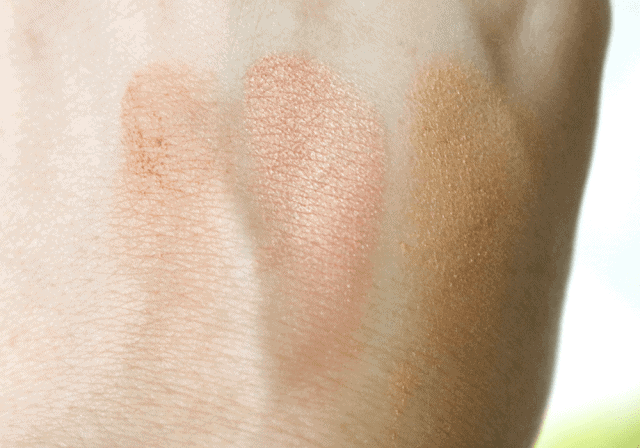 One thing I noticed right from first glance was how the palette has a very warm orange/apricot feel to it. Besides the noticeably cool pink of the shade Cherry, everything else leans to a strong golden undertone. The shade OC especially leans to a very yellow based orange in my opinion, which just doesn't look right on my light-medium skin. I was hoping it would lean more peach, but it really is a pale orange.
Secondly, while the brand described this as 4 blushes, 1 bronzer, and 1 highlight shade, I disagree. The pale golden shimmer of Angel, and pale peach shimmer of Hush both seem too pale to be worn solely as a blush, even on very fair skin tones, unless they were layered and built up an incredible amount.
Third on the list of first impressions was the bronzer, which leans very orange in my opinion. I would certainly warn against using this as an all over bronze on fair to medium complexions for fear of Oompa Loompa-ness. It's a bit of a strange one for me, I really struggle to think of a particular skin tone that this could actually work as a bronzer for.
So, first impressions aside, what did I think of the palette?
Well, this one kind of pains me because I love Gwen, I LOVE the
Urban Decay X Gwen Stefani Eyeshadow Palette
, and I adore the brand in general, but this is a miss for me. While the brand claims the formula of these blushes (which is the same Afterglow Blush formula from the regular line) has a 'soft creamy texture' but I found them chalky and powdery. The bronzer as well as the shade 'OC' are pretty much unwearable for my complexion, which is just a compatibility issue, but the formula looks ashy and dry on my skin which is really a bummer. You can even see in the swatches, that the product clings and goes a bit patchy, so I have to wonder if they would perform better on someone with an oilier skin to give the product something abit more emollient to blend into. I also found that the lasting powder just wasn't there for me, which could totally be due to the powdery texture the formula has.
I really wish the shade selection was a bit more balanced as we've come to expect from Urban Decay with their palettes. I realize this was a collaboration with Gwen Stefani, who is fair skinned and bleach blond which correlates with the colours chosen, but with the option for 6 shades, it would have been nice to have some more options for other skin tones. The golden laced raspberry of 'Easy' is really the only shade I could see working well as a blush on medium-dark complexions. I would have loved it if the brand skipped the strangely orange bronzer, and swapped it with a warm deep apricot. I suppose this is the nature of a palette that is chosen by a specific person as opposed to a creative team of people, but it just doesn't 'do it' for me.
Ultimately, it's a bummer because I REALLY wanted to love this palette – It was on my wishlist from the moment I heard of it's release. The
Gwen Stefani Collection
also has several lipsticks and lip pencils, as well as a brow powder duo which I will have reviews up this week for, but spoiler alert: this is the only true let down for me in the collection.
Hey, ya can't win them all!
Follow

*PR Sample provided for consideration.