Budget-Friendly Skincare Self-Care Routine + Giveaway
With tax season amongst us and people feeling the economic crunch of the last year living in a pandemic, I figured it was the perfect time to focus on some budget-friendly skincare and self-care routine suggestions.
Plus, Merlot Skincare has kindly offered a giveaway bundle of some of my favourite products, that you can enter to win!
This post is sponsored by Merlot Skincare. All opinions and experiences are my own. Affiliate links in use.
The importance of self-care
Self-care encourages a healthy relationship with one's self and their perceived value of themselves. Something that I struggle to remind my self is that I cannot expect others to have positive perceptions of me, if I don't.
Self-care can and should come in many forms. First and foremost, comes mental health and emotional self-care. For some, this might mean seeking out therapy or counselling, removing toxic people from your life, or being more mindful of validating your feelings.
A simple way to show yourself some care is a little at-home pamper routine. Not only is this a nice way to relax, but it allows you to indulge in something that might just put some more pep in your step. After all, when we look good, we feel good!
Of course, with many spas and salons still closed due to the Covid19 Pandemic, it can be hard to get out to do this. As a busy mom and full time work from home small business owner, it was near impossible for me to find the time, pandemic or not.
Enter in a little budget-friendly, easy at-home head to toe self-care pamper routine featuring Merlot Skincare, a family-owned and operated brand formulated with natural grape-seed. Not only are the products beautifully and thoughtfully formulated, but they are affordable!
Your Head to Toe Pamper Routine
Everything starts in the bath or shower with the Microdermabrasion Body Scrub. It's got a fine grit, but don't be fooled, it does a fantastic exfoliating job! I have Keratosis Pilaris on my arms, and this makes them SO smooth. Don't forget your feet, and one of the places I always scrub is armpits – it gets rid of any deodorant buildup and helps from getting bumps or ingrown hairs.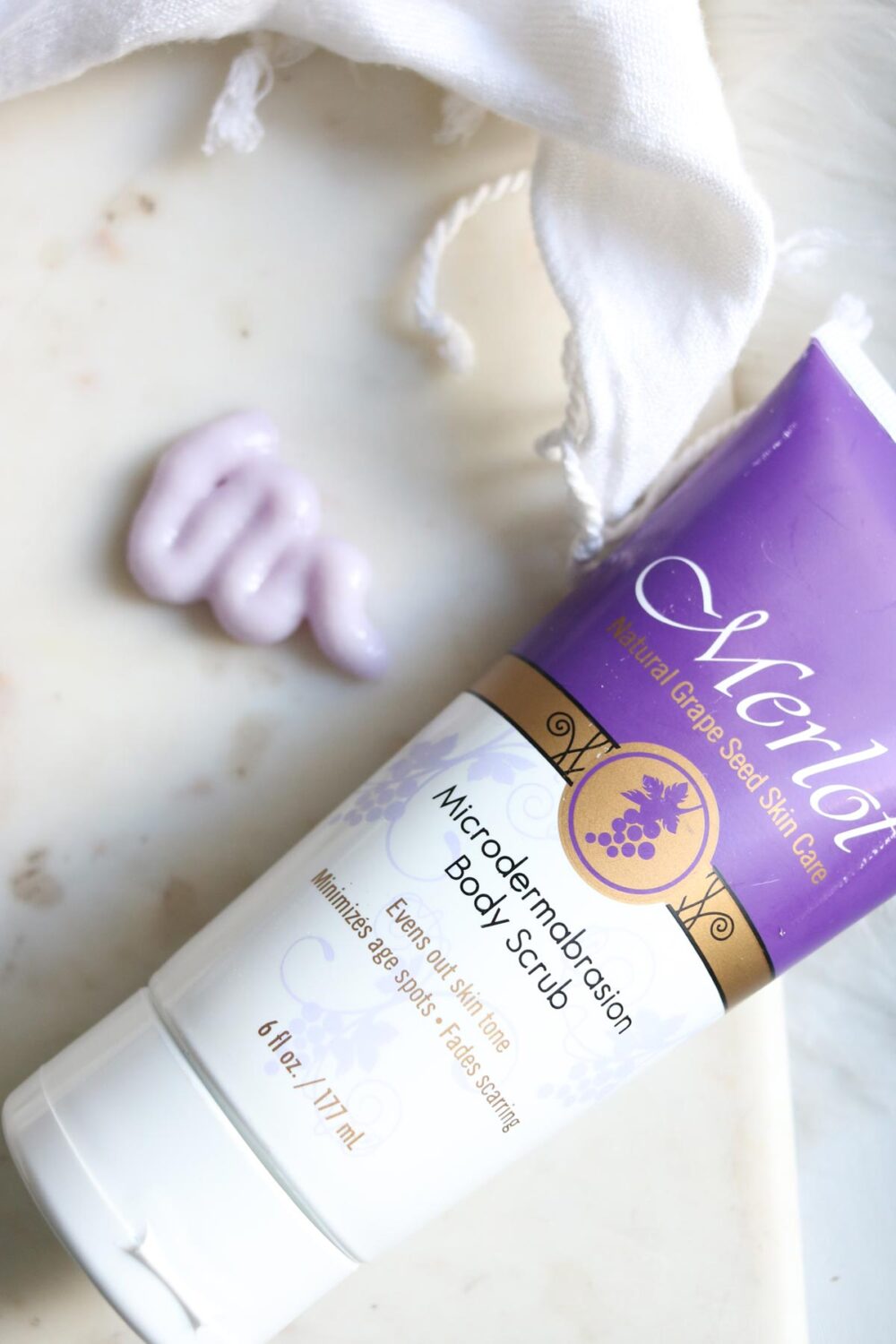 Of course, once you get done with your (hopefully) relaxing soak, you're going to need to get some moisture on that body ASAP. I always reach for lip balm first – I never leave the house without it! I like the Lip Moisturizer because its thick enough to feel protective on my lips, but doesn't leave a waxy or greasy feeling.
Now, when I tell you the Merlot Body Butter smells amazing… I can't even do it justice! The grape seed is fruity and natural smelling and won't interfere with the scents you choose to wear. Plus, it's deliciously soothing and moisturizing. It's easily my favourite product I've tried.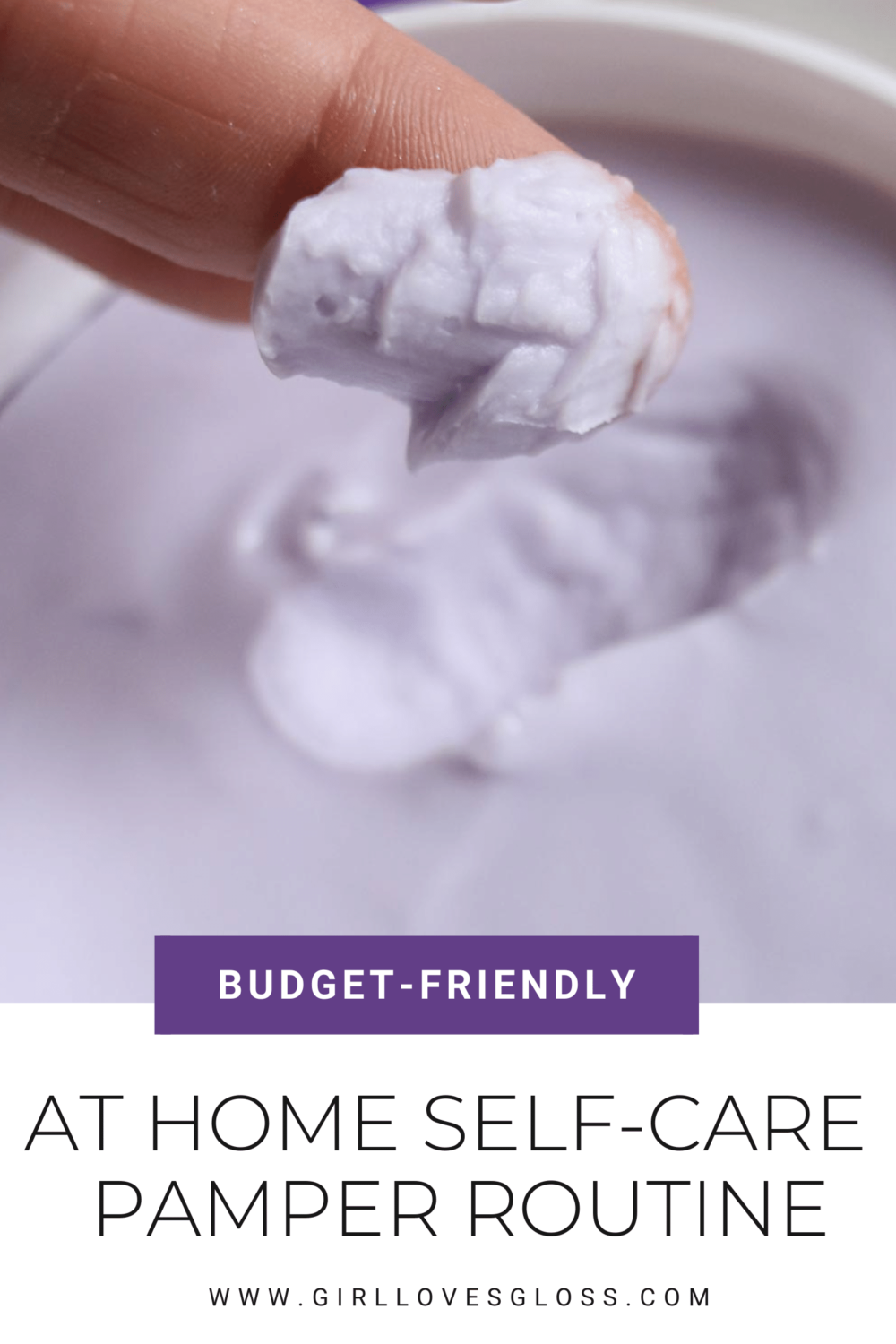 Something I don't always take the time to do, but should, is reach for a foot cream. During a pamper session however, Foot Cream it's a must! My husband actually likes this foot cream better than I do (mainly because I'm just not a foot cream person). He says it feels cooling and refreshing, so its perfect for the warmer months or when you need a good foot rub after a long day of being on your feet.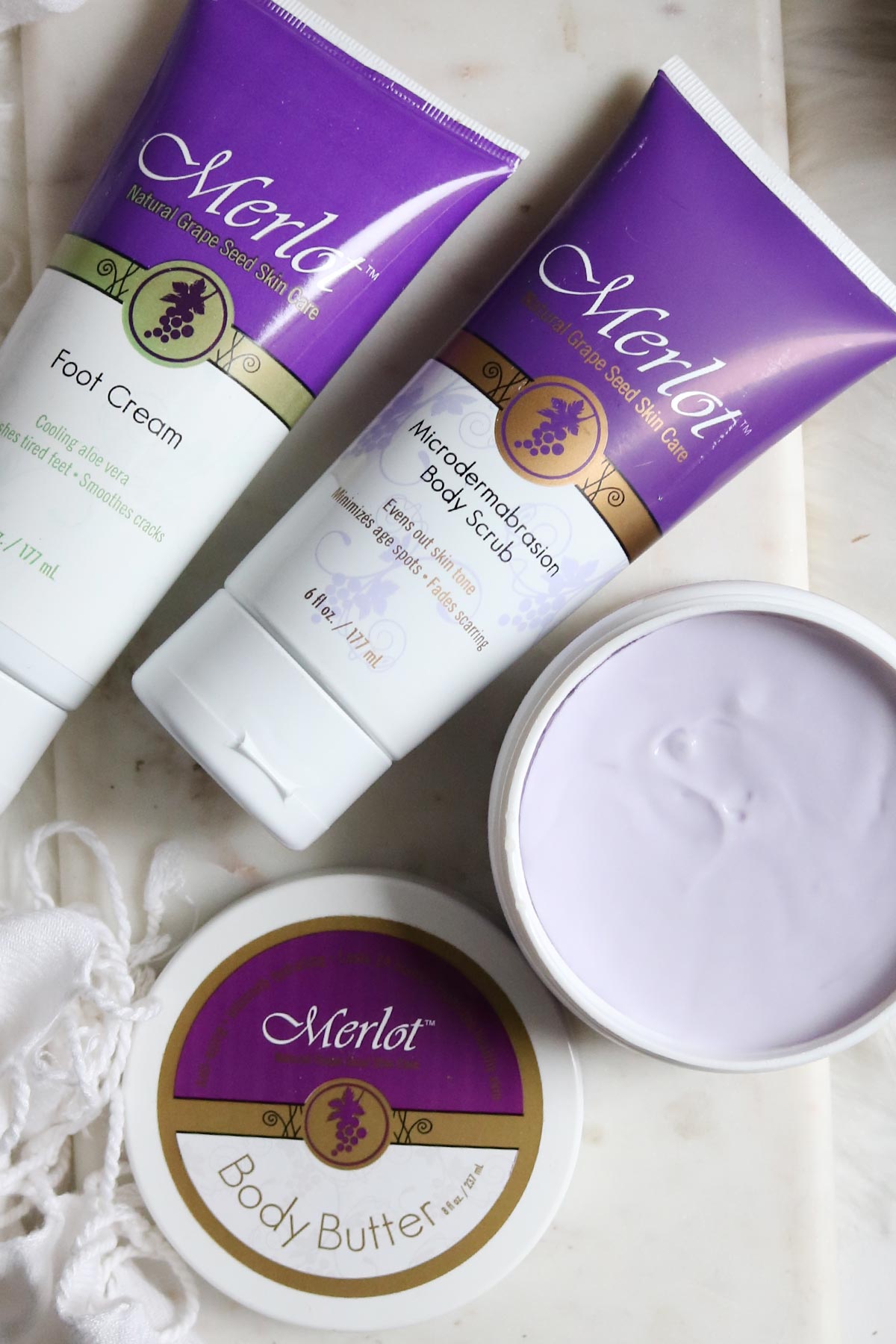 When it comes to a skincare routine, Merlot has you covered there too. The Grape Seed Cream Cleanser has a pearly texture and silky feel on the skin. It's a fantastic second or morning cleanse, or if you need something to get off those last remnants of mascara that are still sticking around after the shower (or maybe this is just a "me" problem?!).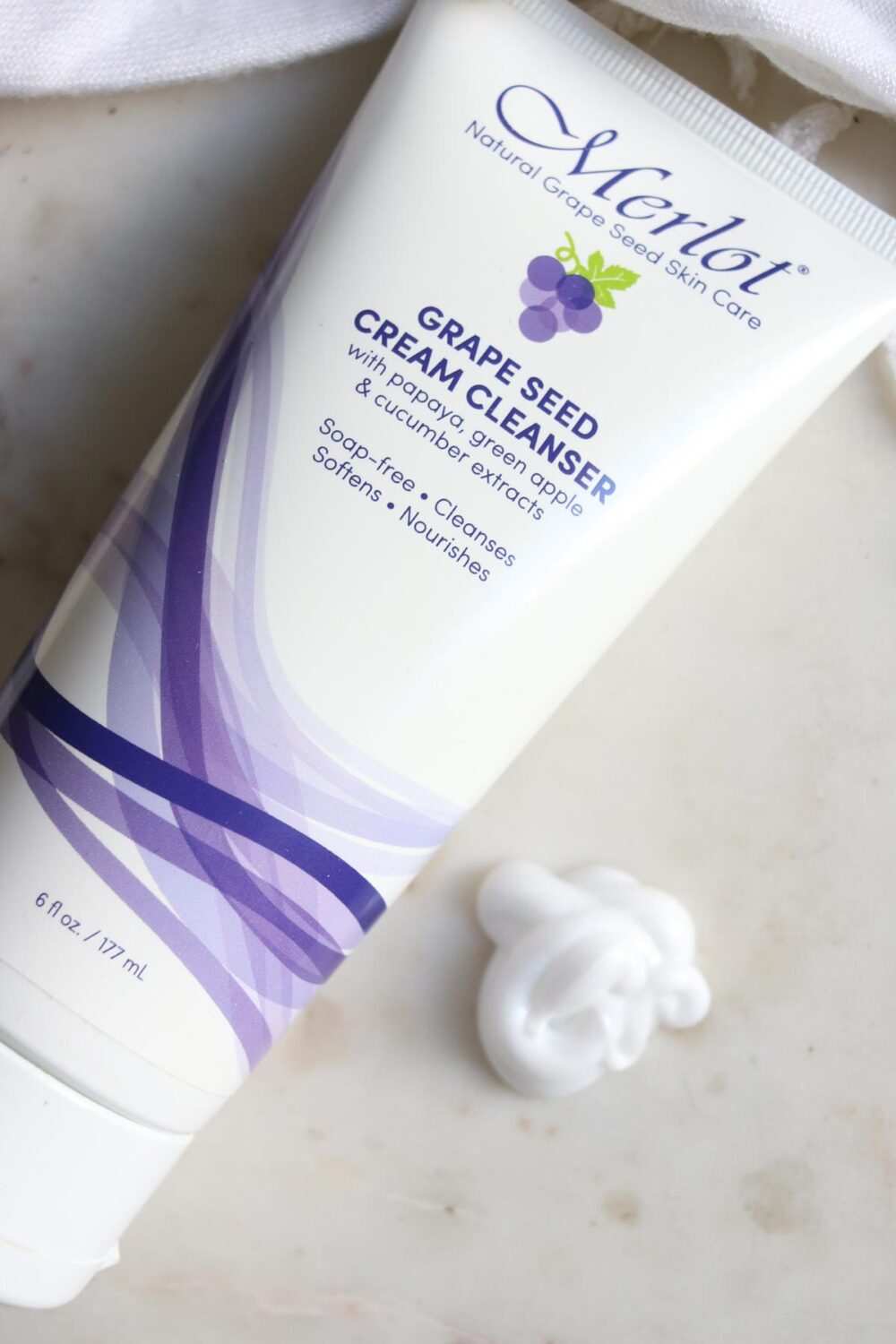 I always take a little time to treat my eyes in the evening. The Grape Seed Eye Cream has a gorgeous texture that feels rich will applying but then sinks in nicely. It sits really nicely under makeup for your morning routine as well.
After eye cream, I always reach for a serum – usually something hydrating or something that works to fight skin texture. Sometimes I will sandwich an essence with a serum to get that extra impact.
Finally, I reach for my Moonlight Radiance Night Cream – which just happens to have the best sounding name, doesn't it?! It's full of peptides and antioxidants, with Argireline which helps reduce wrinkle depth.
The texture of the night cream is hydrating, but light for those who don't like going to bed with something thick in texture.
I really didn't know what to expect when I tried Merlot Skincare – I assumed it would be a simplistic range of basics that could fit into any existing routine.
I was partially correct – it does fit into any routine. But it is nowhere near simplistic! Merlot keeps on top of skincare trends while sticking to their roots: Products formulated with the antioxidants found in red grape seeds that help fight free radicals – the harmful molecules caused by smoke, smog, pollution, stress, and UV rays.
And not only is Merlot Skincare cruelty-free, but founder Wayne Beckley (aka "Dr Grapes" as his friends know him!) is still the lead product developer – 20 years later!
If you'd like to try some Merlot Skincare for yourself, the brand has very kindly offered to giveaway a bundle of all the products I mentioned in today's post!
Merlot Spring Self Care 2021 Giveaway
Enter to WIN this Spring self-care prize package from Merlot Skin Care! Includes Merlot Moonlight Radiance Night Cream, Body Butter, Grape Seed Cream Cleanser, Grape Seed Eye Cream, Microdermabrasion Scrub, Lip Moisturizer, gel beads eye mask, and soft hand towel. $110 value! (Open to USA and Canada) – shipped directly from Merlot Skincare.